As one walks the Malecón main drag, every little shop overflows with thousands of Mexico memorabilia from colorful serapes, woven sombreros of every size, handmade toys, games and masks, to silver jewelry and large brass wall hangings, plus hundreds of other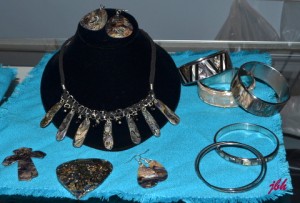 products you'll only find in Mexico.
Less known are the small shops and restaurants along the narrow side streets that lead to and from the seaside walks of the Malecón connecting to the web of narrow roads that weave throughout the Old Port barrio.  Colorful eclectic shops just steps away from the bustling bars and restaurants that overlook the ever-changing Sea of Cortez offer their own brands of unique Mexicana.
One of those shops, just around the corner on Calle Ulloa (the first street encountered after entering the Malecón) is a unique little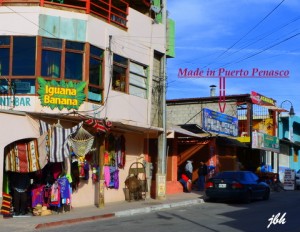 seashell art emporium called Made in Puerto Peñasco. It occupies a small space at the rear of a compact step-up patio area flanked by the Scooby Shack hot dog and curio stand and next door to Viva México, a local favorite taco eatery.
Made in Puerto Peñasco is owned and operated by seashell artists Gina and José Avilés.  Many of Gina's artistic creations and all her skills were handed down over 30
years ago from her mother, an accomplished shell artist known for the detail in her seashell art purchased by the government to give as gifts to foreign dignitaries.  Working with her mother in a shop on old Cholla Road, Gina developed the creative skills required to design, cut, polish and assemble thousands of different seashells into hundreds of unique objets d'art and useful household accessories that serve as memories of Mexico and specifically the beaches of Puerto Peñasco.  Today, Gina assembles her designs and it's José who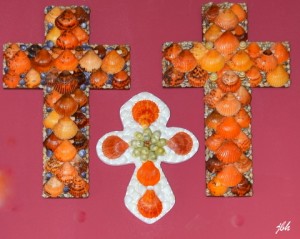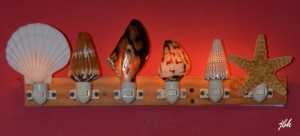 contributes his skills to cutting and polishing

shells to the natural color and consistency design specs of Gina as well as handling most of the purchasing and packaging.
As you stroll through the little shop your eyes are constantly drawn to distinctive jewelry pieces cut from polished abalone shells, bracelets, necklaces, coral crosses, earrings and jewelry boxes emblazoned with glistening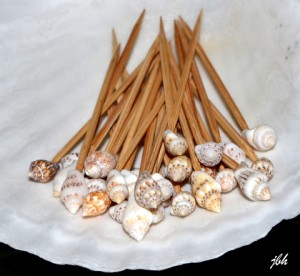 seashells of many varieties just to name a few. There's a wall full of crosses beautifully decorated with hundreds of colorful shells and a couple in all white. You'll also find night lights, shells made into floral arrangements, large wall mirrors, shadow boxes, 
picture frames, even hors d'oeuvres picks (see photo for these one-of-a-kind party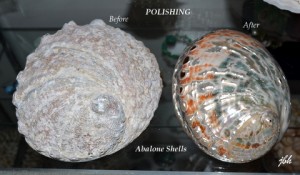 items). You can also purchase already cleaned and polished seashells by the fishnet bag and lots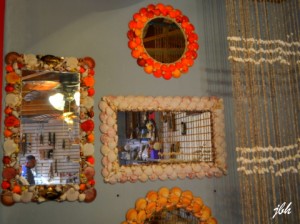 of other solo sea items like starfish, sea horses, natural coral trees…and the list goes on further than the average imagination can stretch (because there are a lot more types of shells than we know exist!)
Made in Puerto Peñasco is open Thursday through Tuesday from 9:00 am to 5:00 pm; closed on Wednesdays.  Gina speaks fluent English and both she and José are very hospitable folks. You can call Gina while here in Puerto Peñasco on her cell phone at 638-380-8233 or from the U.S. at (602) 618-8340. You can email them anytime at gna_enterprises@hotmail.com.
There's a whole world of seashell treasures awaiting you…and all Made in Puerto Peñasco!
This blog is powered by www.sonoranresorts.mx, Jim Ringquist, Director of Sales and Marketing.
Related Posts
Back in August of 2014 eight arduous years of unfaltering effort by…

With 17 of the 20 available exhibit spaces sold for the first…

The contest ended in a flurry at midnight last night (Wednesday October…