Utah District 5420  Rotary Club has had a love affair with our little slice of paradise by the sea since as early as 2009.  That was the year Rotarian leaders met up with leaders of the nonprofit, all volunteer Families Helping Families (FHF) who had been building homes each year in Rocky Point and donating them to deserving needy

families there.  The Rotarians were intrigued by the goodness of  FHF, the number of young people who gave up their holidays to help their parents accomplish this great service, and the terrific opportunity it presented for Rotary youth clubs to participate. They all realized the compatibility of their mutual goals.
By the following June a small group of 20 Rotarian youths had raised the funds to cover their expenses for the entire trip to Puerto Peñasco and contribute to the materials to build their home. That small group not only set a precedent for future growth, but showed the depth of their commitment to humanitarian efforts and proved that the words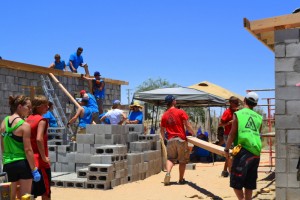 "Service Above Self" emblazoned on their T-shirts were much, much more than just a slogan of the worldwide Rotary Clubs.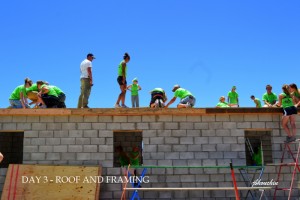 Interest by both Rotarian youth clubs, Interact (Jr. High and High School age) and Rotaract (College age) was extraordinary and the second year the participants had more than doubled to 70 dedicated and committed youngsters. By the third year, the year we learned of the project and began covering this amazing feat, participation by the youth clubs had reached exponential proportions with 180 youngsters, many of whom had been here before, plus group leaders, chaperones and parents totaling 240 people.
Incredible as it sounds, this huge group worked seamlessly for four full days and built three complete homes starting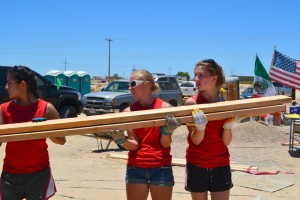 with nothing but the foundation and piles of concrete blocks, 2X4's, cement mixers and outstanding, experienced supervision by Families Helping Families volunteers.
What is so awe inspiring about this very special group of young people is their commitment to these projects, which are still going , is that their commitment goes far beyond the time and hard work of building three homes in four days. Each of the kids start much earlier each year raising their own money, about $1,000 each to pay all the expenses of their trip as well as the cost of each house they build! They sell oranges, mow lawns, hold garage sales and many other creative efforts to be a part of this annual journey. That is true commitment, dedication and action toward fellow human beings in need. It is also an inspiring attribute that says so much about our younger generation.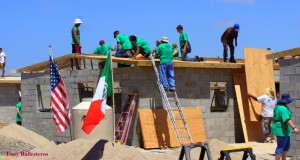 This year from June 8-13, for the first time in Utah Rotary District 5420 history, their annual conference was held not only outside Utah, but outside the U.S.  Puerto Peñasco was the appreciative beneficiary of a phenomenal amount of Rotary services, donations, and presentations of valuable and needed equipment and funds during the conference that brought over 750 attendees participating in more than 50 separate service projects resulting in major improvements to our community. Organization as well as commitment was key to the astronomical number of projects the Rotarians were able to complete in such a short visit. Of course, as indicated earlier, commitment to serving others is a way of life for Rotarians.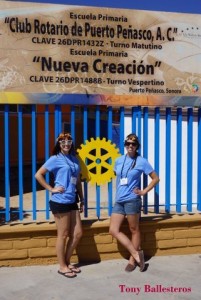 Rotary District 5420 completed $14,000 in renovations to their Rotary sponsored school in town that included remodeling and repairing the plumbing in bathrooms and painting the entire school inside and out. They modernized the entry gate, installed new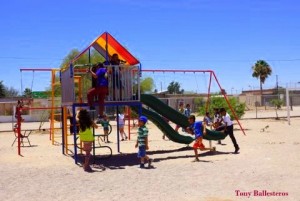 playground equipment, fourteen air conditioners and built a storage room and a new perimeter fence.
In other parts of the community, Rotary youth groups, in conjunction with Families Helping Families, built three more homes and, by special request, added an expansion and handicapped capable bathroom to the local Piñata factory made up of former graduates of the La Montaña School for children with special needs. The request was made to FHF by Piñata factory volunteer director and retired La Montaña school professor, Melba Moreno Lerma through local charity catalyst and long time resident, Kory Bonini.  FHF responded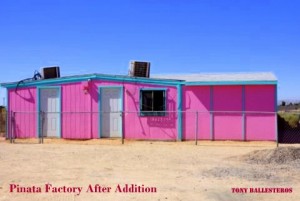 immediately and worked this special project into the youth's construction schedule.  This particular contribution by the two organizations clearly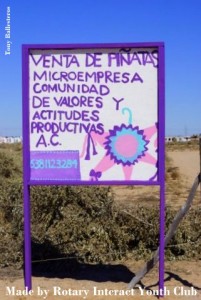 affected the morale, attitude and motivation of the 15 to 20 special needs workers and their parents
while also giving the factory needed space to increase production and create an in-house showcase for their Piñatas. Rotary assistance to the Piñata factory didn't stop with the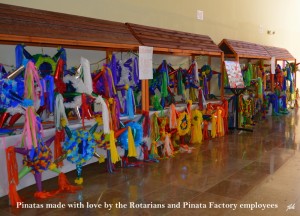 construction benefits; the Rotarians took a portion of their limited time in town to learn how to make over 200 piñatas, many of which they purchased for gifts to bring back to Utah, donating the proceeds back to the Piñata factory. You can locate a piñata at Su Casa in "Rodeo Drive" who sell them and give all proceeds to the Piñata Factory.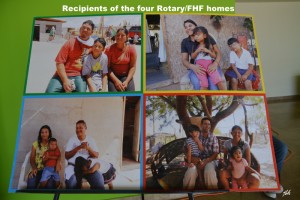 On Friday FHF and Rotary presented four homes that were built during the Rotary youth's  last trip to Rocky Point. The keys to these fully furnished 1,000 square foot homes were handed to the four pre-selected deserving families during a ceremony in front of hundreds of Rotary spectators.
Other projects by the Utah Rotary District 5420 conference attendees included landscaping all around the Hemodialysis Center; donation of 150 laptops to the education sector; distribution of 500 pairs of sunglasses to local workers constantly at risk of sun damage to their eyesight such as fishermen, utilities workers, gardeners and others.  Another 100 graduated lens glasses were provided to residents as well.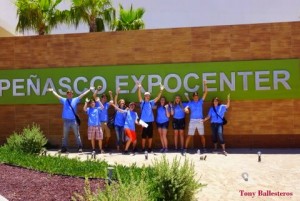 Pre-conference planning, organization and coordination that took place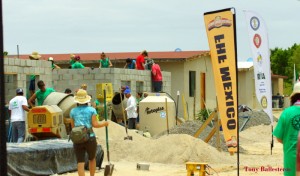 before and during the Rotary visit resulted in the monumental accomplishments by the humanitarian organization clicking like clockwork at every turn and such smooth running, as praised by District 5420 Governor Mike Wells, could have never happened were it not for the diligent tasking of the local host, Mar de Cortés Rotary Club, which amazingly enough, was organized just last year.  Under the guidance of local 2014-2015 Rotary President, Eduardo Vallejo Vázquez, the hosting and on-the-ground coordination duties flowed flawlessly throughout the week from arrival to departure.
Should you be interested in learning more about the local Club Rotario Puerto Peñasco Mar de Cortés, they currently meet on Wednesdays at 8:00AM in Don Julio's restaurant at the Old Port (Malecón).  Email enriquefmi@outlook.com or leonardoemj8@hotmail.com.
This year's Rotary conference was indeed a landmark event because it emphasized the practicality of having a large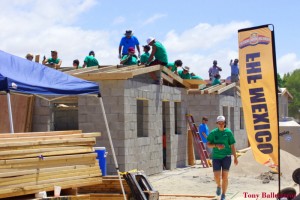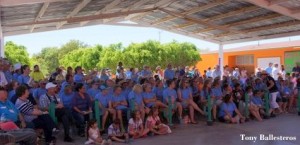 meeting such a short distance from the U.S. border in the new, fully accommodating facility with such easy access to our world class beaches and iconic Sea of Cortez in a community full of friendly, courteous, mostly bilingual citizens whose goal is to help you have a great time while here. You will meet new friends among the American residents throughout your visit as well.
The conference also brought to the surface how much the Rotary clubs have meant to the community over the years while assuring the local citizens that the Rotarian youth organizations will continue to bring their "Service Above Self" commitment to Puerto Peñasco far into the future.
The successful new Puerto Peñasco Mar de Cortez Rotary Club will continue to fill the needs of individuals, organizations and society as a whole with charitable deeds and donations.
This blog is powered by www.sonoranresorts.mx, Jim Ringquist, Director of Sales and Marketing.
Related Posts
This year marked the 11th annual January Jam that began as an…

It has been less than two years since Mayor Kiko Munro inaugurated…

Each and every year, as we mingle through the…