Back in August of 2014 eight arduous years of unfaltering effort by the "Ladies of San Peregrino" culminated in the
dedication of their dream building, amounting to the first phase of their long-term goal of creating a complete hospice center offering spiritual assistance to those suffering their last days of cancer.
The ceremony in August was well attended—over a hundred caring citizens, families and city leaders, most of whom had lost friends or family to the death grip of this indiscriminate disease.  That alone told the moving story of why the San Peregrino Cancer Center was and is so important to the community of Puerto Peñasco. That alone painted the canvas of caring in such broad and sweeping strokes of love for our fellow humans. That knowledge, the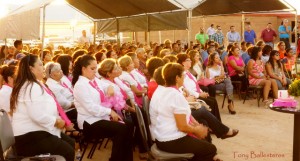 knowledge that once in the near past, one in four of us would succumb to this dreaded invader, yet, now, just a few years later, that figure has risen to one in three.
Is the question, then, how many beds must we plan for just to cope with the devastation? To bring a semblance of respect to the final days of so many?
As that evening progressed, to at least a handful of us who are familiar with the spiritual artistry of one craftsman bursting with love for Puerto Peñasco, realized that this blessed facility really, really needed one of his works of art to insure a constant blessing over all who tread the threshold of the San Peregrino Cancer Center.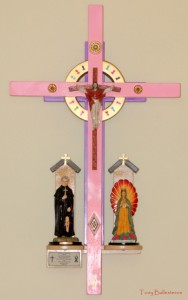 The work of art needed was an awe inspiring cross that conveyed a stronger blessing than any evil that could be expressed by the ills of cancer. Unanimously we knew the one and only person for this mission was the one and only Mike Bibb, who has handmade and installed 17 of his creations around our community and each one stands out as an unmistakably Mike Bibb creation and symbol of solidarity of the people for faith against the evils of cancer.
Though God's enemy may have won the body in the cases of those at San Peregrino, we knew the spirit Mike instilled in his crosses would transcend the souls of these loved ones to the gardens of heaven's peace.
We just knew for sure that this mission we would bring to Mike would be spiritually grasped by him and also that he would bring to his aid the grace of God's own hands to build a glowing spirit within the fine art of this particular creation.
As they do with each of their creations, Mike and his beautiful wife and spiritual advisor Eilene came to Puerto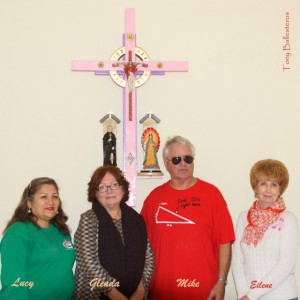 Peñasco to see and absorb the feeling of what would work best for the facility and share their wisdom as to how they would bring the spirit of the cross to San Peregrino Center, just as they had done in so many other environments in this small pueblo already blessed with God's beauty. Then, back to their home in Safford, Arizona where all the magic happens!
Meanwhile, the Ladies of San Peregrino move forward with their plans for expansion, construction of the second building, which will be the one with beds, medical equipment and trained care givers dedicated to the comfort of the residents.
The founders behind San Peregrino are two sisters, Glenda Lopez, the first president of the group and Lucy Lopez, the current president, and when you see these ladies together as a group you will think they are all sisters because of how well they seem to know each other. It is a very special energy that radiates through any room where they are together.
It must be said here that it is rare to find any charitable and caring  group of  any size in our town that is not paying particular attention and listening to our friend, Kory Bonini, who you can count on having had a behind the scenes part
in everything from organization to motivation and introduction of the efforts of such meaningful groups to the people who can help them in the ways they need the most help. The list of good causes that Kory has brought to our attention alone is too long for one article, but be assured that whether or not her name is mentioned in our blogs about charities, she played a significant part in not only the charity but bringing it to ourattention to help with the publicity.  It's o.k. that she doesn't want this kind of recognition. She deserves it.
Only a few weeks after the Bibbs came down for measurements, we received an email saying they would be down the following week with the completed cross. The ensuing photos speak for themselves as to the pure craftsmanship, spirit and soul that Mike pours into his  projects—not to mention the emotion his art evokes in the recipients.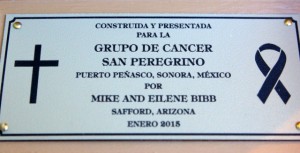 The group of around 20 Ladies of San Peregrino who were on hand for the installation created a prayer circle and gave thanks for this true blessing and for the continued blessing of Mike and Eilene Bibb to continue their artful contributions to the deserving venues of Puerto Peñasco.
Even though less than one fifth attended this small ceremony as did the larger formal building dedication in August, it was no less moving! Mike and Eilene's crosses have that deep effect on all who see them.
This blog is powered by www.sonoranresorts.mx, Jim Ringquist, Director of Sales and Marketing.
Related Posts
As one walks the Malecón main drag, every little shop overflows with…

With 17 of the 20 available exhibit spaces sold for the first…

The contest ended in a flurry at midnight last night (Wednesday October…