With 17 of the 20 available exhibit spaces sold for the first event and a steady stream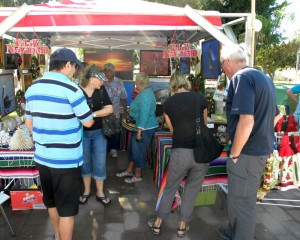 of customers and visitors from 10:00 AM until 5:00 PM last Saturday, the inaugural Mermaid's Marketplace held in Rocky Point's Shrimp Park can be considered nothing short of a success. The arts and crafts vendors, with a good mixture of American and Mexican artisans, began setting up as early as 8:00 in the morning.  There was a feeling of excitement and positive expectation in the air and that seemed to transmit to the visitors as they ambled happily from exhibit to exhibit throughout the day.
Rhythmic Mexican guitar and flamenco music flowing from a stereo system Russ Black set up in the Shrimp fountain (that's right, in the dry fountain) added to the friendly atmosphere all day, as did the wide variety of arts and crafts represented, ranging from homemade candy from The Candy Lady, to knitted goods by the ladies of Living Stones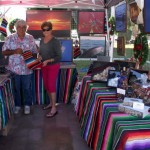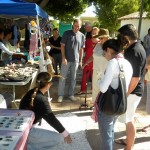 Christian Charity Organization, to the natural photographs and serape Christmas stockings of Tony Ballesteros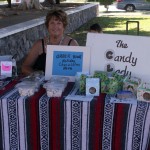 and the beautiful artistically arranged Shell Boxes and hand-sewn gift bags by "Carol's Creations"; and many other craft varieties including ironwood carvings, a great assortment of hand crafted jewelry, knitted purses and accessories.
Mermaid's Market is the brainchild of local residents, Russ and Naomi Black, who publish a popular weekly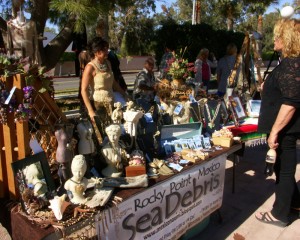 newsletter and operate a couple of small businesses here in our little slice of paradise. Russ operates private tours for small groups through Peñasco Recreation and his "Russ Bus" that involve fun day tours or afternoon pub crawls, taco tasting tours, or even taking groups to the Pinacate desert area or to one of the estuaries near Rocky Point. In fact, Russ will work with a group to design a custom itinerary to fit any specific desires. Naomi, the compelling beauty of the team, has her own claim to local fame with her small company, "Sea Debris", a shop full of knick-knacks made from, well, debris she has collected from the beaches of Puerto Peñasco. Naomi also has some truly unique women's fashion apparel she has personally designed and made.
Knowing their community involvement and background should serve to help you understand how the Blacks can come up with such creative ways to get the local community involved in an idea like "Mermaid's Market", as well as how they can do it so effectively.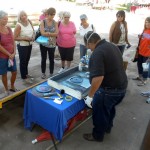 Judging from the success of the first show and knowing some of the unique factors involved in the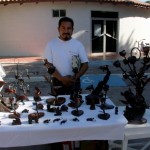 organization of Mermaid's Market, it will be a popular event throughout its bi-weekly schedule through May of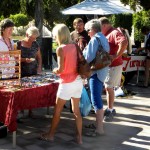 2013. What's going to pretty much guarantee the success of this marketplace is that the number of exhibits is limited. Even though there is space for more, Russ and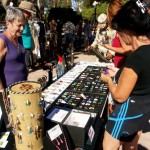 Naomi have placed the limit at 20. It could be increased in the future but there are no plans for that at this time. With just 20 exhibits in the rather large plaza area of Shrimp Park, there is plenty of space between each exhibit, without that crowded feeling on the part of both exhibitors and visitors alike. That allows for quality time at each exhibit and high visibility for all the vendors.
We highly recommend the next Mermaid's Marketplace scheduled for Saturday December 15, 2012 from 10:00 AM until 5:00 PM. See you there!
This blog is powered by www.sonoranresorts.mx, Jim Ringquist, Director of Sales and Marketing.
Related Posts
Back in August of 2014 eight arduous years of unfaltering effort by…

As one walks the Malecón main drag, every little shop overflows with…

The contest ended in a flurry at midnight last night (Wednesday October…