The Pilgrims, a group of friends, most of whom are residents of the Sonoran Spa Resort, spearheaded by Tony Ballesteros, have created
the holiday spirit in a big way in and around the lobby and security guard gatehouse for the second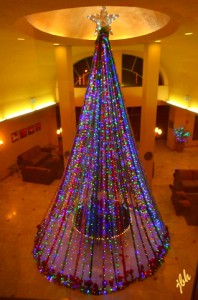 year in a row. This project just two weeks after the group served 160 Thanksgiving dinners in this same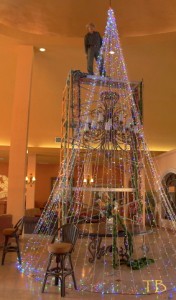 lobby to the workers of both the Sonoran Spa and next door neighbor Sonoran Sea.
Tony had help from several Pilgrims as well as the Spa maintenance department heads, who mounted the platform they had to assemble to make the tree he had in mind. It involved draping 990 feet of garland down from 30 feet above the lobby floor interspersed with 7700 multi-colored lights, creating this spectacular Christmas tree 30 feet tall, topped with a large silver star and just twinkling with Christmas spirit. The strings of garland and colored lights are anchored in a circle of little Poinsettias that surround an inner display of flowers and engulf the large
lobby chandelier into the design.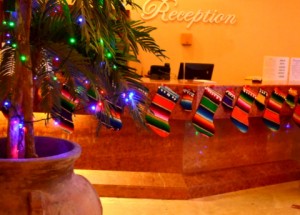 Coffee tables in front of the soft sofas and easy chairs each

have a three foot arrangement of Christmas ornaments in the shape of a tree, handmade by Tony. A huge lighted wreath adorns one wall with smaller wreaths strategically placed throughout. All the plants that normally grace the lobby, as well as the outside entrance columns are now sporting an array of 2300 additional Christmas lights.  The reception desk is lined with Tony's trademarked serape Christmas stockings.
The holiday scene begins at the security guard gate which Tony has outlined in lights and big red fabric bows.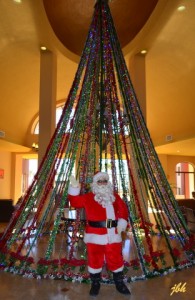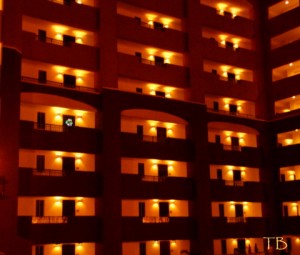 As if that wasn't enough, Santa was invited out for a photo shoot just to add color, flavor and more Christmas spirit to the entire concept! Santa, (Mark Olszewski, who brings smiles to thousands of kids around Puerto Peñasco this time of every year) was only too happy to work us into his busy string of gigs for a variety of poses, only a small portion of which are depicted here.
If you've visited the Mermaid's Markets recently, you're already aware of how strong the spirit of Christmas is in the heart and soul of Tony Ballesteros. In fact, we bet you can pick out Tony's condominium in this photo!
Next time your at The Hut (formerly Chango's), or the Sonoran Grill (at Sonoran Spa) or Cocina de Ramón (Sonoran Sea), feel free to stop in and see the Sonoran Spa lobby anytime from now until February. It'll add a little twinkle to your holiday spirit.
This blog is powered by www.sonoranresorts.mx, Jim Ringquist, Director of Sales and Marketing. 
Related Posts
This year marked the 11th annual January Jam that began as an…

It has been less than two years since Mayor Kiko Munro inaugurated…

Each and every year, as we mingle through the…