If you've been looking for Pharmacist Iorby Santiago since he left Guadalupana recently, well, you've found him! And it's in his own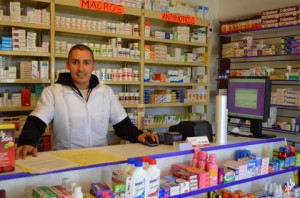 recently opened pharmacy, Santiago's Farmacia on Benito Juarez a block and a half south of the Burger King, same side of the street.
Iorby had been with the Guadalupana pharmacy on Benito Juarez since the location opened nearly seven years ago. During that time he developed quite a following of loyal customers, probably due not only to his true bi-lingual skills as a result of living and going to school in San Diego from the 3rd grade to the middle of high school, but also because of his in-depth knowledge of pharmaceuticals and the differences between U.S. and Mexican brands and ingredients.
Another highly probable reason for the number of customers looking for him is his naturally courteous nature and genuine concern for his customers' well being. That concern, with regard to U.S. citizens, includes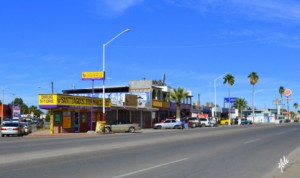 making sure they understand the differences as well as the similarities in the drugs made in Mexico and those made in the U.S.  Of course this takes more than just concern for the customer.  It takes thorough up-to-date product knowledge. It is in this area that the young Mr. Santiago is most impressive.
He credits his grandmother for leading him to this career choice.  After virtually growing up in San Diego, Iorby longed to rejoin his family in his hometown of Tijuana. In the middle of high school he moved back to Mexico and lived with his grandmother while finishing his schooling. She "took a lot of medications herself", says Iorby, "and kept pushing me to get into the business."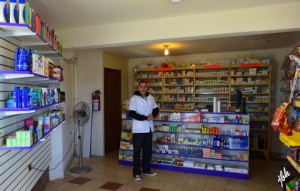 It so happened that she had a good friend who owned 20 pharmacies in Tijuana that catered to Americans shopping for cheaper medications in Mexico.  His grandmother personally introduced Iorby to the owner who hired him immediately because of his English fluency. Iorby worked in this high volume chain for six years taking advantage of the learning opportunity of selling the gamut of medications popularly prescribed by U.S. doctors.  During that period he discovered that the pharmaceutical business was where he belonged.
He attended the International Institute of Medicine in Baja and became a licensed pharmacist in 2005.  Iorby encountered more luck shortly after he came to Puerto Peñasco and fell in love with the destination. A long time friend, also in the pharmaceutical business, called him about the new Guadalupana pharmacy opening and thus began his final step toward owning his own pharmacy.
The new Santiago's Pharmacy is open from 8:00 am until 10:00 pm every day. You'll find Iorby there from 8:00 am until 6:00 pm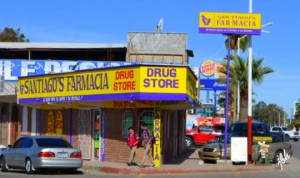 every day.  He tells us that he has enjoyed reuniting with many of his former customers since opening and looks forward to serving many more as they discover his new location
Iorby explained, "Since I don't have the overhead that burdens my competition,  I can offer discounts of up to 50% on many medications and we accept Visa and MasterCard for our customers' convenience. I also have a gift for everyone on their first visit."
You can call Santiago's Farmacia at 388-5000 or his cell at 638-384-6965. Iorby's email address is: santiago.iorby@hotmail.com.
We hope these photos will make it hard to miss his yellow building south of Burger King and right across the street from the San José Clinic on Benito Juarez.
This blog is powered by www.sonoranresorts.mx, Jim Ringquist, Director of Sales and Marketing.
Related Posts
There are so many reasons—over 2,500 of them actually—why Americans should support…