For the third consecutive year the loosely organized group of volunteers, known affectionately as the Sonoran Spa Pilgrims, made up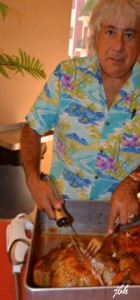 of Sonoran Spa beach front resort condominium owners in Puerto Peñasco, Sonora, Mexico and a few of their friends and family donated resources, food and their personal time to prepare and serve a Thanksgiving day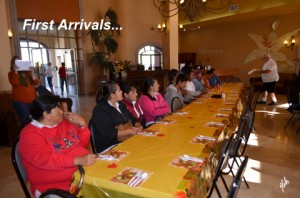 feast for more than 160 workers at the Sonoran Spa and the Sonoran Sea as well as the employees of Rocky Point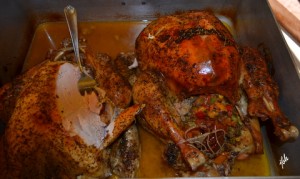 Reservations who handle the rental pools for the two resorts.
The group began three years ago when Tony Ballesteros, resident professional photographer, regular contributor of photos to this Sonoran Resorts blog and one of the first condo buyers at the Sonoran Spa had the idea to cook and serve a Thanksgiving Dinner to the workers at the Spa, mainly to thank them for all the work they do during the year for the owners.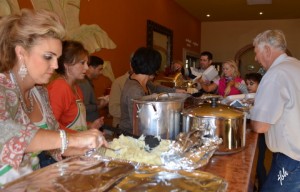 As he told other Sonoran Spa residents they volunteered to help with food, funds and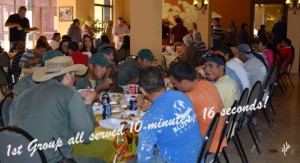 their time. The first year Tony and about 10 volunteers made up of Sonoran Spa owners and long term renters prepared and served over 60 turkey dinners to the group of very appreciative employees. They even timed the food service to fit into the different shifts among the workers to make sure everyone got to eat.  Feedback from staff and management foretold of the future success of this gesture of gratitude and a tradition was born.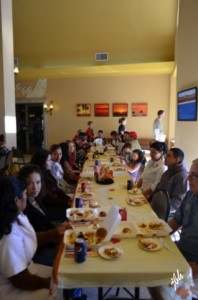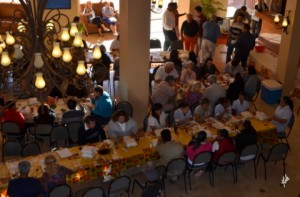 The next year, an invitation was extended to the employees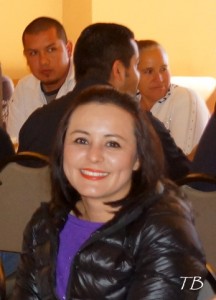 of the Sonoran Sea next door to the Spa, and to Rocky Point Reservations. The number of folks served nearly tripled as did the number of participating volunteers.  Tony confirms this was when the name "Sonoran Spa Pilgrims" officially stuck for this phenomenal group of totally giving Sonoran Spa and Sonoran Sea residents, plus a few good friends of some.
Using what they've learned each year to enhance their unanimous Thanksgiving gesture, the Sonoran Spa Pilgrims work as a team to make sure each and every employee gets a good portion of American culture and tradition with all the trimmings.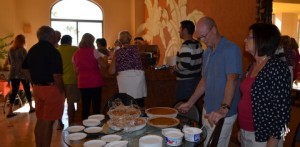 This year about 25 Pilgrims served over 160 meals using 10 turkeys (brined, no less!), 140 pounds of mashed potatoes smothered in 10 gallons of gravy, about 60 pounds of dressing, 150 rolls, two gallons of cranberry followed by 16 pumpkin and apple pies, plus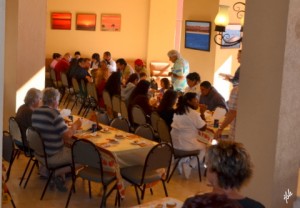 hundreds of sodas to wash it all down. Thanksgiving truly lived at the Sonoran Spa on that grateful day!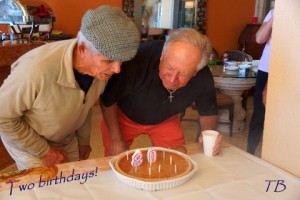 The Pilgrims set up ten tables and with 73 chairs and place settings (there are two shifts).which are arranged right on the polished marble floors in the luxurious  main lobby of the Sonoran Spa, complete with turkey center pieces perched upon table cloths printed with fall colors. With their huge Pilgrim hearts the volunteers served the guests with efficiency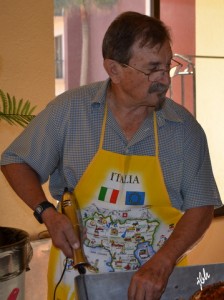 and attention to every detail to show their gratitude to a group of employees who have proven throughout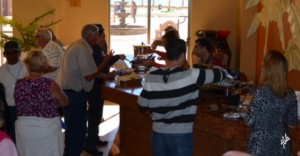 the year their willingness to go beyond expectations to help create a hassle-free life for the Sonoran Spa and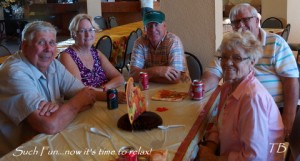 Sonoran Sea owners and residents.
Tony sums it up nicely for all the Sonoran Spa Pilgrims when he says, "Thanksgiving is not just a date to congregate or to partake; it's a date to celebrate and appreciate."
…And  you've exemplified that credo once again, Pilgrims!
This blog is powered by www.sonoranresorts.mx, Jim Ringquist, Director of Sales and Marketing.
Related Posts
This year marked the 11th annual January Jam that began as an…

It has been less than two years since Mayor Kiko Munro inaugurated…

Each and every year, as we mingle through the…