There are so many reasons—over 2,500 of them actually—why Americans should support the Puerto Peñasco Red Cross with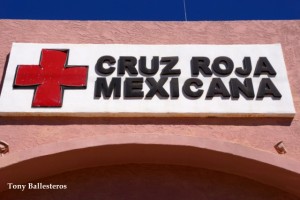 donations during their annual fundraising campaign that runs through the end of April.  About this same time each year, regular visitors expect to see the dozens of volunteers with white coffee cans strategically located at traffic lights along Benito Juarez. You can almost gauge the springtime by their smiling presence and gestures of appreciation for whatever amount you can drop into their collection cans. They'll thank you by placing a small round white sticker with a red cross on your windshield.
However, even the Rocky Point Regulars may not know just how important this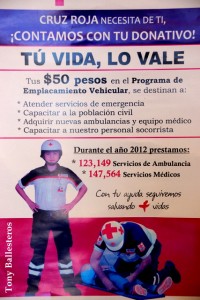 particular campaign period is to the local organization.  Even though this is a national campaign that starts nationwide on the same day as determined by the national headquarters, it is the only major fundraiser from which all the money raised goes entirely to the local office.  In fact, the funds raised from the street collections each year must total enough to cover at least 50% of the local Red Cross annual bare bones operating budget of $70,000 USD—a tough nut to crack a peso or two at a time on street corners. The other 50% comes from solicitations from local businesses. The only other funds they receive come through the state auto license renewal program that solicits a $50 peso voluntary donation to support the Red Cross. Funds from this program can only be used for the purchase of hard assets like equipment, furnishings and medical related vehicles such as ambulances.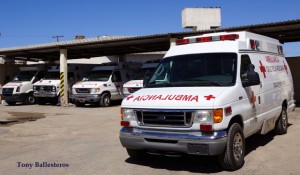 It's a fact that the more we know about what is needed and why, the more willing we are to help a particular cause. And the good news is us gringos, in the proper spirit, could make a significant difference in this year's campaign since it takes place during the high visitorship holidays of Spring Break and Semana Santa (Easter week).  So we're hoping that after learning some new facts about the Red Cross and the many ways they assist visitors you'll be more likely to remember to throw all your change in your shirt pocket or the console of your car before you head down town every day during this annual campaign. By the way, any denomination is gratefully accepted, and in any national currency you may have (they'll take any of it—pesos, dollars, francs, lire, in coins or bills.—and exchange it with the bank).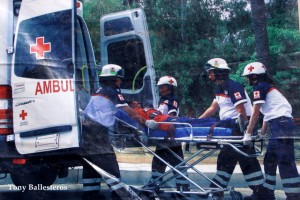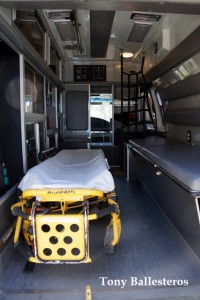 The Red Cross here is quite different than the organizations in the U.S. While they have nowhere near the number of paid employees as in the states, they don't receive any grants, endowments or budgets from the city or state governments either.  Almost all the money they raise goes first toward overhead (locally that's maintenance of five ambulances, medical building maintenance and furnishings) and the rest toward equipment and supplies to keep the service available to anyone who needs it 24 hours a day, 7 days a week, 365 days a year. And they provide all local services at no charge including ambulance service. Our Red Cross operates with 45 to 50 trained volunteers and just 4 paid employees with tenures of 15 to 20 years and skills to assist with the training. The only other paid position is that of the Administrative Coordinator, Faustino Reyes, an unassuming, knowledgeable and dedicated individual whose concern for the best interest of the Red Cross is always foremost on his mind, and in his heart.
Even the President who is selected by the state chapter for two year terms receives no pay, just responsibility.  The current President is an attorney, Jorge Valdés Félix, who in addition to consulting with Faustino and handling legal, tax and accounting matters at the Red Cross, also manages legal accounts for a law firm. He is also a partner in Volmor International Services with his wife, Gabby, providing international assistance for mostly U.S. clients in securing FM documents and handling taxes, pay roll and accounting.
We opened this blog by mentioning there are over 2,500 reasons why Americans should gladly drop coins and bills into the white Red Cross collection cans, called "Botes" (pronounced Boat-eh) as often as possible during the next month and a half. Well, here's a summary of what the Puerto Peñasco Red Cross has done and continues to do regularly for Americans and any visitors to the city. We'll lay them out in the form of:
"Facts you may not know about the emergency services provided by our Puerto Peñasco Red Cross"
Services provided:
Red Cross provides all its services, including local ambulance service at no cost. There is a Doctor on duty from 9:00AM until 1:00PM.
Red Cross provides approximately 5,000 emergency services each year in Puerto Peñasco, approximately half of which require an ambulance and half of those are to the Sandy Beach area for urgent medical treatment to mostly American tourists for serious stings from jelly fish and stingrays, lacerations, injuries from falls and broken bones from quad and car crashes.
All medically related calls to the 066 emergency numbers (it's like our 911) are dispatched by the Red Cross.
The Red Cross is available through the 066 number or by office visit on Fremont Blvd. 24 hours a day.
The Red Cross is equipped and capable of emergency evacuation by ambulance to the U.S. border at Lukeville for a nominal charge of $300 USD to cover expenses.
The Red Cross will make emergency calls to your home or condo for on-the-spot-treatment or ambulance transportation. Just dial the 066 emergency number for medical assistance.
Doctor is available in the Red Cross office every week day from 9:00 AM until 1:00 PM. Charge is by donation only. Nominal charge for prescription medicines in stock.
Red Cross sends volunteer medics to special events for onsite attention throughout the activity.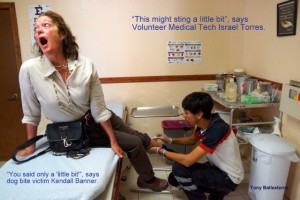 Like any other non-profit organization, the Red Cross has an ongoing list of needed items for which they simply don't have the funds to purchase. In the case of an emergency medical service provider such as the Red Cross, some needs are critically urgent because they could mean the difference between life and death:
Even though the local office has friends in various disciplines of medicine both here and in the U.S. who have provided assistance and equipment donations through the years, their needs are continuous and there is always a wish list ranging from critical needs to necessary equipment, supplies and furnishings.  Please take a look at the Red Cross "Wish List" below, prioritized from critical needs on down. If you can help either through your work place or through your friends or neighbors, consider bringing some of these items with you when you come down. If you have questions about any of the items please email or call Faustino Reyes at the following: Email: faustino_reyes@hotmail.com or the local office phone number at: 638-383-2266.
Red Cross "Wish List"
Packaged sterile syringes and IV kits
Saline solutions and just about any prescription drugs
Portable blood pressure and heart monitor kits
Computers and related accessories
All clinic-type supplies such as rubber gloves, bandages of all types, tourniquets, etc.
Patient examining tables and associated accessories such as paper or cloth disposable covers, gowns, foot covers, face masks.
Clinic room chairs and supply cabinets
Mobile defibrillator chest pads
Wheelchairs, walkers, crutches
Furnishings for the 24 hour staff facility including mattresses, beds, fans, tables, chairs, kitchen cabinets, appliances such as toaster, microwave, counter top oven, crock pots, pots, pans, dinnerware, dish and laundry soap and related supplies.
Washer and drier for uniforms, etc.
Canned and bottled food and drinks for the 24 hour staff shifts is always needed.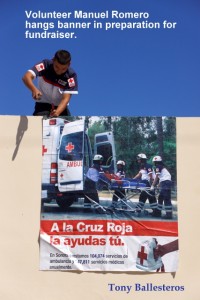 Visitors and residents alike are welcome to stop by the offices located at #140 Fremont Blvd (across the street from the fire department between the Black Dog and the Fish Combo lunch restaurant.) and a friendly volunteer or Faustino himself will be happy to show you around.
We're very lucky to have such an active and dedicated Red Cross organization here in our little slice of paradise by the sea to help keep our dreams from becoming nightmares, don't you think?
As you drive around town from now through April, give a little at each of the collection stations along Benito Juarez.  Each time you put a coin or bill into the "Bote" (Boat-eh) they'll place a small round
white sticker with a red cross on your window to show you have given. We hope you'll show them you care by giving again and build a collection of your own—of those little white stickers with the red cross—all the way up your windshield!
After all, your donations are helping yourself and your family, plus with the most little round Red Cross stickers you could win bragging rights for the whole year! Hey! Any of you local establishments want to kick in a real prize (hat, t-shirt, bandanna,  beads, luxury cruise :)) to the patron with the most Red Cross stickers on their car? Tell us about it in the comments below, and thanks in advance for your support!
Our thanks to Tony Ballesteros for all these nice photos.
This blog is powered by www.sonoranresorts.mx, Jim Ringquist, Director of Sales and Marketing. 
Related Posts