This is the seventh in a series of eight articles that share a peek into the fascinating lives of the legendary group of classic rock and roll stars making their second appearance at the St. Patricia's Day Peñasco Palooza 2012 on Saturday March 17th. Again this year, the Palooza will be held under the stars across from Chango's Bar and Grill on the entrance road to the Sonoran Sea and Sonoran Spa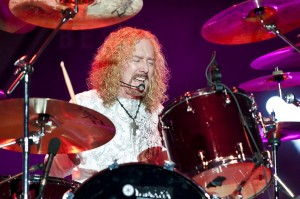 Luxury Beach Front Resorts on Sandy Beach, Puerto Peñasco (Rocky Point), Sonora, Mexico.
If you missed the historic performance by this group of consummate artists at the first Palooza last October, these articles will give you eight solid reasons not to miss the March 17 extravaganza.
As did every one of the rock and roll legends sharing the stage this Saturday night at the Peñasco Palooza concert, Curly Smith started playing a musical instrument at a very early age—in his case, at around 12 years old he was playing the guitar and the drums.  Plus he was singing. Curly credits his fascination with rhythm to his family living near the railroad tracks as a small boy.  He would take sticks and imitate the rhythm of the train tracks by pounding on pots, pans or whatever he could pound on at the time.   Two years later he took an interest in the harmonica and added that to his musical inventory. By 20, Curly was playing classical piano and composing songs and music.
Before he was 20 years old, Curly had played with local bands throughout Arkansas, Texas and Oklahoma until he was discovered by an Asylum Records-signed rock band newly forming by the name of Jo Jo Gunne. Two of the members had just come over from the recently dissolved rock band Spirit. From their eponymous debut album, a #10 hit in England, "Run, Run, Run" was spawned. That record peaked #27 in the U.S. Jo Jo Gunne toured the U.S. and Europe several times and released three more albums before breaking up in 1974.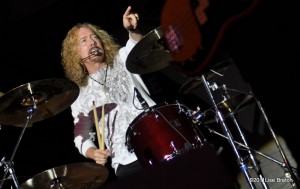 Curly continued on with his wildly successful and prolific career as a session drummer, concentrating most of his time between writing, composing and recording for the next 15 years.  During that time he played on over 100 albums with many of the world's best known bands and entertainers like Rod Stewart, Stevie Ray Vaughn, Jeff Beck, Joe Walsh, Willie Nelson, Ron Wood (Rolling Stones), Jackson Browne, Billie Idol, Ozzy Osbourn, Gary Wright, Fleetwood Mac, Bonnie Raitt, Belinda Carlisle, Billy Burnette, and the list goes on and on.
Because of the diverse styles of music he recorded in sessions and performed —rock and pop to rhythm and blues—Curly refers to that period as the era when he was able to  hone and fine tune the many styles of music he is able to create today.
In addition to his other accomplishments during that period, in the mid '80's Curly and a new friend, bassist Gary Moon (of Three Dog Night fame), assembled a new band called "The Pack" and together they wrote over a dozen timeless songs and developed a friendship that remains strong to this day. You will see them together on the stage Saturday night! Those songs were not released until just recently due to label contract issues.
Curly has always held a special passion for writing and composing songs for records as well as for films and TV.  As with everything else he's been involved in with his music career, Curly has been quite successful in writing hit songs like, "Didn't Mean to Fall in Love"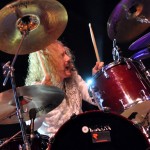 which he wrote with Tom Scholz of "Boston", and "Heart Beat," the #1 hit he wrote for Don Johnson's solo CD.
He has also written songs with Bette Midler, John Waite, and others.  He has composed songs and themes for Miami Vice, The X Files and many, many more TV shows and films.
In fact, as a session musician in the major recording centers of L.A., New York, Miami, and London for more than a decade, Curly Smith has played on over 20 certified platinum albums, some of which are double, triple and quadruple platinum! Plus another 15 certified gold records. Some of the more notable of the certified hits are "Boston's Greatest Hits"; John Waite's "No Brakes" that included the worldwide #1 single, "Missing You"; Belinda Carlisle's "Heaven is A Place On Earth" that included three hit singles: "Heaven is A Place On Earth"; "I Get Weak", and "Circle In The Sand"; and Don Johnson's CD that included the #1 hit single, "Heart Beat" which Curly also wrote.
Curly has opened for such legendary bands as The Police, Cheryl Crow, Eric Clapton, and Aerosmith (in England's Hyde Park Calling to 80,000 people). He toured with Rick Springfield and together he and Rick performed for Live Aid to an audience of 90,000 people filling JFK Stadium in Philadelphia with another estimated Two Billion watching around the world on TV. That experience and privilege "…was one of my favorite events" says Curly.
Though he is most known as a world class drummer, the drums are far from his only instrumental music-making talents. In addition to guitar, piano and harmonica mentioned above, Curly has mastered keyboards, bass and flute as well as the blues harp with which he has performed and recorded many moving solos.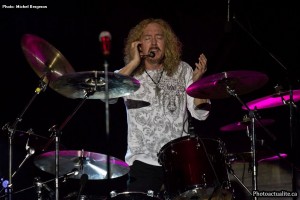 In 1995, Tom Sholz, founding member of the legendary band "Boston" sought out Curly and invited him to join the band for their 1995 tour. Curly stayed, played, recorded and toured with Boston for the next seven years. During that time he co-wrote the major hit "I Didn't Mean to Fall in Love" with Tom, and performed many memorable and moving rhythm exchanges on stage with Tom on the guitar and Curly on drums, most notably a long guitar/drums jam in Anaheim during their '97 tour, still cherished to this day by their huge fan base and everyone in the audience that evening. He played a memorable and deeply moving blues harp solo on Boston's Platinum Greatest Hits album in the song "Higher Power."
In 2002, Curly left Boston to take the time to fulfill some of his passions that the rigors of touring for most of his life just didn't allow. His agenda was clear, focused and prioritized, obviously representing a serious void that lingered within him over the years. His inability to take the time he desired necessary to raise his new son was clearly his number one priority.
He looked forward to settling into the peaceful, spiritually energetic environs of those mesmerizing red rocks of Sedona and draw from that special energy to complete two solo musical projects he had been developing over the years.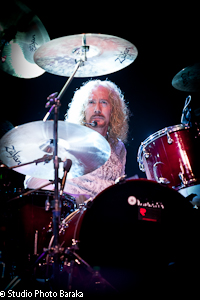 The first one, a cathartic labor of love, an instrumental called "Cool Blue Cosmic Gem" on which Curly composed, arranged, engineered and played every instrument. The result, well, you really have to hear it to truly grasp its depth of musical conveyance as words are simply inefficient to come anywhere near describing the peace that permeates your soul, your psyche, your very being as the notes and tones of the myriad exotic instruments self-absorb you into them as if defying earthly gravity. You float among the trance as it leads you through pure enjoyment and appreciation of the true art of music that Curly has worked his entire life to create in order to send you on this special journey.
The second CD is great fun rock and roll, a revitalizing Rembrandt of rhythm that will have you moving your body from head to toe to keep the beat that Curly has set an unsurpassable standard for in the genre. He played every instrument and sang all vocals on this CD as well. The vocals on this CD really emphasize the uniqueness of his voice. The CD is called "Rough House" and it rocks!
Curly's musical philosophy is deep and spiritual. "We are all inextricably woven into the sound fabric of this planet. We have just forgotten how to listen. It is literally all around us. Our world is imbued with the spirit of music and the inspiration of creativity."
And there is no better place in the world to remain reminded of such depth of conviction than being surrounded by the energy vortex, the center of which many believe resides within and is dispensed from the red rocks of this ethereal destination on our planet called Sedona.
Of course, Curly Smith has not remained reclusive since 2002.  He has opened for a number of world famous bands in several countries, appeared as guest musician (on drums and harmonica or blues harp) all over the nation including Las Vegas with Jimmy Crespo (of Aerosmith fame) who will be on stage also this Saturday. 
And Curly has put together an idea he had percolating in that incessantly creative brain of his to assemble a rock band like no other in the world.  He calls it Hit Men All Stars and it is comprised of a perfect combination of the best musicians who were formerly with the most famous and legendary bands in rock and roll history.
You'll be enjoying—and dancing to—the music of three of those All Star musicians Curly has invited to appear again. You've read about each of them in this blog over the last month: Jimmy Crespo of Aerosmith and Rod Stewart fame; Gary Moon, former bassist and lead singer for Three Dog Night and Night Ranger; and Master Keyboardist Leon Bisquera formerly with Chaka Khan, and the classical pianist that Anita Baker demands when she performs. And, of course Curly Smith, world-class drummer and one of the world's most respected blues harpists, formerly with Boston and a sizable portion of the rest of the world's most famous bands!
By the way, to hear a sample of the music on Curly's two CDs you can visit www.csmrecords.com .
This blog is brought to you by The Sonoran Resorts Sales Group, Jim Ringquist, Director of Sales.
Related Posts
Back in August of 2014 eight arduous years of unfaltering effort by…

As one walks the Malecón main drag, every little shop overflows with…

With 17 of the 20 available exhibit spaces sold for the first…