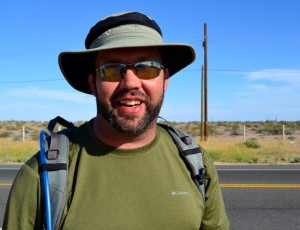 For the eighth time in 9 years, Steve Schwab, owner of Sea Side Reservations, has completed his annual fundraising walk to benefit the Peñasco Children's Foundation, a non-profit charitable organization that provides essential services for the children of families who could not otherwise afford critical services needed for their child.
Steve arrived at the completion point of his journey at 4:44 P.M. on Monday, March 12th. The officially designated "finish line" is the intersection of Hwy 8 and the road to Caborca/Mayan Palace and Laguna Shores/Laguna del Mar.
For someone who had just walked 12 hours a day for 12 days and covered 189 miles, Steve looked amazingly well. There are two main reasons for that. One, he stays in decent shape year around, although he did say that he's a little slower than when he first made the trek in 10 days at 29 years of age. And probably the main reason is because he is an ex Airborne Ranger. If you've ever served in the military, any branch, that's enough said!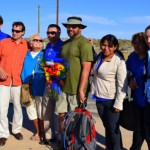 About a dozen of us watched Steve from a tiny dot in the distance until he crossed the highway with his good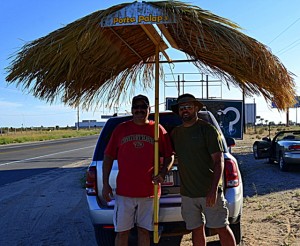 friend Kent White along side.  Kent had ridden his bike out to meet Steve and accompanying him along the last leg of his long journey. They arrived to genuinely enthusiastic cheers from the group made up of Sea Side employees, photographers and a couple of reporters along with some good friends and a local family whose daughter was a beneficiary of one of the foundation's core missions nine years ago.
Through leadership by example, Steve has garnered very loyal donors over the years, who participate in fundraising activities, assist in the organization's operation and administration, pledge donations and support special fundraisers like this annual walk by Steve from Phoenix to Puerto Peñasco.  He is "sponsored" by donors willing to pledge an amount per mile, which ranges from pennies to several dollars. "Any amount is good because 100% of the money goes directly to benefit the children."
Steve felt strongly that his walk this year was going to raise more funds than in several of the past years. "Donations were still coming in this morning! It's exciting," he said.
What is the best thing about seeing a crowd greeting you as you finish such an obviously grueling endeavor?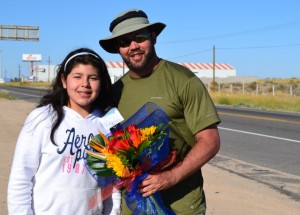 "Easily, that would be to know Ana Paula and her parents will be here to give me a hug and a bouquet of flowers. She and her family have been coming out to welcome me with such love and appreciation every year since the foundation saved her life from a threatening brain tumor nine years ago. And that is what it's all about."
From the brightness in his eyes as he describes the feeling he gets from this annual reunion, it is obvious that Ana Paula is the personification, indeed, the essence and manifestation of Steve's original vision for the Peñasco Children's Foundation.
Please visit www.penascochildrensfoundation.org to learn how you can participate in the great services of this generous and effective organization.
We know you don't want any recognition for this monumental walk you complete year after year, but hey, Steve, another great job for an even greater cause!
This blog is brought to you by The Sonoran Resorts Sales Group, Jim Ringquist, Director of Sales. 
Related Posts
This year marked the 11th annual January Jam that began as an…

It has been less than two years since Mayor Kiko Munro inaugurated…

Each and every year, as we mingle through the…