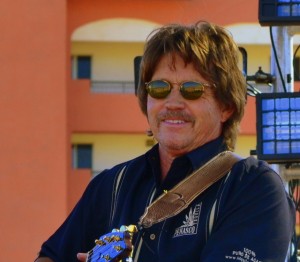 This is the eighth and final article in a series in which we have shared a peek inside the fascinating lives of the legendary group of classic rock and roll stars making their second appearance headlining the Sta. Patricia's Day Peñasco Palooza 2012 on Saturday March 17.
That's tonight!
Again this year the Palooza will be held under the stars across from Chango's Bar and Grill on the entrance road to the Sonoran Sea and Sonoran Spa Luxury Beach Front Resorts on Sandy Beach, Puerto Peñasco, Sonora, Mexico.
If you missed the historic performance by this group of famous artists at the first Palooza last October, through these articles, you have eight solid reasons not to miss this one tonight. If you did attend the October  performance by the great legends, then we are sure you are in town and already have your tickets, probably VIP seating tickets and have brought some friends down with you!  If you are in town and haven't secured tickets for tonight, you can get purchase them at Reggie's 8/12 or even better at Chango's Bar and Grill.  General Admission is $30.00; with VIP Seating admission is $50.00; and VIP Package is $100.00 if there are any remaining. The latter comes with a deluxe goody bag full of Tequila Peñasco (One bottle), a cap, koozy, T-Shirt, and a bunch of other neat things to take home with you. The event is brought to you by Home of the Brave Concerts and sponsored by Tequila Peñasco.
Get on out to Chango's and secure your admission to this concert.  It's called a Palooza because it's a long, crazy party with four bands appearing back to back!
In faithful Mexican style, the first musical performance is by a popular Mariachi Group that always energizes the whole atmosphere.  Next up will be a great local band called Riband a versatile group of musicians who will entertain you with covers from Santana to Alabama and beyond.  This year we're honored to have a local entertainer gone nationally famous, Alan Munro. He has agreed to come back to his roots and get the audience in a collective frenzied readiness for Steve McCarty (Steve Miller Band fame, Curly Smith (formerly with Boston and Jo Jo Gunne) and the Hit Men All Stars, all former members of such historic rock and roll legends as Aerosmith (Jimmy Crespo); Three Dog Night/Night Ranger (Gary Moon); David Lewark (Sammy Hagar/Eddie Money); Moody Blues (Paul McDermand); Anita Baker/Chaka Khan (Leon Bisquera); and Billy Preston/Sam and Dave (Terry Anderson). This is one recommendation we can make with surety! You will be glad you!
Adding to this concoction of concert bliss is the added benefit to the town: a portion of the proceeds from the Palooza will be donated to six deserving local charities who will receive their donations on stage tonight!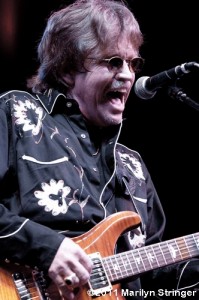 Let's get back on track and peek into a small corner of Steve McCarty's musical career. To look any further we're talking novel! However, just a small corner of Steve's career in rock and roll history is a complete educational experience in itself, covering a roadway of progressive growth through an era of critical musical maturity in the U.S. and the world; an era through which Steve McCarty was lucky to have been at an age, combined with the musical proclivity to "take the opportunity and run" and grow with.
Beginning, as all the headlining musicians on the stage tonight have, with an early exposure to a musical instrument, since toddlerhood in Steve's case, followed up with proper and timely formal training to enhance his natural aptitude, and his own early passion to become a part of the overall creative process through which the music industry was passing, Steve was able to reach the highest level attainable in the industry—and at a comparatively young age.
At the age of just 14, Steve was playing and singing folk music during its peak of overtaking the minds and hearts of America's youth during the mid-sixties, when Jack Kerouac and his hippie intellectual friends were "On The Road" shaping the life styles of youth across America and Europe.
Steve's hunger for creativity prompted his writing a plethora of songs and musical arrangements as well as learning new instruments that would help him expand his creativity even at high school age.
Steve was ready when opportunity knocked, literally, on his door. The big brother of a friend of his, to whom Steve was giving guitar lessons one afternoon, dropped by and happened to hear Steve playing.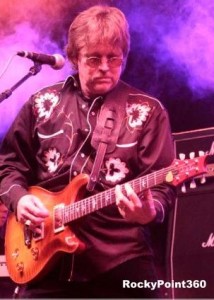 That big brother's name was Steve Miller. He and his friend, a guy by the name of Boz Skaggs, were going to San Francisco to start a band.  Steve asked Steve if he wanted to go with them. They needed someone to drive the extra car as they were in a big moving truck.
Shortly after moving to San Francisco, Steve and Steve discovered a mutual interest and talent for writing songs and music. Boz eventually moved on to his career and Miller and McCarty became roommates writing and performing and finally fulfilling Steve Miller's dream of starting the Steve Miller Band.   And the rest is a 40 year history of hit after platinum hit co-written by the two Steves.
Even though Steve McCarty left the rigors of touring years ago and settled in Santa Fe to be with his Dad during his final years, Steve remains close friends with Steve Miller and performs with the band often to this day.
McCarty's passion for writing is as strong today as it ever was. He's been working on an album of new songs. It includes the original arrangement of his classic solely-written platinum hit, "Wild Mountain Honey" for which he not only wrote the lyrics, but the music for every instrument in the song. When it was recorded as a hit, synthesizers were used to create the sounds of all the rare and exotic instruments Steve originally scored for the song.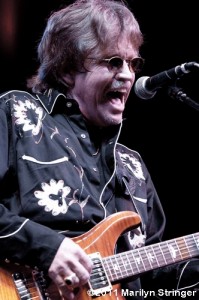 Steve's special affinity for "Wild Mountain Honey" which he feels was channeled to him in its entirety, including all the instruments involved in the music arrangement, has led him to complete the laborious task of  recreating the song using the original instruments. Some of the more exotic include the ancient Indian tampoora, Dilruba, Eastern Indian Tabla, African Djimbe, Middle Eastern Udu, as well as the more contemporary clarinet, oboe and violin. On this pure, "organic" version he has recorded as he originally wrote it: every note of every instrument and personally sings every vocal part.  This, the originally intended version of "Wild Mountain Honey" could be the first Eco-song of the last century.
Steve McCarty and his wife, Trish, love Rocky Point and organized this group of legendary musicians to do their part in helping the destination through the hard times when tourism is being pelted by the worldwide economic downturn and misdirected news coverage of the violence occurring on other parts of Mexico far from the peaceful environs of this scenic sea side paradise.
Thank you, Steve and Trish! You are loved and admired by everyone in our community and we can't wait to hear you performing your legendary hits tonight!
This blog is brought to you by The Sonoran Resorts Sales Group, Jim Ringquist, Director of Sales.
Related Posts
Successes tallied by the well selected and trained group of mostly young…

There is a very special music event taking place next Tuesday evening…

But what a four day ride---and it just gets better each year!…