Here's a story by Sonoran Resorts "Best Job in the World" Guest Blogger, Stuart Burnett.
The spirituality of Pinacate, the desert and the sea converge in Rocky Point. Meet one who has walked this area for centuries.
The Spirit Walker
I've spent a lot of time visiting Rocky Point (Puerto Penasco) over the past 30 years, watching the town grow from a sleepy fishing village to a beautiful resort destination. I've always loved the Sea of Cortez, where it meets the desert, and have wondered of the people and their ways who called this area home long before it became a weekend in a luxury condo at the beach. The rich spirituality of Pinacate, the vastness of the surrounding desert, and the lore and beauty of the sea, all converge in Rocky Point.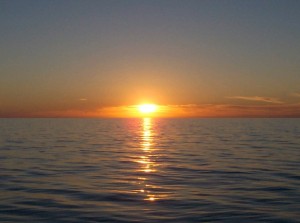 There are things known only to few these days, mostly distant memories, about life as it used to be when the Seri natives were the only residents of the coast from El Golfo to Guaymas. This is a story of that spirituality and, to this day, was one of my most memorable trips to Rocky Point.
Several years ago, my wife and I decided we'd drive over to JJ's in Cholla Bay for dinner and watch the sunset. JJ's is a world famous cantina, right on the edge of Cholla Bay and a must-visit if you've never been there before. In those days, the road between Peñasco and Cholla Bay was about 10 miles of washboard sand. The only thing on Sandy Beach then was just that – sand.
As we neared Cholla Bay, we came across a young American guy, waving his arms. I stopped the truck and asked if he was okay. He said he and his buddy were four-wheeling up nearby Competition Hill, a mountain partially covered in sand that is popular with sand rails and ATV s.  He said they realized they couldn't make it to the top and began backing down. They went over the edge into a deep pit and wrecked their truck. He had a few cuts, but said his buddy was hurt pretty bad.
We let him in the truck and hurried to the area where he had wrecked. The truck was upside down, all the glass smashed out and the cab was slightly crushed. His buddy was leaning against the truck and he was bleeding. I grabbed my first aid kit and was able to stop the bleeding from several deep cuts.
It was then I noticed that they had a woman with them. She appeared to be a native woman with long grey hair wearing traditional Seri garb. She stood nearby watching, but said nothing and appeared unhurt. I told the guys I would give them a ride back into town for medical attention, but they insisted that I help them turn their truck back over. I was more concerned about them than the truck, but understood they didn't want to leave the truck.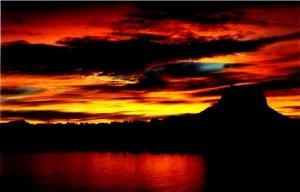 The badly injured guy was pale and possibly in shock, but coherent and alert. I wrapped him in a blanket I had in my truck. The Seri woman stood close by him. I got out my tow strap, hooked it up to their truck. I had to rock it a few times, but was successful in getting their truck rolled back over. The guy that had flagged us down got in and, after a few attempts, was able to start the truck. He said he was going to drive back into town and I told him I'd follow him to make sure he got there safely. He came around the passenger side and opened the door and, again without a word, the Seri woman got into the truck in the middle of the seat. We helped his buddy get into the passenger seat. They headed into town with us behind them with our flashers on.
As we drove, I commented to the wife – Wow! Was that messed up or what? She asked "What's up with the old woman?" I told her that I had no idea – I mean, she had to be in her 80's or older and these were young American guys in their 20's. It really made no sense at all and neither of the guys even spoke to her or acknowledged her being there, just plain weird. We pulled into the Cruz Roja (Red Cross) station behind them and they both thanked us, so off we went.
A couple weeks later, I was back in Peñasco and related this same story to some friends and locals gathered at the beach. When I first mentioned the native woman, one of the gals stopped me and said "Was she old with long grey hair and dressed in Seri garb?"
"Yes", I answered, "how did you know?"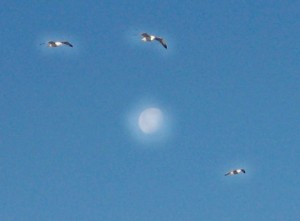 She went on to explain that she had heard this very same story several times from both locals and tourists that had been involved in accidents in the desert over the years. She is a spirit walker and appears at the scene of accidents and escorts those who die to the other side. The gal asked me "She didn't speak at all, did she?"
"No", I said, "not a word."
"The two guys, did they know she was there?"
"Well, didn't seem that way, they never acknowledged her at all, even though she got in the truck with them. Both my wife and I saw her and she seemed real enough to both of us."
So, was she real? An angel or demon? I'd say angel. Maybe it was her being there that kept the one young man alive, or maybe it wasn't his time. I'll never know. What I do know is that there are spiritual things in Puerto Peñasco and the desert beyond that are simply beyond my comprehension. Visit and find your own spirituality!
This blog is powered by www.sonoranresorts.mx, Jim Ringquist, Director of Sales and Marketing.
Related Posts
If this great photo contest were a horse race, somebody is going…

This is the fifth in a series of eight articles that share…

You only have until midnight tonight, Wednesday February 29th to submit that…