The odds are increasing every year that we will lose a loved one to the painful and invulnerable disease of cancer.  And every year for the last six years a small group of people from Rocky Point, both Mexican and American, who have lost a loved one to this indiscriminate assassin gather in the Guadalupe Catholic Church on Simon Morua at 4:00PM for a short service and then walk together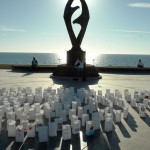 down Benito Juarez to the Malecon and light luminarias in memory of their loved ones.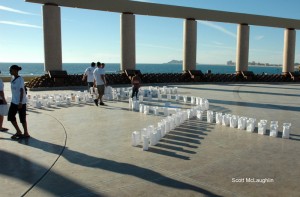 This memorial gathering is not without a grander purpose, however. All the money from the sale of luminarias, which participants decorate and personalize in many touching and colorful ways, goes toward the group's dream of one day building a hospice for those with cancer to receive constant care and live out their lives with dignity and love.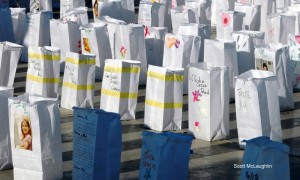 Luminarias are $5.00 each. You may want to bring your own felt-tip pens or colored pencils if you would like to personalize your luminaria.  There are also T-shirts and caps on sale at reasonable prices to help the hospice cause.
What a terrific way to put your memory of a loved one taken by this monstrous disease to a greater good! Join the 7th Annual Rocky Point Cancer Walk this Saturday, October 27th at 4:00PM at the Guadalupe Catholic Church.  The walk starts at 5:00PM in order to arrive at the Malecon by sunset.
For more information on this worthwhile cause, you may contact Kory Bonini at italmx.fu@hotmail.com or call her locally at (638) 113-1284.
This blog is powered by www.sonoranresorts.mx, Jim Ringquist, Director of Sales and Marketing.
Related Posts
This is great news for many, especially those who live in and…

With 17 of the 20 available exhibit spaces sold for the first…

Driving on Benito Juarez toward the Malecón just past the Santander Bank…