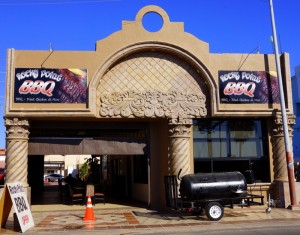 Driving on Benito Juarez toward the Malecón just past the Santander Bank on your left, you've probably noticed the sign for Rocky Point BBQ that's been up since March of this year. There are several tables under an open shade port flanked by spiral stone columns. Also from the street you can see a windowed area, which is the air conditioned inside of the restaurant.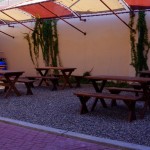 There's a lot more to the new Rocky Point BBQ than is visible from Benito Juarez because through that high portal is an open area leading all the way through to a small street and additional parking. In that area the new owner built an outdoor brick grill and oven kitchen, more picnic type seating under large oval awnings and (clean) restrooms that give the feeling of being in a small landscaped park.
The owner of Rocky Point BBQ is Kenneth Muhammad who lives in the Phoenix area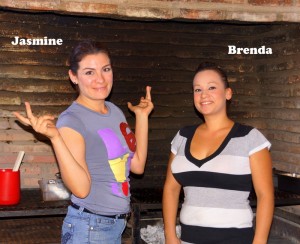 and commutes down most weekends. His General Manager, Jasmine Alcántara, a Puerto Peñasco native who has been with him since the beginning runs the operation with efficiency and consistent quality. Assisting her in the "front of the house" operations is the personable service-oriented Brenda Zaragoza who was raised in Washington and Mesa, Arizona making the restaurant totally bi-lingual.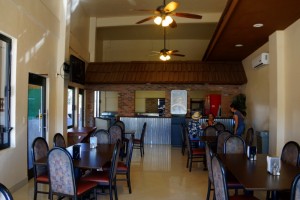 Our first experience at the restaurant came about only after driving by over a period of several months. Its clean appearance from the street is inviting enough but we always seemed to be on our way somewhere else when we passed it. When we did go for lunch, at the recommendation of a friend, we were more than impressed with the food, atmosphere, service and cleanliness. It was all complimented by the friendliness and knowledge of Jasmine and Brenda, as well as the BBQ chef, "Drik" (with the pincers in the photo) and his assistant cook, "Nacho" who both have been with the restaurant since the opening and will communicate with you in Spanish or through their consistent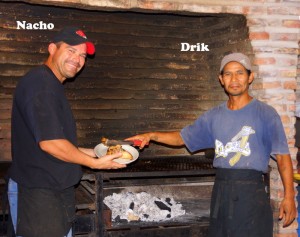 smiles.
Jasmine explains that the owner's secret recipe sauce is the reason everyone is so pleasantly surprised by the excellent taste of all the food on the varied menu.  In addition to BBQ  sandwiches, chicken, ribs, wings and even hamburgers, they have fried chicken, oven-baked potatoes smothered in cheese and shredded beef, buffalo wings, chicken nuggets and an assortment of side dishes. You will notice the distinct flavor of their "secret" sauce.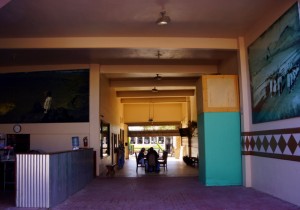 They have free WiFi, two TVs inside and two outside plus a large pull down screen for projecting movies in the evenings, which is going to be really nice in about a month. Rocky Point BBQ is open from Noon until 9:00PM Monday, Wednesday and Thursday, and from Noon until 10:00PM Friday, Saturday and Sunday. They are closed on Tuesdays.
If you are a true BBQ fan you're going to love this: Mondays and Wednesdays are "All you can eat" for $10.00! It's definitely worth a try!
Special thanks to Tony Ballesteros for these great photos.
This blog is powered by www.sonoranresorts.mx, Jim Ringquist, Director of Sales and Marketing. 
Related Posts