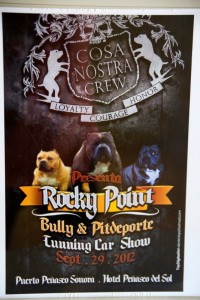 What a combination: Custom Cars and a Dog Show of super educational value since it dealt with a breed of dogs of which most are either not aware or have a mistaken impression.
This unique combination of cars and dogs came about because there are a lot of Puerto Peñasco Car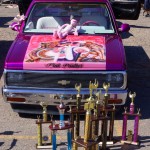 Club members who are also Bully owners and breeders. Francisco Lázaro, the principal event organizer was very active in the Desert Dreams car club that sponsors up to two events a year here and is also a Bully enthusiast.
On the car front, we had the always fun to look at radically custom bicycles right along with the cars represented by several of the local clubs and a couple from Mexicali and elsewhere. Our apologies to those clubs who don't get recognized in this article.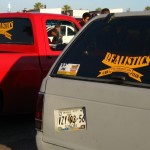 The most visible cars, as in most of the shows, were those of the Realistics, several of which are seen here inundated with trophies from this and past shows.
Of course, we had our share of local celebrities with their own "breed" of car. In this case well maintained "Thing", the street rod driven by Plinio Rivero, Architect, and his wife Sami Keesecker-Rivero of Rocky Point 360.
Francisco teamed up the Cosa Nostra Crew that has dog clubs in LA and Phoenix and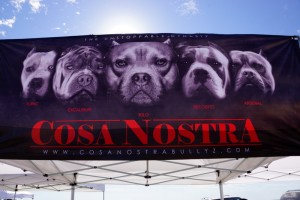 brought in an official judge from LA, Garland Juarez, Director of the American Preservation Dog Registry, dedicated to educating owners about what their breed of dog was bred to do and show them how to train them best bring out their instinctive abilities. Garland supervised and judged the competition among the classes of dogs. As the photos show, these dogs feature strength and agility.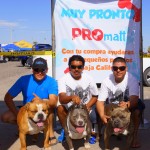 In the weight pull competition for example, these Bullies pulled from several hundred pounds up to nearly 3,000 pounds on a track with a slight incline.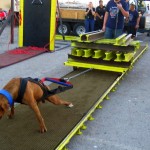 In the jumping/climbing category some dogs jumped 12-15 feet to grab the special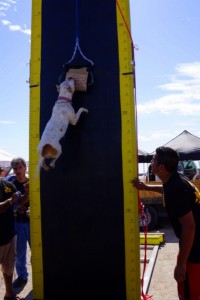 training toy.  Getting them to let go of the toy after successfully grabbing it should have been another competition altogether!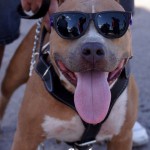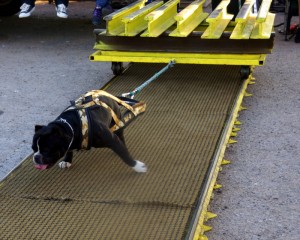 One of the participants, Ikaika Ah Choy, an owner, breeder and trainer had come in all the way from Hawaii with his 2 ½ year old Shorty Bull named Bull-it (pictured left), a new breed of Bully made up of a composite of Mini English, French Bull, and English Staffie Bull. They flew 5 hours by plane then drove from California to arrive just yesterday morning in time for the show. The pair will return to Hawaii in two days and come back to Phoenix in a couple of weeks for a sanction International Bully Kennel Club for which Ikaika's sister is the Event Coordinator.
Bull-it is also a trained and certified Medical Alert dog and is able to travel every where Ikaika travels, even in the airplane alongside him.
We thank Tony Ballesteros for all these wonderful shots.
This blog is powered by www.sonoranresorts.mx, Jim Ringquist, Director of Sales and Marketing.
Related Posts