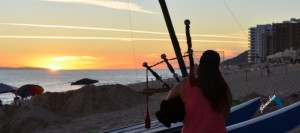 How do you enhance one of the absolutely divine sunsets we are lucky enough to experience almost daily here in Puerto Peñasco? Imagine the beautiful "Amazing Grace" played on Scottish bagpipes timed to match the path of the golden sun as it melts into the western horizon in a crimson crescendo across the calm blue Sea of Cortez; a cacophony of color and mesmerizing music that will carry you as far into the heavens as your imagination allows.
You don't have to imagine this beautiful sunset sound and scene if you're around the pool or beach in front of the Sonoran Spa Resort Condominiums this week, or any fall or spring school break week as Lori Clark arrives on the beach most every evening with her historic instrument and pays tribute to the beauty and miracle of sunset and the blessing of being able to enjoy it. This moving experience stops everyone around her in their tracks as they hang on to every note of several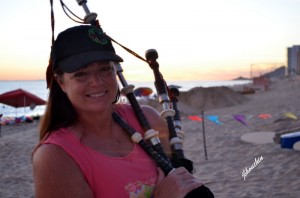 arrangements she plays leading up to the climax with "Amazing Grace", and is always humbled by the number of people who take the time to come up and thank her or compliment her musical skills.  Her love of this instrument shows in her pleasant smile and willingness to talk about it and her music.
Lori has been visiting Rocky Point twice a year, during fall and spring break since around 1998 and staying at the Sonoran Spa with her sister who owns a condo there, and who introduced her to our little slice of paradise.  Lori and her sister are the only sister team employed by the City Tucson Fire Department. They are both paramedics.
Lori, who grew up in North Dakota, has loved bagpipe music since hearing them being played as a young girl when her family camped up in Canada.  Later in life, after becoming a paramedic, the Tucson Fire Department announced their plans to form a pipe and drum ensemble and asked for volunteers. Lori saw this as fate knocking and jumped at the chance. She plays and travels several times a year with the Tucson Fire Pipes and Drums, consisting of 11 pipes and eight drums, performing for memorials, retirements, and other Fire Department functions.
Lori owns the full kilt and gear but chooses not to wear it to the beach, although she has seen a beach towel designed like a kilt that she's thought about adding to her beach ward robe. As you might expect, we more than enthusiastically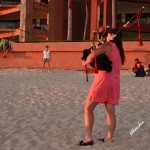 encouraged her to go forth with that idea!
In town until next Tuesday, Lori will more than likely be down at the beach paying tribute to the sunset most of those evenings. It's impromptu, informal and well worth a stroll to the beach in front of the Sonoran Spa. If you miss her this trip, Lori will be back during Spring Break week with her 9 and 10 year old daughters.
This blog is powered by www.sonoranresorts.mx, Jim Ringquist, Director of Sales and Marketing.
Related Posts