You probably know Luis Garrido of Outta Town Productions as the legendary beach volley ball organizer who brought his tournaments to Rocky Point for 19 years, along with thousands of participants and spectators which translated into substantial tourism revenues for the City of Puerto Peñasco. You can read more about Luis' contribution to Rocky Point tourism and the sport of beach volley ball in our blog archive at https://www.sonoranresorts.mx/?p=2367.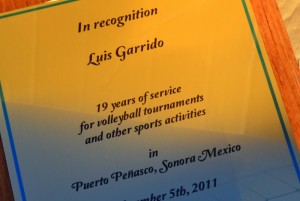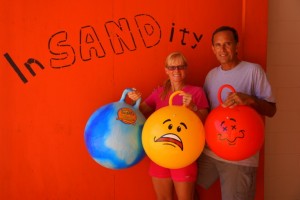 What you may not know is that back in 2010 during one of his beach volley ball tournaments Luis tested an idea he had for another altogether different type of activity that involved setting up a course of man made obstacles along the beach that tested agility, balance, coordination and team work among many other physical attributes. The favorable response he received was such that Luis has since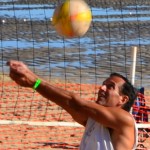 designed and developed the ultimate beach obstacle course that combines his signature creativity, fun and challenge into 18 custom-built and strategically placed barriers along a sculpted beach course.
Luis and his new wife, Karen, plan to make this event an annual affair on Sandy Beach and have been working tirelessly building the entire course. These photos of them were taken by Tony Ballesteros while they were putting the finishing touches on and testing the larger structures this morning. They'll be back early in the week for more of the the long hours necessary to make your weekend exciting and fun!  Looking at the sturdiness and size of these structures it's easy to realize Luis and Karen are planning for a long run of InSANDity!
Here are just 10 of the 18 obstacles—all Luis would allow us to divulge:
Swinging Balls—You'll run through 36 swinging medicine balls of varied sizes hanging from various heights. Make sure you don't tick off the person going through before you!
Rope Walk—Only six hanging rope loops step by step to the other side. Can you say "Swiiiing?"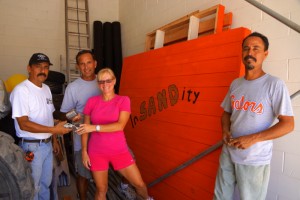 Water Slide—Oh Yeah! About 50 feet worth to slip 'n' slide your way like a bobsled toward the sea! Hey! You with the horse costume; assume the sitting position and hang on to the mermaid!
Hip Hop—Alternating high-steps over 12 horizontal bars mounted 36" off the sand…and "Look Mom, no hands!"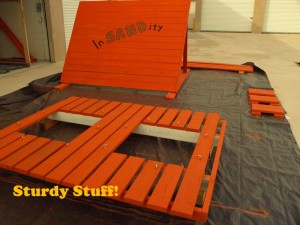 Chutes and Ladders— Climb an eight foot tower by rope ladder then hand-over-hand on a single rope to next tower then down to beach through a cargo chute. Don't count on UPS for this delivery! You're on your own.
Reverse Incline Wall—Scale a 6 ½ foot reverse incline and down the other side. Hint: Team Work!
Straight Wall—Scale this 8 foot wall straight up with nothing on the up side, then negotiate a mast net down the other side. Hint #2: More Team Work!!
Vertical Cargo Net—Scale an angled cargo net for 20 feet to 15 feet above the beach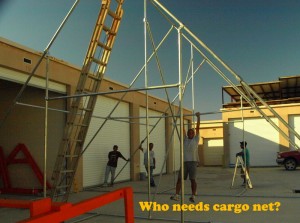 then back down another 20 feet to sea level. Don't be rockin' the cargo net, sailor!
Balance Beam—Stroll along 40 feet of rolling logs with 3 inches of play side to side, that's all. Three inches? That's not so bad.  Yeah, right, Mr. Lumberjack!
Horizontal Cargo Net—Scurry along 20 feet of cargo net 9 feet wide elevated above the beach. Be real sure you make friends with the person next to you on this one!
Now picture these being negotiated by hundreds of fun-hungry adventurists in Crazy Costumes! That should have your ribs sore with laughter by the end of the day!
Luis says there was no other way to describe the course but pure "InSANDity!" After seeing these obstacles, we agree.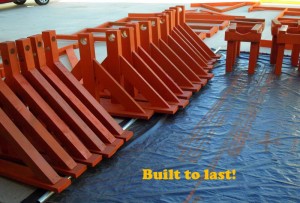 The InSANDity Ultimate Challenge premiers next weekend, Saturday October 6th and Sunday October 7th on Sandy Beach in front of the Sonoran Sea Resort from 9:00AM with the last wave at 4:00PM each day. Costumes are encouraged!
Look for the bright orange obstacles on the beach. The course will be hard to miss!
Entry per person is $45.00 US.
Each participant will receive a coupon good for one free beer at Chango's, site of the after party each night.
Go to www.inSANDity.net for more details and to register on line as well as book your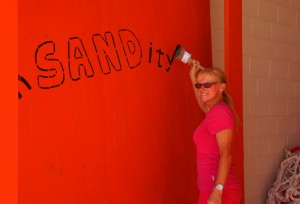 accommodations at the Sonoran Sea at special InSANDity!  rates.
Participants can pick up registration packets and register to enter at Chango's Friday evening from 7:00PM until 9:00PM.
Packets contain participant wristband, participant number, and beer coupon.
Thank you, Luis and Karen for making Rocky Point the home for this event, and may it be around for 19 more years! With the two of you at the helm, we can count on that happening!
This blog is powered by www.sonoranresorts.mx, Jim Ringquist, Director of Sales and Marketing.
Related Posts
After being blown away by last year's premier presentation of pure and…