This is the second in a series of seven articles that share a peek into the fascinating lives of the legendary group of classic rock and roll stars making their second appearance at the Peñasco Palooza this St. Patrick's Day, Saturday March 17th.  It will be held across from Chango's Bar and Grill on the entrance road to the Sonoran Sea and Sonoran Spa Resorts on Sandy Beach. If you missed the historic performance by this group at the first Palooza last October, these articles will give you seven solid reasons not to miss another Peñasco Palooza!
Like all the great musicians headlining the March 17 Peñasco Palooza 2012, Terry Anderson developed a love for music at a very young age. At 6 years old, Terry got his first set of drums, but his older brother played guitar and sax so it wasn't long before Terry was playing those two instruments as well. In fact, he was playing the sax in his own band from the age of 8 to 10 years old!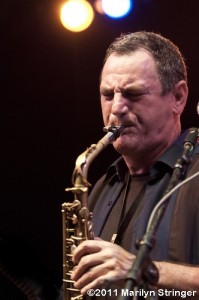 He won his share of competitions through high school and joined the US Coast Guard after graduation. It was while in the Coast Guard that Terry got his first paying gig as a sax player and developed his skills on both the sax and guitar in New Jersey and in Hawaii where he met his wife, Jayne, who is an accomplished Flautist.
Terry continued playing band gigs through the Coast Guard and then through college while he earned a degree in engineering. "Because my Dad told me to always have a skill in case I ever needed a day job," says Terry with obvious reverence for his Father's advice. And being an engineer has come in very handy for him not just as a day job. He has actually built his own sound and recording systems.
Terry loves jazz and developed his sax skills to include Tenor, Alto and Soprano sax. He relocated to Phoenix and played with several jazz bands through the mid 90's until one day he was approached by a friend who asked if he could sit in on a gig. Since they were friends Terry agreed without asking any questions. By then he knew most of the local musicians in Phoenix, but didn't recognize anyone in the small home where they were practicing.  He went ahead and pulled out his sax, played a couple of riffs, and then the keyboard player started warming up and Terry knew for sure he was in the wrong room.  These musicians were really good, he thought.
He was literally putting his sax back in the case when the keyboard player came over and first introduced himself as Billy Preston. It was then Terry recognized him as the keyboardist who played with the Beatles on their albums. Then Billy said, "You ain't going nowhere, son, you're part of the band." Terry toured with Billy and the other musician at the house, Sam Moore (of Sam and Dave fame) for two years playing Alto sax. For a time after the tour, Terry and Sam Moore played an "emerging talent" TV show called Motown Live in 2000 and he still appears with these musicians when they're in town.
Throughout all this time Terry was doing studio recording work and has recorded on 14 albums including Bars with indie favorite David Grossman and the Limit, Michael Shields, and many others.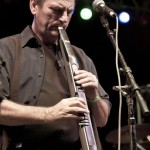 He toured 10 cities in Mexico in the mid 90's with the Peter Storn Project, worked with Peter Storn on two CD's and has recorded a special with some of the Tower of Power members. Terry has appeared with the Steve McCarty Band (of The Steve Miller Band fame), and currently plays jazz with the Larry Bailey Project and appears at Chars in Phoenix on Wednesdays. He'll be appearing with Paul McDermand (Natalie Cole and Moody Blues fame) next month at the Tempe Center for the Arts and will appear with David Grossman at the Higley Arts Center in May.
Terry is looking forward to returning to Rocky Point with his wife, Jayne. He was "blown away" by the variety and quality  of food and the fact that our beaches remind him of Hawaii or the Midway Islands only "less crowded and the locals aren't so frantic." He especially loved the "top notch" accommodations at the Sonoran Sea Beach Front Resort Condominiums.
You'll see Terry again this March 17th at the Peñasco Palooza and we may get to hear him play his electronic saxophone as well as the guitar.
This blog is brought to you by the Sonoran Resorts Sales Group, Jim Ringquist, Director of Sales
Related Posts
Steve and Lulu Yoder are among the 'fewer'. They dared to dream…

Until you've sailed, you might wonder about the free spirit that radiates…

This is the sixth in a series of eight articles that share…