This is the sixth in a series of eight articles that share a peek into the fascinating lives of the legendary group of classic rock and roll stars making their second appearance at the Peñasco Palooza 2012 this St. Patrick's Day, Saturday March 17th.  Again this year, the Palooza will be held under the stars across from Chango's Bar and Grill on the entrance road to the Sonoran Sea and Sonoran Spa Luxury Beach Front Resorts on Sandy Beach, Puerto Peñasco (Rocky Point), Sonora, Mexico.
If you missed the historic performance by this group of consummate artists at the first Palooza last October, these articles will give you eight solid reasons not to miss the March 17 extravaganza.
At five years old, in a small Brooklyn home, a young boy of Puerto Rican descent on both sides of his parents, picked up his father's guitar and plucked out a tune. Even when his Grandfather, a violinist and a huge influence in the life of Jimmy Crespo, gave the lad a violin when he was six his fascination with the guitar was apparent. To the chagrin of his Grandfather, Jimmy held the violin like a guitar and strummed it.
It wasn't until he was 14 that Jimmy Crespo began to develop his heretofore hidden musical talents. He had loved the Beatles and all kinds of rock and roll music. Once after hearing a moving riff by the Rolling Stones, he said to himself, "I can do that." And the rest is rock and roll history.
What one gets early on in an interview with Jimmy Crespo is that when he makes up his mind to do something, it gets done—no matter what.  When he decided he wanted to play rock and roll music, he had no money and knew nothing about playing the guitar other than he loved the music it produced. He was soon to learn about his natural aptitude for playing the guitar.
He started shining shoes, and then added a paper route to save enough money to buy a used guitar he found in a pawn shop. He spent six weeks learning all the chords and then decided he needed to form a band to develop his skills further. To answer the question, "What if I can't find musicians for a band?" Jimmy taught himself how to play the drums, and all the bass guitar parts just so he could teach his friends who might be willing to learn and start a band.
Still only 14 years of age, Jimmy formed his first band called the Knoms and began developing his unique style and tone from influences like Cream, The Beatles, The Yardbirds and Jimi Hendricks.
Crespo's natural talent for all things guitar and his focused practice sessions enhanced by his creativity led to his phenomenal progress as an accomplished guitarist at a very young age. Still a teenager, Jimmy had built enough confidence to make the decision to go to New York City and "play with the big boys." Even though it took longer than he originally planned, since Jimmy's decisions always came with an equal commitment to see them through, he had formed a club band (Anaconda) that drew attention from enough local industry figures that soon he was doing session work for such high profile artists as Meat Loaf and Stevie Nicks.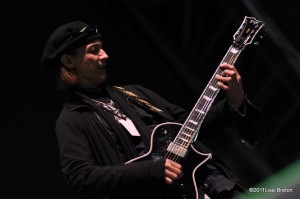 Around 1975 he was asked to join the RCA-signed band, Flame, as their lead guitarist. He wrote half the songs for their debut album "Flame" in '76 and all the songs for their second album "Queen of the Neighborhood" in '77 before their breakup.
He returned to session work until discovered by Aerosmith management following the departure of that band's lead guitarist, Joe Perry. He was asked to join the band in October of 1979.  After much deliberation—Jimmy knew he would be under a lot of scrutiny by the fans and press alike replacing the lead guitarist of such a publicly adored band—Jimmy accepted the challenge, and the risk. His first assignment was to contribute the guitar solo to the song "3 Mile Smile" for the already recorded "Night in the Ruts" album.
Shortly after joining Aerosmith the band began their tour—the infamous tour that highlighted the increasingly erratic state of their lead singer Steven Tyler who was heavily affected by drug addiction.  Jimmy was forced to take over several times on stage holding the music together as band members attended to a collapsed Steven Tyler. In fact, he is credited with holding the band together as they worked through the troubles of their lead singer, and even through the departure of Brad Whitford, who Jimmy loved to perform with, due to the band's issues.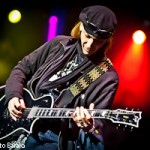 Even with the singer's troubles, Crespo and Tyler developed a successful songwriting and touring partnership, Steven referring to Jimmy as, "one of the best guitar players I've ever seen." Not only did Jimmy co-write the majority of the songs on Aerosmith's 1982 album, "Rock in a Hard Place" but with Whitford gone, Jimmy performed almost all the guitar duties on the album! The album hit number 32 on the U.S. Billboard chart. It reportedly cost over $1 million to produce and received 5 Stars from several critics.
Tagged by Jimmy's loyal fans as "The Post Aerosmith" era, after Jimmy decided to leave the chaotic issues of the band in '84, he spent several years playing on releases and touring with Adam Bomb, the Geffen Records signed band and contributed to their album "Fatal Attraction".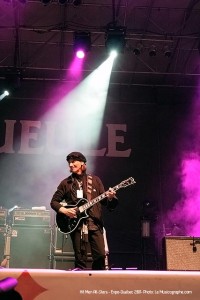 In 1985 Jimmy decided to settle in L.A. with his new wife, Cynthia, and raise their two children while doing session work in the area. He managed to stay away from touring for the better part of 7 years. The only exception was recording and touring with Billy Squier for a couple of years. He met Curly Smith while playing with Squier and formed a friendship that is still tight to this day, and the reason they will be together this coming weekend in Puerto Peñasco.
While playing with all the legendary performers he has, perhaps Jimmy Crespo's most personally rewarding musical experience was touring with his idol, Rod Stewart on his two year World Tour in '95-'96. In Jimmy's own words, "It was great working with one of my idols. When we were in England I got a chance to do "I Ain't Superstitious" which was one of my favorites from the Jeff Beck Group days. I got a chance to use [the Fulltone Effects VOX vintage wah) on that one song and I'll never forget it. I felt like it was a dream come true, playing something that I listened to as a kid. That call and response—he would sing, and I'd play the Jeff Beck lick. I was SO into it…I really fulfilled a dream."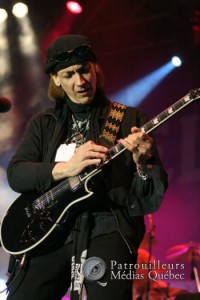 It was with Rod Stewart that Jimmy played before the largest crowd he or Rod had ever played; 84,000 in a sold out Wembley Stadium in England! In fact, Rod's World Tour was one of his most successful tours ever, reaching number one in sold out performances and tickets sold.
Jimmy has been living in Las Vegas with Cynthia, his wife of 26 years where he continues doing studio work, and stays very busy writing and performing in the major casinos with such bands as the Sin City Sinners, Phoenix, and Rock Daddy. He has also recently formed the Jimmy Crespo Project with some personally selected musicians. He is writing a lot lately and has even designed a rock amplifier simulator for Nomad called the "Rock Amp Legends by Jimmy Crespo".
He loved it in Rocky Point last October and is looking forward to being here next week end and making music on stage with all the other legends of rock and roll at the Peñasco Palooza 2012.
Jimmy, we can't wait to hear your unique style of "Riff and Roll!"
This blog is brought to you by the Sonoran Resorts Sales Group, Jim Ringquist, Director of Sales. 
Related Posts
Steve and Lulu Yoder are among the 'fewer'. They dared to dream…

Until you've sailed, you might wonder about the free spirit that radiates…

This is the fourth in a series of seven articles that share…