Steve and Lulu Yoder are among the 'fewer'. They dared to dream of sailing the Sea of Cortez, living aboard their own vessel and spending ample time getting to know a country they knew they would love based on past travel in Mexico. They dared to live that dream when they retired. They sold everything that didn't fit in their 28' Westsail Cutter-Rigged Sloop and literally sailed off into the sunset. This was two years ago and they are still having fun, adventure and life fulfillment.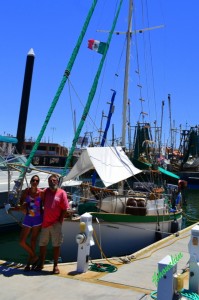 They sailed their sloop, Siempre Sábado, into Puerto Peñasco last week for Circus Mexicus which they'd heard about through some other cruisers they'd met in their travels during the last two years. Cruisers, as one could understand, are a tight group of like-minded adventurers and few enough that they actually meet up by accident in different ports. They share drinks, dinner and stories on each other's boats while docked, then sail their separate ways, perhaps meeting up by chance at another port.
Steve (Stephen) and Lulu (Lu) both grew up in various parts of Oregon and met through Steve's little brother when Lulu was still in high school and Steve was in the Navy. As Steve put it, "Her father was a retired Marine so I was afraid to tell anyone how much I cared for her until after she turned 18." They've been married now for 35 years.
For their 25th anniversary they flew down to La Paz for a couple of weeks and there decided that when they retire they were going to sail back down to this beautiful, peaceful little port and stay awhile.  And that is exactly what they did.
Their original plan was to embark on their lifetime adventure in April of 2009, but the realities of boat ownership mounted in the form of myriad repairs and replacements necessary on their newly acquired vessel so they wisely decided to pull back from rushing to meet their self imposed deadline, take their time and make sure their future maritime home was in "ship-shape" (literally).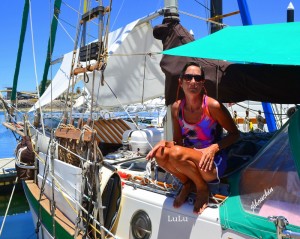 By September of 2010 this couple with adventure entrenched in their blood were finally sailing off into the sunset stopping in numerous ports along the Pacific coast before launching on a seven day non-stop cruise from Ensenada to Los Frailes on the southern Baja Peninsula, then north to La Paz where they would spend more time.
When they reached La Paz they began to realize the full value of the freedom and enjoyment living aboard a boat can offer.  They could stay as long as they wished; get to know the locals, learn as much or as little of the destination as they wanted.  They even had a folding dinghy they could use as a maritime taxi to scurry around the slips and to the beaches.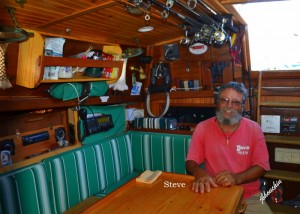 They've spent the better part of two years sailing the Sea of Cortez and know they haven't seen near enough of this beautiful and historic island -studded body of water.
They're such a nice couple and blend in so well with the ex-pats of Puerto Peñasco that we hope they'll decide to hang around for awhile to see all we have to offer in our little slice of paradise.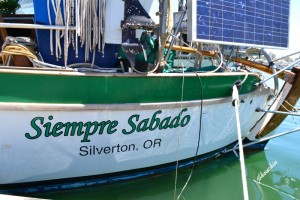 If you've ever dreamed of cruising during your retirement, it would behoove you immensely to visit their blog.  Steve's captivating descriptions of their daily life aboard Siempre Sábado will have you sea-dreaming and longing for the open sea and all the adventure that comes with it.
For a good taste of the colorful life á la Yoder, go to: www.yodersafloat.wordpress.com . You can subscribe and get regular updates or you can check in from time to time like some 30,000 others have to see what they're up to including their GPS position on the sea at any given time.
This blog is brought to you by the Sonoran Resorts Sales Group, Jim Ringquist, Director of Sales and Marketing.
Related Posts
Until you've sailed, you might wonder about the free spirit that radiates…

This is the sixth in a series of eight articles that share…

This is the fourth in a series of seven articles that share…