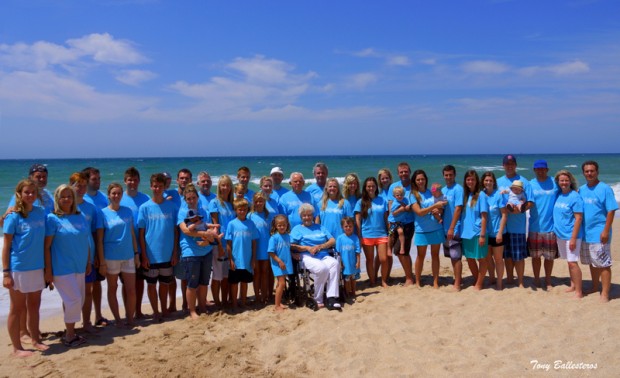 If you were near Sandy Beach on Saturday June 2nd, you couldn't have missed the veritable crowd of people all decked out in sea blue T-shirts with a row of flowers surrounding the words "Reay 2012".  The "clan" has been coming to Puerto Peñasco for 40 years and holding their family reunions on Sandy Beach for 20 of those years.  As the family grew, about six years ago they all—all 47 of them—decided to fix the date of the first weekend in June for the festivity.
Setting a date has seemed to work well for the group. For example, this year 41 of the 47 family members were able to make the beach side celebration in front of the Sonoran Sea where many own condos in either the Sonoran Spa or Sea.  Others own at the Sonoran Sun.
Most of the family is involved in the family business which you may remember as Reay's Ranch Markets in Arizona. That business was sold to Wild Oats several years ago, after which the Reays began building the ubiquitous Super Stop and Minit Markets with gasoline around Arizona.  They now have 40 stores operating in the state.
Needless to say, looking at the family photo, it is a very close family.  They take their reunions quite seriously—that is, as far as making sure every generation has as much fun as possible each year, and that every detail is looked after.
Diane (Reay) Herbert and her sisters plan a different theme for the event each year. This year the theme was Hawaii as is apparent with the T-shirts and, not shown, the hula skirts they made for each beverage cup for the big picnic on Saturday.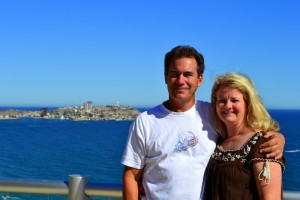 Diane and Rod had been married seven years before she introduced him to Rocky Point and Sandy Beach 28 years ago. They've been coming down almost every other week since.  Their five children have grown up visiting Rocky Point.  One look at their photo will attest to how frequent visits to our little slice of paradise will keep you young and happy!
As the children grew into their teens, they began to appreciate the needs of the less fortunate residents and followed in the footsteps of their generous parents by collecting clothes and bringing food items down with them on every trip.
Many times Diane, Rod and the older ones drove down by the tracks and handed out pizza to the little kids living in shacks, and have even set up grills and made hot dogs and hamburgers for them.  "Everyone was so appreciative," Diane says, "and the kids felt like they really made a difference."
Puerto Peñasco is lucky that the Herbert's charity work doesn't stop with grilling hamburgers and bringing clothes for the needy here. They also work with the Families helping Families project that builds houses for the less fortunate each Christmas season.
What more can we ask for in regular visitors than a great family who loves to have fun, loves Rocky Point and loves to give back to the community that has brought them such happiness for four decades!
This blog is brought to you by the Sonoran Resorts Sales Group, Jim Ringquist, Director of Sales and Marketing.
Related Posts
This year marked the 11th annual January Jam that began as an…

It has been less than two years since Mayor Kiko Munro inaugurated…

Each and every year, as we mingle through the…