Our first–but certainly not our last–Sonoran Resorts "Why I Love Rocky Point" photo contest was an overwhelming success! By the time we tallied the results there were 248 photos submitted and 7250 votes cast! All we can say is thank you to all the photo winners below and to everyone who participated in the contest.
The First, Second and Third Place winners deserve a big round of applause for making it all the way to the top three among the 248 photos that were entered!
FIRST PLACE
Tony Ballesteros
Photo Theme: Save The Dolphin!
Tony is a full time resident of the Sonoran Spa Resort Condominiums on Sandy Beach.  He's never met a stranger, and by the expression on the playful dolphin's face in his winning photo, that includes on the sea as well! Tony is an avid photographer (you can see–and purchase–his photos at most of the craft shows held in Rocky Point). He got this shot from Rodolfo's sail boat in front of the Sonoran Sea and Spa resorts one morning around 10:00 AM. He says, "there were 20 or 30 dolphins frolicking around the boat and I took around 1,000 shots and finally got the smiling face of this friendly dolphin."  Tony loves Rocky Point "because the beauty of the sea and beach are right outside my door!"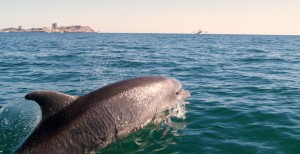 SECOND PLACE
Elizabeth and Andrew Reyes
Photo Theme: Perfect for Weddings
Based on their description with the photo, Rocky Point is perfect for falling in love as well as having the wedding since they met here, too! Theirs has been a Rocky Point love story from the start. They met here during her first visit in 2007 and have been inseparable since, coming to our paradise by the sea at least twice a year, sometimes even organizing trips for 6 to 30 people. They finally married here last October.   Their second place finish worked out just perfectly also since they were already planning to come down for Elizabeth's 35th birthday and attend the Peñasco Palooza!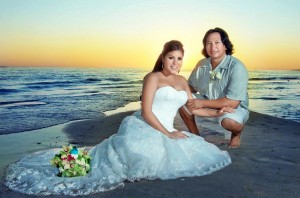 THIRD PLACE
Andrea Aberle
Photo Theme: Toast to Rocky Point
Beautiful sunset, peaceful beach, surrounded by  loved ones…and Margaritas…just another typical day in paradise for Andrea who captured this delightful scene for posterity from a restaurant at the Malecon with her Canon Power Shot! By the way, those hands belong to Andrea's parents, Don and Lisa Lawrence, herself, and her sister, Michelle.  Andrea is an Arizona native and has been visiting   Rocky Point all her life.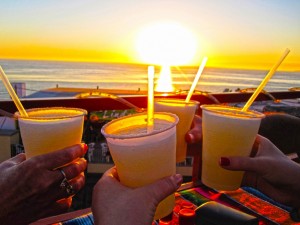 This blog is brought to you by the Sonoran Resorts Sales Group, Jim Ringquist, Director of Sales
Related Posts
This year marked the 11th annual January Jam that began as an…

It has been less than two years since Mayor Kiko Munro inaugurated…

Each and every year, as we mingle through the…