This is the third in a series of seven articles that share a peek into the fascinating lives of the legendary group of classic rock and roll stars making their second appearance at the Peñasco Palooza 2012 this St. Patrick's Day, Saturday March 17th.  Again this year, the Palooza will be held under the stars across from Chango's Bar and Grill on the entrance road to the Sonoran Sea and Sonoran Spa Luxury Beach Front Resorts on Sandy Beach, Puerto Peñasco (Rocky Point), Sonora, Mexico.
If you missed the first historic performance by this group of consummate artists at the first Palooza last October, these articles will give you seven solid reasons not to miss the March 17 extravaganza.
David Lewark had an ear for plunking out melodies on a piano whenever he came across one since he was barely able to reach up to the keys. His parents bought him an old upright when he was 10 realizing his fascination with the piano had not waned, but grown exponentially.  Later when they moved, the old piano wouldn't fit through the door of their new home and it was replaced with an organ.
On his 13th birthday David's Grandmother gave him an acoustic guitar because it was her favorite instrument and she had a collection of albums by all the famous guitarists of mostly jazz and swing.  That birthday present paved the path to stardom for David Lewark. By the age of 16 David had defined his destiny as a professional musician and at 21 years old he moved from his hometown in northern Indiana to the big city lights of the San Francisco Bay area ready to rock the world, which he did for two decades following—in a big way!
David's natural talent and passion for writing songs and making music earned him the rights of passage to perform the world over with some of the biggest rock stars on the planet. He became recognized as a powerful and passionate guitarist while in the Bay area and was recruited by Sammy Hagar to join his band and recorded the hit album "Red"  in the world famous Beatles' Abbey Road Studios in London.  That album went Gold in the U.S. and made Hagar the "The Red Rocker" for the rest of his career.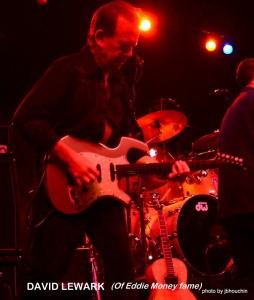 A few years later David joined the Eddie Money Band and wrote the title track for Money's third album "Playing for Keeps". The band toured most of the world during the early 80's appearing with other legendary artists like Santana, Van Halen, Boston, Journey, Bob Seger and the Doobie Brothers just to name a few at venues that included Madison Square Garden, the Oakland Coliseum, Budokan in Japan and the L.A. Coliseum. He appeared and performed with Eddie Money on numerous TV shows including the live broadcast of "Fridays" to an audience of millions.
In answer to the inevitable question about becoming famous, David summed it up quite well when he explained, "Millions of [musicians] got the bug when the British invasion hit. Personally, it was always more about the music than it was about becoming famous. Playing in a great rock band to a huge crowd is such a powerful and intoxicating feeling. Once you've had a taste of that, you want more."
But, alas, the intense tour schedules take their toll as these great performers mature as humans and many make choices based on love for family-oriented lives in lieu of their love for performing on tour. When David met his wife Janet, that was his turning point. He chose to settle in L.A. and start writing songs.  This he did and joined a group of very talented writers in a colorful neighborhood on Hollywood Blvd. where he wrote, co-wrote and arranged a "ton" of songs that have been "covered" by both new and established bands. He also performed locally (after all it is part of their DNA).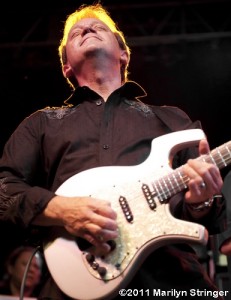 When David and Janet decided to start their family, David, on a whim, dropped into a Guitar Center office in Hollywood to apply for a part time job. He has been with Guitar Center now for over 22 years and lives in Glendale, AZ serving as District Manager for Arizona, New Mexico and Nevada.
He and Janet came to Rocky Point for the first time last October and were most impressed by the beauty of the beach and the Sea of Cortez as well as the hospitality and friendliness of everyone they met while here. David also emphasized what a pleasure it was to play on a stage with such a high caliber of musicians. He had a "blast" with the band and the audience. They are looking forward to returning to the show in March.
And we're looking forward to seeing you as well, Mr. and Mrs. Lewark!
This blog is brought to you by Sonoran Resorts Sales Group, Jim Ringquist, Director of Sales.
Related Posts
Steve and Lulu Yoder are among the 'fewer'. They dared to dream…

Until you've sailed, you might wonder about the free spirit that radiates…

This is the sixth in a series of eight articles that share…