On the north side of 13th Street between Luis Encinas and Benito Juarez is Erick Burger. You'll recognize it by the creative bar stools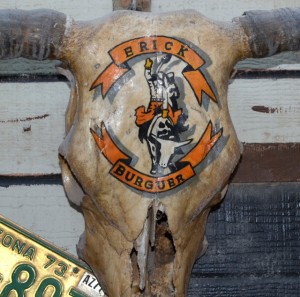 that are real western saddles mounted on thick springs so's you can rock back and forth if the mood hits you, but strong enough that you won't rock too far back and
forth and get bucked off.  About five of those saddles line the small L shaped bar that faces the good sized grill in front and through the chicken wire exterior you can see inside where the clean wooden booths line each wall of two rooms.
On the walls are the menus showing pictures of the 17 different types of burgers and five sides they make for you there, including chicken, fish, shrimp and a variety of toppings like pineapple,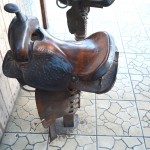 jalapeño, cheeses, bacon, and a lot more stuff you probably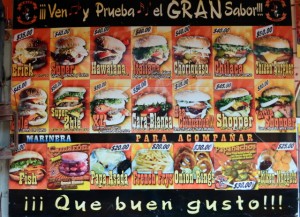 haven't thought about trying on a burger yet. The owner, René Gonzalez is a cowboy-type of guy born and raised in the little town of Nuevo Casas Grandes, right outside Chihuahua, Chihuahua where he's had his first Hamburguesas Erick Express for 25 years. He opened Erick Burger here in Puerto Peñasco seven years ago and opened his third location in Caborca two years ago.  René is noticeably—and rightfully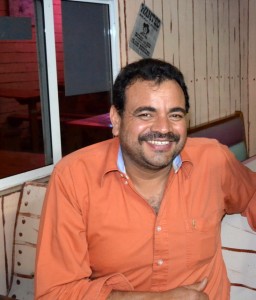 —proud to tell you the Grade A Prime beef for all his burgers comes from Caborca's range fed finest herds, where he travels way too often to personally grind and press perfectly sized quarter pound patties and escorts them down to Puerto Peñasco twice a week to insure their freshness and taste.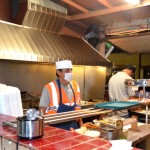 You may remember that René originally opened up just a couple of blocks up the street (across from "Lucky House") and moved to his present location two years ago because it has room to expand if he decides to. The atmosphere is pure old Mexican western complete with great country music (mostly recorded, and some good American classics when we were there obliged us to dance), the murals, antique photos and old license plates dating back 40 years nailed to the walls, and of course, René's ranch wear (cowboy shirt, jeans, well-worn boots) and his genuine cowboy hospitality that makes you feel like you're at his ranch instead of his bunkhouse-sized little burger joint.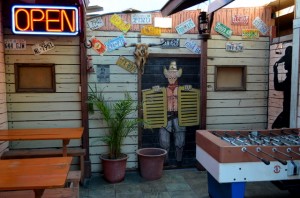 He feeds you like you've been working cattle all day, too. His burgers all come with at least one round of his pure personally pressed beef patties and by the time you add the fresh trimmings on top of whichever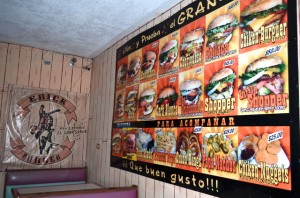 topping you ordered, you've got yourself a burger that will bring back some home town memories for sure. One of the most endearing experiences at Erick Burger is seeing the price for any of these tummy filling burgers ranges from just $35 to no more than $50 pesos.
However, by far the most endearing experience is the unmitigated gratification of munching down through an Erick Burger, sharing its juiciness all over your face while realizing that original burger history of your childhood is alive and well right here in our little slice of paradise by the sea.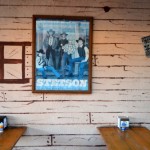 This blog goes out of its way not to be a food critic believing that culinary taste is purely subjective. We much prefer that our readers venture out for themselves to venues we write about that have impressed us with any combination of food, ambiance (no matter how rustic), unique character, originality and/or the owner's personality. The only possible exception to the aforementioned might be the "Great American Hamburger", and Erick Burger is a place we don't think we're going out on a limb to say you'll get a burger here that will compel you to return for another.
This blog is powered by www.sonoranresorts.mx, Jim Ringquist, Director of Sales and Marketing.
Related Posts
Having operated successfully in Caborca since 2011, contributing their expertise to…

This Sunday at the Peñasco del Sol esplanade in Puerto Peñasco…