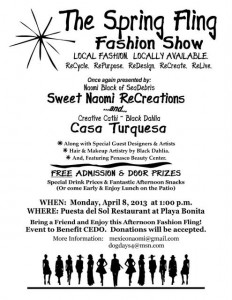 This is your final reminder that the spring version of the Fall Fashion Fiesta from last year, which turned out to be one of the most talked about afternoon events of the year and attended by over 250 people, is taking place tomorrow, Monday April 8th at 1:00 PM at the Playa Bonita Resort's Puesta Del Sol Terrace Restaurant.
This year's new location is perfect for Naomi Black of Sea – Debris and Off the Beach fame and Cathi Boyle of Casa Turquesa fame to show off their spring lines of creative, eclectic fashions.  They'll have 23 new original designs presented by 17 models to keep you fascinated by the unique imaginations of these two naturally stylish designers.
The scenic Puesta Del Sol Restaurant Terrace is a great place to have lunch, so why not take advantage of the opportunity and partake in one of their menu items and one of their drink specials while you're there.
It's the Spring Fling 2013 Fashion Show tomorrow, Monday April 8th at 1:00 pm.
FREE ADMISSION & DOOR PRIZES!
Be there…or be square!
This blog is powered by www.sonoranresorts.com, Jim Ringquist, Director of Sales and Marketing
Related Posts
This year marked the 11th annual January Jam that began as an…

It has been less than two years since Mayor Kiko Munro inaugurated…

Each and every year, as we mingle through the…