Talking to Penny Rabicoff who, along with her husband Bob and sons Dan and Reid, opened Brothers Pizza four years ago, it takes but a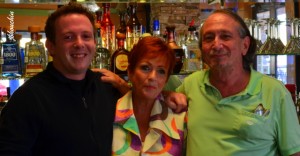 moment to see clearly that service and quality are paramount with this establishment. Brothers Pizza is the super clean place on the corner of Constitucion and No Reelección here in Puerto Peñasco.  If you live or visit anywhere around the Sandy Beach area then you've surely driven by Brothers many times on your way downtown or back. If you've ever stopped in for a pizza or one of their subs, you've probably been back several times and know it well.
The Rabicoff family hails from Colorado where Bob was an attorney, Penny was a bank manager and the kids, Dan and Reid, were gaining valuable experience learning the proprietary recipes of their older brother's successful pizza business in Denver. The family came down to Rocky Point for the first time on business with one of Bob's clients in 2007.  During that trip they fell in love (like so many of us) with our little slice of paradise by the sea and even though the deal they originally came down for did not materialize, the four of them made a joint decision to come back and conduct research on the feasibility of opening a full service pizza restaurant utilizing the expertise of brothers Dan and Reid.
Results of their study were, obviously, positive and "the rest of the story is history." It's a story of what can be achieved with product knowledge, business acumen, perseverance, and a passion to create and maintain the highest standards of quality and service in the restaurant industry.
After overcoming several challenges in the beginning, such as duplicating the unique flavor of the exclusive dough recipe that was so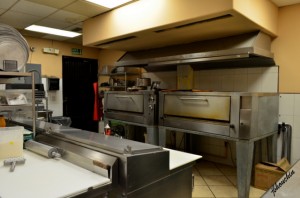 successful in Denver using local ingredients and finding suppliers for the highest quality, freshest vegetables, meats and cheeses about which they are adamant, Brothers felt they had reached their objective of raising the bar on pizza flavor and consistency in Rocky Point. To hear Penny describe how they make their own bread and pizza dough fresh everyday and hand-toss each pizza as it is ordered was like listening to an artist as she describes gathering all the paints, colors, brushes and canvas to ensure an original work of art. Only after those pieces are in place can the artist apply her talents toward creating her art.
After all the "tools" are together, according to Penny, and apparently it's the family philosophy, "Service is what it's all about," she says with the conviction of a life improvement guru.
"I'll stand on my head and make the pizza if that's what the customer wants," she quips.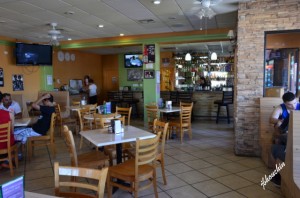 About quality, she's equally expressive. "I'll tell them we're out of mushrooms before I'll serve a pizza with canned mushrooms!" Period. End of subject.
Brothers serve a lot more than their nine different Signature pizzas and a way to mix and match between all their sauces, toppings, special toppings, and cheeses in 12", 14" and 16" sizes or even by the slice. You'll also find six different subs on their homemade bread; three different main course or side-sized salads; chicken wings with choice of six sauces (including one named Suicide! Doesn't that moniker just beckon for a side order of fire extinguisher?); finally, there's pasta and calzone both with choices of toppings. Brothers also boast one of the most impressively stocked bars in town.
You can order anything on the menu to take out or have it delivered to your door no matter where you are in Puerto Peñasco. You can
find their takeout/delivery menus, which are just smaller versions of their main menu, in the lobbies of most resorts and condominiums around town. They'll deliver anytime during their business hours which are noon until 10:00 PM. They're open later on weekends and special occasions like PPV events such as boxing, or NFL, NASCAR, NBA and other special sporting events displayed on four big TV screens. Free WIFI makes it convenient for working lunches or just casual surfing. Brothers Pizza is closed on Thursdays.
With their attitude about service and since they make every pizza to order, if you can describe it, we bet they'll make one, right down to the funny crust you remember from that little pizza place in Paducah. Just one favor, though. Please, for my sake, don't ask Dan to stand on his head while he makes it!
You will enjoy getting to know any of the Rabicoff family if you don't already. They're active in the community and love meeting new friends. For more information call them at 638-383-3712. Reach them by email at brotherspizzas@gmail.com.
This blog is powered by www.sonoranresorts.mx, Jim Ringquist, Director of Sales and Marketing.
Related Posts
We've written about Brother's Pizza (see story at https://www.sonoranresorts.mx/?p=8518) and CS Supply…