Jack lives in Green Valley and visits Rocky Point "as often as I can" and we're always glad to have his smiling face at one of the Sonoran Resorts. Here are his latest words, these directed at the new comers to our little slice of paradise by the sea. Take it away, Jack….
Let's Go To Rocky Point
By Jack Hecker
This is a Primer for those newbies who are driving to Rocky Point from Phoenix or Tucson for the first time.  To me, the trip to Rocky Point is a delight.  That isn't necessarily because of the scenery, but because of what I am about to encounter.  The trip home from Rocky Point, not so much.
What am I about to encounter is, first and foremost, the Sea of Cortez with its beautiful beaches and the sound of the waves kissing the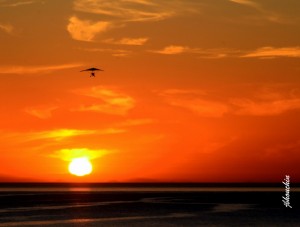 shore, the sunrises on the water with the feathery fishermen zooming low across the surf in search of breakfast and the spectacular sunsets with the sun glistening across the waves to be followed by the moon creating shimmering diamonds on the water's surface.
Add to that the Old Port and Malecon with its bars, restaurants and shops.  I love the earl y morning quietness with breakfast by the water and all you can hear is call of the birds for their next dive.  It's eating Shrimp Tacos for lunch by the water and the multitude of great dinner choices.  Add to that the wonderful people who will give you
a smile in return every time and it's easy to see how one can slip into day dream mode as you drive along.
All that aside, it is really important to be careful and awake making this trip.  The drive from Tucson, after a quick stop at Todd's at Ryan Field for breakfast is pretty good road-wise for a while, but as you get out of the metro area the road narrows down and requires your utmost attention.  The road from Phoenix down is a little better but as you get to Ajo the Pima County Sherriff's boys will be keeping an eye on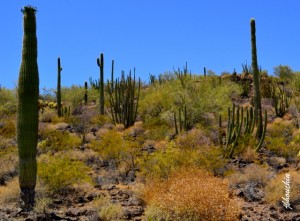 you.  The drivers from Tucson and Phoenix converge at Why.  If you don't have your Mexican Insurance and we strongly recommend you do, that's your last chance.
Probably the prettiest part of the drive is from Why to Lukeville.  The trip through the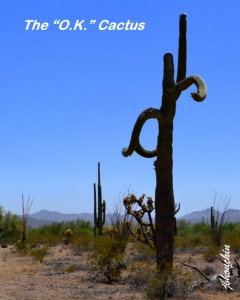 Organ Pipe Cactus National Monument is quite unusual.  There are a number of pull offs where you can photograph the scenery, but when you are in motion, please be careful.  The road is not very wide, it has numerous curves and there have been some serious wrecks along the way that have taken lives.
Soon you will arrive at Lukeville and that is where the fun starts.
You will first run into the US Border Patrol gate and they will ask you a number of questions about where you are going, how long, are you taking any fire arms (For the love of Pete, don't even think of taking any kind of gun or even ammunition there) and do you have $10,000.00 in cash or checks on you.  A smile, an honest answer and no attitude will usually get you through quickly.  I try to get there in the morning when there isn't much traffic and usually get through right away.
Next stop, just a few feet ahead, is the Mexican gate.  There are a series of lights and if you get the green light proceed out of the area slowly.  If you get a red light you need to turn left into an inspection area.  Again, a smile, no attitude and following instructions will serve you well.  There are certain things they don't want you to take into Mexico.  Google this title "guidelines-on-animals-plants-and-products-that-may-enter-mexico" and you will get info on what's allowed and not allowed.  They really look for dog food for some reason.
During our last trip down, we got the dreaded red light and made the left turn into the inspection area.  A very attractive, but serious looking, young lady greeted us and asked the usual, where are you going, etc questions.  She asked me to open the back of the SUV and there was my cooler.
"What's in there?" she asked. "Water, beer and some snacks." I said.  She looked in and pulled an item from the cooler. "You're taking Mexican beer into Mexico?"  We all laughed and I explained that there were just four Tecate Lights and they were to hold us until we got to the store.  More laughs, she wished us a good day and off we went into Sonoyta.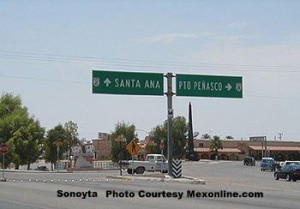 This is a word to the wise.  Watch your speeds in Sonoyta.  As you go down the hill the speeds will vary and they are in Kilometers not Miles per hour.  (A handy way to convert is to multiply the KPH by .6 and that's approximately the miles per hour.  So 40 KPH x .6= 24 MPH)  I stay to the right and let the locals go screaming by.  For some reason the police are more interested in American drivers than Mexican.  They have radar traps dispersed into and out of the city.  Again, I usually go in the morning and there are not as many set up then.  Just be wary.  They will stop you.
Now you must learn the word Alto.  That is one of my least favorite words because they always sang an octave lower than I in chorus.  It means stop and it only applies to gringos.  When you get into town you will approach one of the most interesting intersections in the world.  Whoever set up the traffic controls in Boston, must have done this one.  There are numerous lanes coming from both the left and right and if you proceed with caution, looking both directions you can transverse with no damage.
There are many signs to head you in the right direction but the main turn will be to your right on an angle.  There are a number of altos along that route and as you are leaving the main part of town there is a hazard that provides great entertainment for the locals.  There is a poorly marked speed bump (Topes [pronounced TOH-pehs]) that sends the uninformed speeder into a flight pattern that resembles Chicago O'Hare.  The landing usually provides some sparks and scrapes.  It is rumored that on Friday evenings the locals set up bleachers for amusement and bet on which drink thirsty American will fly the furthest.  After that the road improves and you are starting on your way again.
There are, depending on the time and the day, a number of military inspections as you leave town.  Normally they just look in the back/trunk and send you along.  When it is hot, I usually take extra water bottles and give them out when stopped.
After you leave Sonoyta the drive is rather mundane.  There are some curves during the first few miles but after you make the big turn to the left just after the Pinacate turn off, it's clear sailing and sometimes difficult to maintain the semblance of a safe speed as the anticipation rises.  I usually go about seventy, but I get passed a lot.  Another note of caution:  The speed limit varies from 90 KPH to 60 KPH and so forth, roughly 55 MPH & 35 MPH.  I have not had the pleasure of meeting them, but I am advised that there are black federal cars patrolling that stretch now and they have radar.  As my friend Joe Houchin often says, "The police don't go by the adage that if you're going to proceed on the path to paradise, don't expect folks to follow the speed limit."
Just outside Puerto Penasco at the Sandy Beach cut-off, there is another check point.  It is my understanding they are going to make that check point permanent, but perhaps move the location.  If they do move it please be careful at that intersection.  It is a round-a-bout and there have been a number of accidents there including the loss of a good friend of mine.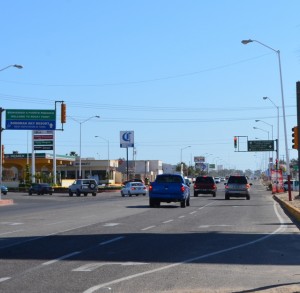 From there on you are going into town and there are some things to know about driving in town. You will come to a major intersection at a stop light.  The street veering off on an angle to the left is Josefa and it heads out to Las Conchas.  It, to my way of thinking, is the most exciting street in Rocky Point.
There are many alto signs and they are usually faded or placed where you cannot see them until too late.  There are many cross roads but few obey the altos.  Taxi cabs have a special dispensation exempting them from any driving laws.  Now this street is mostly two lanes each way unless there is a storm or a water main break, whichever comes first.  It narrows down to one lane each way as you get closer to the railroad tracks.
From that first stop light, if you go straight, rather than taking Josefa  that is the main drag through town, Benito Juarez.  One must be on their toes driving this way. The stop lights are not like ours.  They can be beside a street direction sign way up higher than ours or just at the side of a cross road.  There are a number of speed bumps on the main road and they are not very well marked.  I can vouch for the stop light lesson as I paid $55.00 to learn it.
The main thought is be alert, drive defensively, arrive safe and enjoy all those things you dreamed about along the way.  One last thought.  Watch out for what I call "Free Range Dogs".  Our four legged furry friends have no concept of traffic laws and appear in the middle of the street seemingly out of nowhere.  Just be wary of them, please.
This blog is powered by www.sonoranresorts.mx, Jim Ringquist, Director of Sales and Marketing.
Related Posts
ADOT reminds us to plan for the extra travel time to and…