Outta Town Productions (OTP) opened April on the beach in front of the Sonoran Sky Resort Condominium with typical flair by bringing over 200 traditional beach volleyball players and spectators back to Rocky Point after a one year hiatus from two decades of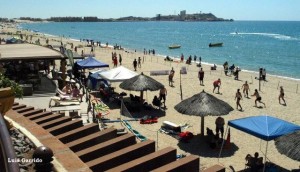 perennially successful tournaments along Sandy Beach. It all started 20 years ago with just a hand full of loyal v-ballers and grew exponentially under the creative direction of OTP owner Luis Garrido, who finally had to take a year off to marry his wife, Karen, and together build their exciting InSANDity beach obstacle course.  But that wasn't all there was to that story. The couple continued to run near weekly volleyball tournaments in the Phoenix valley, plus the seasonal ski, kayak and river rafting tours for which both are well known.
With a couple of InSANDity courses under their belts, Luis and Karen heeded the popular demands of their loyal beach volleyball players and returned to their roots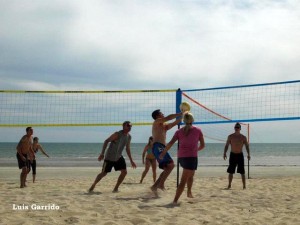 organizing the Retro Beach Volleyball Invitational Tournament that filled quickly and included several new twists including Tri-ball and a most unique "Floating Volleyball Court" (what the…? Oh yeah, see photo!). OTP's sister organization, Volitude Sport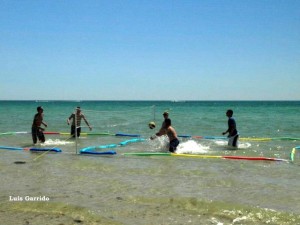 and Adventure from Long Beach, joined in with several teams as well and brought their own unique sport, beach tennis, to the edge of the sea for everyone to try.
There were 11 teams of coed 4's and 12 teams of men's and women's 2's who played on eight courts stretching in front of the Sky and spilling into the Playa Bonita RV Resort beach. These players, many of whom were playing for professional points, put on quite an exciting show for the hundreds of spectators who continued to gather throughout both days.  Many of the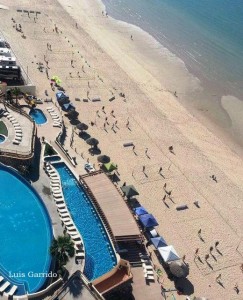 players came down earlier in the week and enjoyed tasting Mexico's finest at the Tequila Factory and other fun Rocky Point activities including a shrimp boil Saturday night sponsored by Sea Side Reservations and a movie on the beach.
How do you top this event, Luis?
"Well, our next one will be even bigger, better and more fun and will be held on November 2nd, again in front of the Sonoran Sky. We're calling it the Dia de los Muertos Beach Volleyball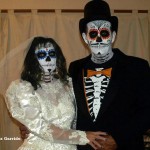 Tournament because that weekend is one of the most popular and fun days of the year in Mexico, Dia de los Muertos (Day of the Dead) so our traditional Friday night pre-party will be at the Playa Bonita Resort and will require costumes and makeup of the "Dead"!"
Now, that sounds like fun!!
"But wait," says Luis, "before the Dia de los Muertos tournament, on October 12th we're going to hold our third InSANDity beach obstacle course run for the local DIF charity. This event will involve the longest obstacle course ever assembled on the beaches of Rocky Point, with over 20 obstacles stretching from the Sonoran Sun Condominium Resort all the way down Sandy Beach to the Sonoran Sky and into the Playa Bonita Resort beach.. We are stoked about this challenge!"
Clear your calendars for two really fun and challenging events, the weekends of October 12th and November 2nd in Puerto Peñasco as Outta Town Productions raises the bar on fun and adventure once again! Contact OTP at luis@outtatownproductions.com for more information, and check back with our blog for updates.
This blog is powered by www.sonoranresorts.mx, Jim Ringquist, Director of Sales and Marketing.
Related Posts
This year marked the 11th annual January Jam that began as an…

It has been less than two years since Mayor Kiko Munro inaugurated…

Each and every year, as we mingle through the…