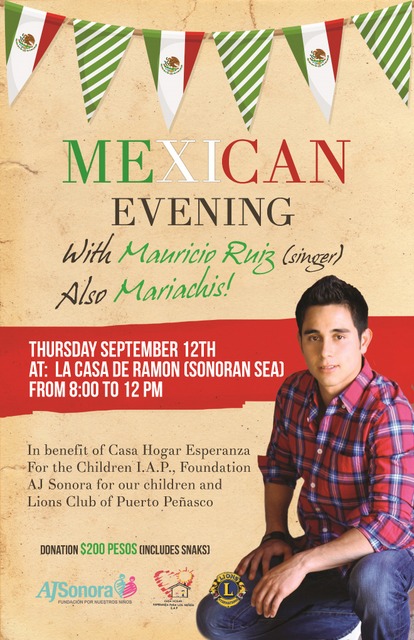 Having operated successfully in Caborca since 2011, contributing their expertise to a variety of social and business needs in that community, AJSonora Publishing and Publicity Solutions has opened in Puerto Peñasco with a flair for which Caborca has become accustomed.
Among many events planned by this forward thinking young organization, is one taking place tonight (Thursday September 12) at Ramon's Restaurant in the Sonoran Sea in the form of a true Mexican Grand Soirée to raise funds that will go to assist four charitable causes here in Rocky Point: La Casa Hogar Esperanza Para Los Niños; Lion's Club of Puerto Peñasco; Children's Foundation; and the AJSonora Foundation for Children.
By the way, the A and J of AJSonora are the initials of the energetic founders, Alejandra and Janeth, whom you will enjoy meeting at the Gran Velada tonight!
Billed as the "Gran Velada Mexicana" featuring the popular mariachi troubadour, Mauricio Ruiz as the featured entertainment along with a live mariachi ensemble, the event will include "Bocadillos", and a cash bar from 8:00PM until Midnight, all for a $200 peso donation. Sounds like all will benefit from this event, especially the children. Again, the benefit will take place in Ramon's Sonoran Sea Restaurant.
You can purchase tickets at the restaurant or reserve them by calling the AJSonora office at 690-1246. You may also inquire at aescalante@ajsonora.com for more information. Learn more about our new neighbors at www.ajsonora.com.
Come out to help the kids and get to know some folks who care about the health and welfare of the children in our community.
This blog is powered by www.sonoranresorts.mx, Jim Ringquist, Director of Sales and Marketing. 
Related Posts