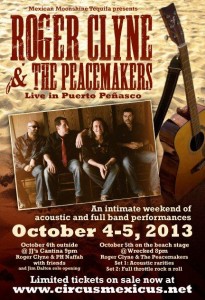 Friday and Saturday October 4th and 5th will mark the the third time this year, Roger Clyne and the Peacemakers are gonna bless our little slice of paradise by the sea with their signature rock stylings that never fail to energize everyone within earshot.
Friday Night October 4th 
The music begins at JJ's Cantina on Friday night at 9:00PM with Roger, P.H. Naffah and Jim Dalton under the stars presented by Mexican Moonshine Tequilas.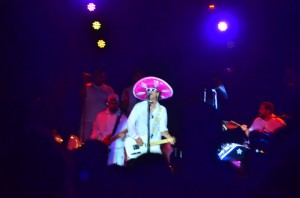 Tickets are on sale now at www.circusmexicus.net in limited numbers at $20.00 each. Seating will be on a first come first serve basis, so plan to arrive early.
Saturday Night October 5th
There will be two shows Saturday night at Wrecked at the Reef Patio Stage beginning at 8:00PM, presented by Mexican Moonshine Tequilas.
Again, seating and tables will be available on a first come first served basis at Wrecked, so plan accordingly.  A limited number of Tickets are on sale now at www.circusmexicus.net for $30.00 each.
RCPM will play two full sets with the first set to be an unplugged performance of rare tracks dating from the Refreshments' repertoire all the way through present day RCPM faves.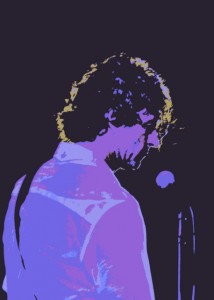 The second set will be a fully plugged, full throttle rock show as only RCPM can deliver!
As a special note, all kids under 12 are free with paying adult. Unfortunately, according to local law, the kids must vacate each venue at the completion of the shows.
All tickets are sold through www.circusmexicus.net and will be available for pick up with proper ID at WILL CALL beginning Friday afternoon of the show.
Stay in touch through the circusmexicus website as well as the other RCPM social media sites on Facebook, Twitter, and Instagram for updates. Or you can call Greg Ross at 602-818-6494.
Discounted condos are available for rent at the Sonoran Spa and Sonoran Sea Beach Front Resorts at www.rprmexico.com by entering code rcc1024.
What better way to start the fall season in Puerto Peñasco than with the high energy beats of Roger Clyne and the Peacemakers! Get on line and get your tickets NOW! 
This blog is powered by www.sonoranresorts.mx, Jim Ringquist, Director of Sales and Marketing.
Related Posts
Successes tallied by the well selected and trained group of mostly young…

There is a very special music event taking place next Tuesday evening…

But what a four day ride---and it just gets better each year!…