Here's another great essay from Guest Blogger, long distance runner and 2nd Place Winner of our Sonoran Resorts "Best Job in the World" Travel Writer Contest, Sandy Baker, with another reason why she loves Rocky Point! So, lace up and take us along for the run, Sandy….                                 
Laced Up for a Rocky Point Adventure
By Sandy Baker
Standing at the beach front of the Sonoran Sky Resort, I shake the sand off my shoes and wipe the salt from my face.  It's been a good day.  A good run.  I'm pleased with the settling of my heart rate and the slight burning in my quads.  Today was my long run, twenty miles on the beach, and it was a beautiful morning for it.  It's tempting to stand here staring out at the blue water, but I'm starving for a well-earned lunch.  I'll grab a quick bite in our condo and head back down for a dip in one of these pools.  This day is too beautiful to spend indoors.
I'm a long distance runner.  Endurance athletes they call us.  Most people think I'm crazy, but other endurance athletes understand, even if they too admit it's pretty crazy.  There is something about being out there in the wind and sun that keeps me sane.  And Rocky Point is the perfect place for regaining sanity whether you're running one mile or twenty.
Whenever I travel to a new city I'm faced with the dilemma, "How will I get my training in?"  It's similar to the questions others have, "Where will I buy my groceries?" and, "How will I do my laundry?" each of us with our own concerns on how we will handle the basic necessities of life.  Rest assured, the Sonoran Sky Resort has all those bases covered.  With laundry facilities in the condo, a gym on site and a full blown supermarket just down the road, I could cover all of life's necessities without ever stepping a foot on the sand.  But what fun would that be?
I love adventure, so with shoes laced and water bottle in hand I set out on the shoreline.  Should I turn left or should I turn right?  This is the thing about adventures, there is no wrong answer.  Each day brings new experiences if you're open.  Today I chose left and head down Sandy Beach towards the Old Port.  It's about a mile down the beach and I'm lucky today because the tide is out and I have a nice, hard, flat beach to run on.  At this early hour I encounter the occasional dog walker and shell collector, but for the most part I run uninterrupted, just me and the gentle crash of the surf on the beach.
The next part of my run is trickier, navigating a few city streets to bypass the rocky water front of the Malecon.  I exit the beach at Penasco del Sol Hotel, work my way down CalleThirteen, also known as Miguel Hildago, circle around the marina,  cross the main drag, Benito Juarez, at Latitude 31, and continue down Campeche until it t-bones into El Mirador beach at Manny's.  Manny's is always a dangerous place to pass as I am torn by the desire to give up the run and sit under a palapa sipping margaritas for the rest of the day. But I am only two miles into my day so I continue on.  Maybe I'll stop on the way back.
From here it is a clear six mile beach run to the mouth of Estuary Morua.  This is where I get my real workout because the first few miles are not as flat or hard packed as Sandy Beach.  It's a different kind of beach with tide pools and schools of jumping fish.  Off in the distance I spy something breaking the water surface about a hundred yards off shore.  As I watch closer I see several arching fins and realize it's a school of dolphins, maybe four or five.  They are traveling the same direction as me, headed down the coast towards the estuary.  For a while I try to keep pace with them, but soon I am winded and they are out of reach.
Regaining control of my breath, I settle back into a comfortable jog as I watch the sandpipers chase the waves in and out hoping to pick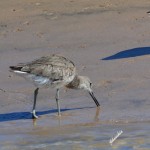 sand crabs from just below the sand's surface in the receding waves.  There's the occasional screech of seagulls chasing pelicans that have successfully landed their breakfast catch.  It's odd to watch the seagulls peck at the pelican's bill as they try to steal a bite of the flailing fish.  I'm not sure I'd put up with someone trying to steal my breakfast.
Ah, breakfast.  Thoughts of sitting under a palapa eating chilaquiles cross my mind and I'm haunted by Manny's again.  Maybe just a quick stop on the way back.
The beach begins to flatten out and my legs are grateful.  I can see the entrance to the estuary in the distance and the point of Playa Encanto beyond it.  Houses of Las Conchas line the beach here, and although the sand is mostly deserted, I get a sense of neighborhood on this beach rather than the resort vibe of Sandy Beach.
After nearly two hours of running I am finally at the still aqua water of the estuary.  Cranes and herons tip toe through the flat white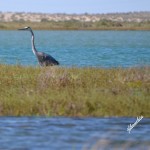 sand and I hear the squeal of a panga boat motor and its rhythmic slap on the waves as it passes further off shore.  Looking up across the estuary I see two cars parked at an osteria, perhaps preparing for an early lunch.  Ah, lunch.  Is it that time yet?  I am starving.
I take a quick dip in the salty flat water of the estuary and head back towards Sonoran Sky knowing I will need to add a few extra miles on Sandy Beach to get my full work out.  On the return run my mind wanders wondering, "What will I run tomorrow?"  Maybe Competition Hill which is the other direction down Sandy Beach.   I know it's a Mecca for off road vehicles, but who could resist the view from the top after conquering its slope, or the feeling of floating down its soft sand in running shoes?  Thank goodness I have another day for another adventure.
This blog is powered by www.sonoranresorts.mx, Jim Ringquist, Director of Sales and Marketing.
Related Posts
This year marked the 11th annual January Jam that began as an…

It has been less than two years since Mayor Kiko Munro inaugurated…

Each and every year, as we mingle through the…