"I just can't believe my eyes", said one visitor as she gazed teary-eyed across the glistening bay from the Malecon at the grotesque giant glowing bill board announcing the Calamity Jane's Restaurant that will be opening soon in the middle of the traffic circle leading to Samuel Ocaña Boulevard.
"We wanted it to be seen from every point in Rocky Point," say the developers, who have just completed the mountainside theme park in Pitiquito, "Pitiquitiquosterparc".
The lady was only one of many visitors and residents alike who were dumbstruck by the looming size of this grotesquely huge skyline spoiler. In case you haven't seen it, so large you might not notice it from up close, here's the chilling sight from the Malecon: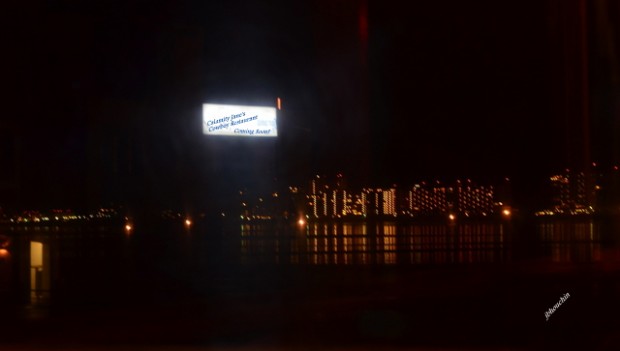 Seemingly built over night, and in the middle of the night, we are sure the city won't allow it to be up for long. We're guessing no later than April Fools everyone!
This blog is powered by www.sonoranresorts.mx, (even on April Fool's Day), Jim Ringquist, Director of Sales and Marketing.
Related Posts