So many new happenings at this year's Circus Mexicus extravaganza; not the least of which is an additional evening of music at
Wrecked at the Reef—with Free Admission! Not only that, but the free concert Thursday night will feature none other than Brian Blush, original lead guitarist of The Refreshments, coming in from the Nashville band, The Toluenes and will perform with fellow band member Jamon Scott. If you don't know, The Refreshments were the first band that Roger Clyne and P.H. Naffah played with before leaving them in 1998 to form RCPM.
Brian has been preparing for his first appearance with Roger and P.H. since 1998! You'll have to be at the concert on Saturday night to witness this first and only historic reunion that promises to be a memorable session of jammin', slammin' licks and lyrics you don't wanna miss!
The fun and new activities won't end with Thursday night's free rock and roll concert—in fact it just begins! Friday is a full day of opportunities to meet and chat with Roger Clyne himself, and who knows who else from the bevy of great musicians that make up the eight (count 'em) bands that are entertaining us during this four day collaboration.
Friday afternoon from 2:30 to 3:45 pm Roger will be signing bottles of his Mexican Moonshine purchased at the Tequila Factory. Then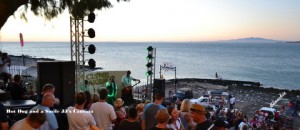 from around 4:00 to 5:00pm he'll be welcoming fans inside the Sonoran Sea at Ramon's restaurant bar.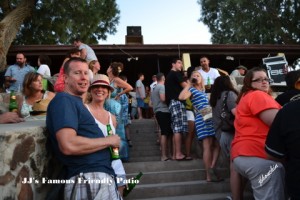 Friday evening starting at 5:00pm you'll want to head out to JJ's Cantina down the road in Cholla Bay for RCPM drummer, P.H. Haffah's big charity event, "Hot Dog and a Smile." This annual party has turned into a veritable bash of entertainment over the years with five bands spreading rock and roll throughout the multi-level patios just above the bay at legendary JJ's where the fun never stops.
"Hot Dog and a Smile" has also become a fabulous time of giving as most of the fans who come down bring donations of clothing, medical and first aid supplies, appliances, equipment, school supplies and other usable things they can find around the house. Items are collected in a trailer across from JJ's to benefit P.H.'s favorite charity, Casa Esperanza para los Niños (Home of Hope for Children), a shelter just outside Puerto Peñasco that is home to around three dozen kids from dysfunctional families. It costs just $10 to enjoy the evening and P.H. himself cooks the hot dogs for anyone who donates anything for this great cause. If you purchased Plata concert tickets the Friday night "Hot Dog and a Smile" party is included. Friday night usually sells out, so if you want to see The Pistoleros, Shurman, Jim Dalton, Jason Boots, Josh Kennedy, Random Karma or any surprise guests who might show up, you'd best grab your tickets soon at www.circusmexicus.net.
Saturday begins with the annual beach soccer tournament, also a charity event with funds benefitting the Puerto Peñasco Youth Sports Foundation. It is traditionally held on the beach in front of Wrecked at the Reef so you can tan in the sun or enjoy the air conditioned comfort of the bar which offers a special Mexican Breakfast and a "Make your own" Bloody Mary bar, all starting at 8:00am. If you plan to play get all the details at www.circusmexicus.net and bring any new or used sporting goods you might have to the tournament. YSF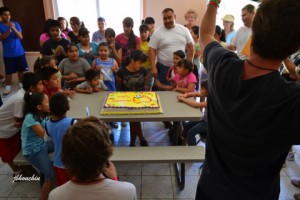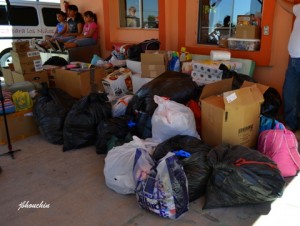 volunteers will be on hand to accept your donations.
Around 1:00pm a caravan will leave for Esperanza para los Niños with all the goods collected Friday night plus much more previously collected. If you wish to help with the delivery and watch the thankful expressions on the kids' faces, please visit http://www.facebook.com/groups/399318923436169/, the facebook page of Mark and Barb Olszewski who help compile the "Wish List" with Esperanza administrators each year. Mark and Barb are also the founders of Adopt-a-Classroom charity that provides school supplies to more than 8,000 students around Puerto Peñasco. They are a great couple who you will be glad you met.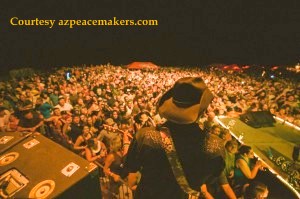 Of course, Saturday night is the "Main Event" and this year is even more special because of the historic reunion of Roger Clyne, P.H. Naffah and Brian Blush the original three members of The Refreshments who will jam in an early set before RCPM rocks the night away with their unique, energetic non-stop style and original hits.
If you still need accommodations, you're encouraged to hastily inquire at www.seasiderentals.com and www.laspalomasresort.net. There are also smaller hotels in town that may have rooms available. You can inquire with the Puerto Peñasco Tourist Assistance Office at their U.S. telephone number: 602.773.1031.
As of this posting the concert has tickets purchased from 38 U.S. states and Mexico, Canada, England and other United Kingdom countries, Vietnam, Japan, and Bermuda. In other words a healthy crowd is expected this year (attendance has grown almost every year of their 14 year history, especially the last four years) and everyone is encouraged to carpool to the concert when possible to minimize parking congestion. Taxis are available from all the hotels and resorts for drop off and pick up near the entrance to the new concert location in the Reef RV Park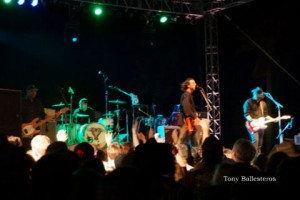 grounds specially designed to hold the large increase in attendance.
FYI: Unlike some past years, don't count on being able to see the show from anywhere but inside the gates because of how the stage is set up. Plus, with the big discount being offered to local residents including expats in Puerto Peñasco, this is your chance to get as close as possible to the action along with all your friends. RCPM is offering general admission tickets at half price to all locals who show proper ID, FM2, FM3 or other proof of local residency. Those of us who live here can get a general admission ticket for just $15.00 USD at the gate.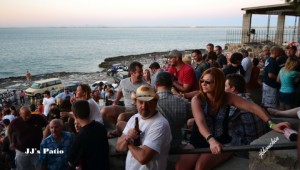 The party continues Sunday as the traditional "Mañanathon" at JJ's Cantina hosts a free day of  more live music and fun to keep the energy flowing.  Roger usually shows up and, the trooper he is, signs autographs and chats casually with as many folks as he can.
Also, Chango's Bar and Grill located on the entrance road to the Sonoran Sea and Spa will be hosting a Farewell Fiesta Sunday afternoon beginning at 5:30pm with music, street tacos, margaritas and cold beer.
All in all Circus Mexicus is more than a concert, more than a festival; it's an experience dubbed by fans with such affectionate terms as "Celebration of Life" and "State of Mind." Most of us agree with all the descriptions.
To help make sense of this 4 Ring Circus, if you will, here's the chronological schedule of events for your mind's sake:
June 6th – Thursday Night – Kick Off Party at Wrecked at the Reef 
Free Admission! 
8:00pm The Toluenes (with Brian Blush)
9:00pm La Merca
The music is inside Wrecked at the Reef and the party happens inside, outside, along the expansive patio and among the palapas and bars leading to Sandy Beach. In the short couple of years since Randy opened "Wrecked", it has become THE place for hardy partying in Rocky Point!
June 7th – Friday Night – PH Naffah's Hot Dog & A Smile Charity BBQ at Legendary JJ's Cantina in Cholla Bay 
$10 USD at the door, or admission is included when you purchase a Plata (Silver) ticket online at www.circusmexicus.net for $40 USD that includes both Friday and Saturday night admissions. 
A full night of live entertainment to raise money and collect items for PH's favorite charity, Casa de Esperanza para Los Niños, an important shelter for kids rescued from dysfunctional family situations.
5:00pm Random Karma
6:00pm Jason Boots
7:00pm Shurman
8:00pm Jim Dalton joins Shurman
9:00pm The Pistoleros
JUNE 8th – SATURDAY – Beach Soccer Tournament – Morning – Caravan to Esperanza Shelter – Afternoon – THE MAIN EVENT – Evening 
8:00am – 2:30pm  Roger Clyne's Annual Rock and Soccer Tournament on the beach in front of Wrecked at the Reef where teams will compete for bragging rights and a shot glass trophy, plus help raise money and collect equipment to benefit the Puerto Peñasco Youth Sports Foundation (YSF). Players and spectators alike are asked to please bring any new or used sporting goods you may have to the tournament. There will be YSF volunteers to gratefully accept your donations.
Whether you're playing in the tournament or not, Wrecked is the place to be on the beach soaking up the warm seaside sun, or inside with the A/C, pool table, ping-pong and other indoor recreational activities available at this constantly rocking seaside cantina that will be serving a Mexican breakfast and sporting a "Make your own" Bloody Mary bar.
1:00pm-ish Those wishing to help deliver Wish List items will caravan out to Esperanza para los Niños Shelter. Go to http://www.facebook.com/groups/399318923436169/ to get all the latest details from Mark and Barb Olszewski's facebook page.
6:00pm -??? The Main Event at Reef Park 
The Reef Park is a new beach front location just slightly west of Wrecked at the Reef inside the RV Park which has been specifically designed to handle the growing number of fans that attend each year.  It is larger, more comfortable and so close to Wrecked it's like just another entrance to the concert.
6:30 – 7:30pm Backstage Eat and Greet for those lucky enough to get Platino Tickets before they SOLD OUT this year (like every year).
7:00pm Shurman
8:00pm The Refreshments Reunion Jam
Intermission
9:00pm  Roger Clyne and The Peacemakers (with The Jons)
JUNE 9TH – SUNDAY – The Mañanathon at JJ's Cantina 
Free Admission – Four Bands – Autographs – Bloody Mary's – RCPM Accessories 
Say good-bye to your hangover with Bloody Mary's and to your new friends with live music all day as the final day winds up…winds up into another wild party to wrap up a terrific four days of rock and roll!
12:00noon Jason Boots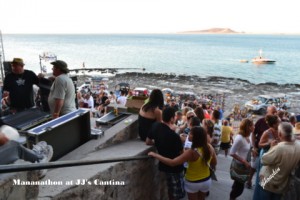 1:00pm The Toluenes (with Brian Blush)
2:00pm The Pistoleros
3:00pm Random Karma
But Wait! There's more!
5:30pm – ?? Chango's Bar and Grill Farewell Fiesta 
Music – Street Tacos – Margaritas – Cold Beer
Good night all…drive safely! See you soon back in our little slice of paradise by the sea!
This blog is powered by www.sonoranresorts.mx, Jim Ringquist, Director of Sales and Marketing.
Related Posts
Successes tallied by the well selected and trained group of mostly young…

There is a very special music event taking place next Tuesday evening…

But what a four day ride---and it just gets better each year!…