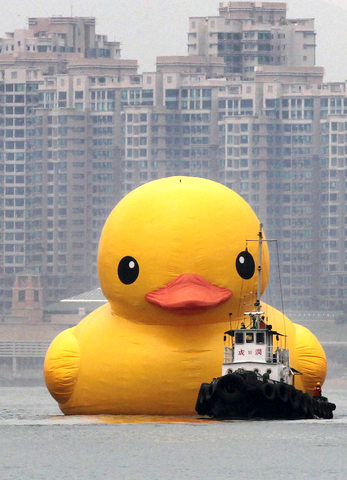 Now that we have your attention…we want to thank eccentric Dutch artist Florentijn Hofman for the above photo of his latest work, the world's largest rubber duck. This gigantic floating sculpture is 46 feet tall, 55 feet long and clearly makes an unmistakable impression. The inflatable Rubber Duck is now drawing huge crowds in Hong Kong's Victoria Harbor. Not to worry, it won't be here for the Great Rubber Ducky Race on the Sea of Cortez for Charity, but that's O.K. because this is a Rubber Ducky Race, not a Rubber Ducky Crush!
The actual Rubber Ducky Race will be exciting in its own right, though, both in action and for its charitable cause. There'll be 1500 of these cute little characters—all with numbers painted on their undersides—dumped into the Sea of Cortez on Sunday morning July 21st. The dumping ceremony will be performed by our generous friend, owner and captain of the About Time charter yacht, Adolfo Perez. Volunteers will be on the beach retrieving the Duckies as they hit the shore and recording their arrival order.  And the Cause is great also as 100% of all the money raised from this event will be used to pay the high summer utilities of the non-profit La Esperanza para Nueva Vida community center so they can continue their important living skills classes for adults and indoor activities for the children.
That's the way it works—simple, and fun to watch, in case you're down for that weekend. It's even simpler to participate in the race. Just purchase a Rubber Ducky for $5.00 USD, or 3 of them for just $10.00 USD and root for yours to hit the beach first, or at least while the prizes hold out.  And there are some pretty exciting prizes donated by our generous residents and businesses.
Behind this creative idea to raise money for the center is 13 year Rocky Point resident, Barbara Olszewski, who along with her equally dedicated husband, Mark, founded the non-profit Adopt-a-Classroom organization that collects and distributes school supplies and other much needed items to over 8,000 children in 10 schools in Puerto Peñasco and one in Port Lobo.
Read the whole interesting story of these good people at https://www.sonoranresorts.mx/?p=4658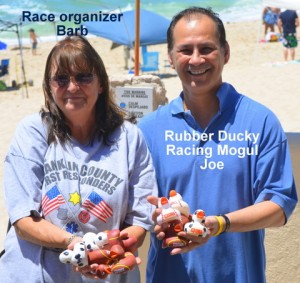 By clicking on that link you'll also learn how this amazing couple is able to organize fund raisers like the Rubber Ducky Race so that 100% of every penny (or centavo, if you will) goes directly to the intended charities. All the money raised from the Duckies will go to paying the utilities of La Esperanza center for the expensive summer months so they can continue classes that teach the local residents such life skills as sewing, hair cutting, cosmetology, English, and most recently, cooking.
Mark and Barb, along with local friends and a large Facebook following have evolved over a dozen years into a resourceful giving entity, capable of fulfilling specific needs of deserving organizations ranging from acquiring sponsors and equipment for the Puerto Peñasco "Rolling Rockies Wheelchair Basketball Team" to providing personal time and locating donors of resources such as sewing machines and computers enabling the teaching of these skills to the community surrounding the La Esperanza para Nueva Vida center.
La Esperanza para Nueva Vida is a non-profit, fully sanctioned "Institution of Social Assistance" and was originally founded nine years ago by Harold and Kathy Tuttle and Robert and Pamela Martin. ( http://www.laesperanzaparanuevavida.mex.tl ) Their faith-based concept from the beginning was to create a socially redeeming program to meet the spiritual, physical, and emotional needs of the community by showing God's love through their own actions, participation and service with their greatest hope and goal being that the community would become self-sufficient.
The Tuttles and Martins felt that the most consistent route to independence would be for the community to have a central location where children could learn the value of God's teachings and parents could learn life skills like sewing, cosmetology, computers, English, and to grow their own foods. To bring hope and new life to the community is the basis of motivation for all the volunteers who have helped this effort since the beginning. Thus the name in Spanish means "Hope for New Life"
Having wished so many times for a real place to hold classes as well as provide health checkups, God answered via an anonymous donor from Desert Springs Bible Church which enabled the Tuttles and Martins to purchase a corner plot of land on which they would begin construction of the building that manifested their original dream for the community. Indeed, volunteers representing the gamut of construction skills came in from the local community to be a part of making the main building a reality. Fencing, insulation, drywall and tiles were donated by the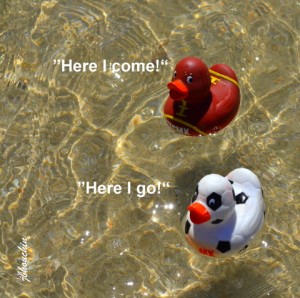 Mexican government and the local skilled volunteers installed the material. Plumbers and electricians came in from the U.S. pitching in to wire the building and build the bathrooms. The local community volunteers finished the center and still contribute their time to maintaining it and working with the children, organizing events and whatever is asked of them.
Dedication to La Esperanza para Vida Nueva is epitomized by the unwavering focus, vision and leadership of volunteer Director and President, Blanca Estela Soto Ayala, who has graciously and effectively served in this capacity since the beginning, dividing her time with her career as a licensed Physical Therapist.
Mark and Barb met the Tuttles in 2007 and got involved to help raise funds and locate donors of computers, sewing machines and other supplies. Mark raised funds for and helped build the basketball court as well as the second and third buildings. Barb was instrumental in locating several computers, sewing machines and cooking equipment for the life skills classes that are carrying forward the original dreams of the Tuttles and Martins in real time these days. One of Barb's fundraisers was her original Rubber Ducky Race.
There are too many volunteers to list even by organization who have helped the center, however, the Association of International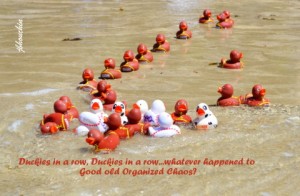 Ministries (AIM) must be cited since they bring a couple of van-loads of volunteers down from the Valley for every major event sponsored by the Center. For example, over 20 AIM volunteers brought toys, balloons, a famous clown, games and face painting skills to entertain nearly a thousand kids at the annual "Day of the Kids" festival last month.
As local residents, Mark and Barb continue volunteering their time and creativity to assist the grateful Blanca in raising funds and helping with the major functions. Barb came up with the idea for a Rubber Ducky Race a couple of years ago to help with some utility bills of the center. It was a huge success. This year at a board meeting it was suggested and decided that another Rubber Ducky Race was in order, this time with the goal to raise enough money to pay the utility bills that are notoriously high during the long hot summer and thusly keep the life skill classes and all important indoor children's activities going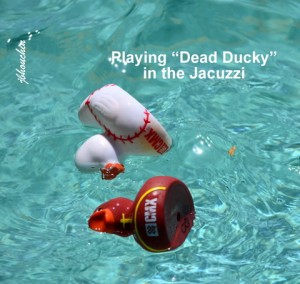 And here's where you come in…your job is easy—just put your money on a Rubber Ducky to "win, place, or show up before all the prizes are claimed by other Duckies floating in with the tide on Sunday morning, July 21st.  Oh, and you're welcome to come out and watch the fun on the beach in front of the Sonoran Sea and Sonoran Spa, even though you don't have to be present to win; your Ducky, however, does.
The Duckies, 1500 of them, will be ceremoniously dumped from "About Time" charter fishing yacht, by Captain and owner Adolfo Perez and Mark Olszewski. Unparalleled seaman that he is, Mark will then immediately de-board the About Time into a kayak which he'll maneuver (read: man handle) along with at least one other "Ducky Herder" to keep all the… (…you knew it had to start somewhere…) Duckies in a row, so to speak.
Each Rubber Ducky has its own number clearly painted on the bottom. If your number is on the bottom of a Ducky that arrives to shore before the prizes run out, you'll be the… uhh…Lucky Duck who wins one of dozens of nice prizes that include two night stays at Sonoran Resorts Condominiums, plus other condos and lots of additional fun and valuable prizes donated by our generous local businesses.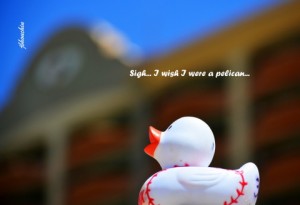 Barb has made it as easy as possible for you to purchase Duckies to enter the race. First, they're only $5.00 US each; but she's sweetening the deal with a special enticement motivating you to purchase THREE Duckies for just $10.00 bucks, which is the traditional…umm…Tri-ducta. (…ouch…). And for $20.00 bucks you get SIX Duckies, known in Rubber Ducky Racing jargon as a Waddle of Duckies; but for the Ducky de Gras, $30.00 bucks will get you NINE Duckies—with which you could potentially…Quack the code… of Ducky racing… (Pleeeze, someone, Stop him, already!)
O.K, O.K., Once again, here are the Ducky Details: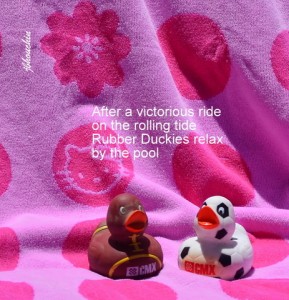 WHAT: Rubber Ducky Race on the Sea of Cortez for Charity
CAUSE: Raise money to pay utility bills of La Esperanza para Nueva Vida Community Center during the long hot summer to keep classes and other activities going. 100% of your donation will go toward this cause.
WHEN: Sunday July 21st – 10:00 AM – NOON (Approximately) 
WHERE: On the beach in front of the Sonoran Sea and Spa
HOW TO ENTER:  Purchase a Ducky.  $5.00 USD for one; Buy two, get one FREE. (Do the math, you kind and generous person, that's Three Duckies for the price of Two!)
Option 1: If you are outside Mexico, please mail a check (made out to La Esperanza para Nueva Vida) to: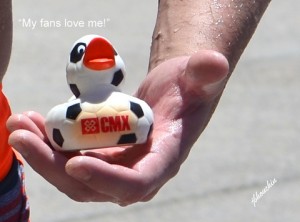 Barb Olszewski
P.O. Box 695
Lukeville, AZ 85341 
***Make sure you include your telephone number and email address with your check so you can be notified if and when your Rubber Ducky is victorious. 
Option 2: If you're in Puerto Peñasco, call Barb on her local cell phone at 638-383-4963 and she will be happy to come by and pick up your cash or check. (Reminder Note: If you're using a land line in Rocky Point to dial a cell number, you must precede the 10 digit number with 044.
You can always email Barb at rockypoint@myway.com for more information. 
HOW TO WIN:  Invest in Duckies! Build your odds with Barb's special incentive of one free Ducky for every two you purchase. No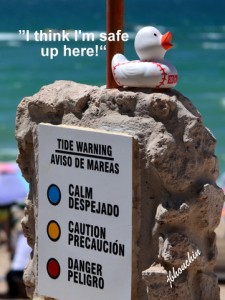 Limit!  Well…there are less than 1,500 Duckies available. Then, if your Rubber Ducky (with your number clearly marked on its bottom) arrives to shore while there are still prizes to claim, you are a Lucky Duck!
IMPORTANT:
You DO NOT have to be present to win any of the fabulous prizes. Your Ducky (or Barb) will contact you if it wins a prize. So be sure to include your telephone number and email address with your entry donation.
For great fun, great prizes for a great cause, plus the Lucky Ducky bragging rights until next year, don't be a Lame Duck; get your Rubber Ducky Race entry now…and Good Luck, you Lucky Duck!
This blog is powered by www.sonoranresorts.mx, Jim Ringquist, Director of Sales and Marketing.
Related Posts
This year marked the 11th annual January Jam that began as an…

It has been less than two years since Mayor Kiko Munro inaugurated…

Each and every year, as we mingle through the…