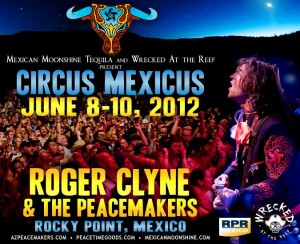 If you're a RCPM fan, it's a good bet that you still remember the details of your first encounter with this group of Rocky Point Rock 'n' Roll Royalty because they do know how to throw a party!
Color and creativity exudes from the band, right down to the classic custom bus they use to fulfill up to 130 tour dates per year playing up to 6 nights per week during their heavy tours in the U.S. The 1985 coach, lovingly named the "Stallion", and previously used by Tanya Tucker, Jimmy Buffett and other name artists boasts a recent addition. The Peacemakers have gone "greenmakers", mounting solar panels on the roof in a partnership with Green Fuel Technologies from Phoenix.  These panels generate enough power to offset the bio-diesel-powered electricity inside the cabin.
Looking at their tour schedule from now until July 1, you know they're having fun and it's no wonder they spend three days in Puerto Peñasco.  They need the break! Just go to www.azpeacemakers.com/tour/ and you'll see, for example, the band performs at 25 different venues in that 38 day period, averaging about 5 hours travel time in the "Stallion" every day. They'll perform 6 consecutive nights three times all in different venues during those 25 concerts. Whew!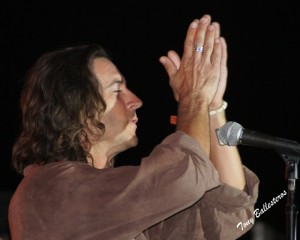 With the release of their newest album, Unida Cantina in 2011, their ninth album, the band has enjoyed a surge in attendance, also partly due to the strengthening economy. This last St. Patrick's Day, the RCPM concert was attended by 13,000 fans, and last week in Denver at the Denver Day of Rock, the band played to over 100,000. Attendance will average from 2,000 to 13,000 at their concerts, with gusts up to 100,000 at the larger music festivals across the U.S. where they perform.
This year's Circus Mexicus will be attended by die hard "Peacemakers" from 37 U.S. states and 8 countries, including the United Arab Emirates.
It all started with RCPM in 1998 after Roger Clyne and P.H. Naffah split from The Refreshments to take their own road to rock and roll stardom.  They have played together for 17 years. Nick Scropos on bass joined the band in 2004 and Jim Dalton on lead guitar came aboard in early 2009.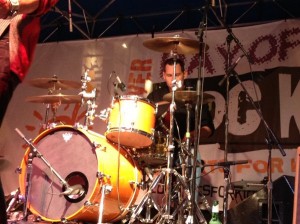 RCPM does all this touring with about 10 full and part time personnel and they have very little turn over because everyone is so close, looking at the organization as a "true Mom and Pop thing" and, according to Keara Zito, the band's effervescent Event Manager and Circus Mexicus Coordinator,  "the best rock and roll family on earth!" Roger's Mexican Moonshine Tequila employs another four people.
Roger Clyne wrote the song, Mexican Moonshine, while camping in a tee pee in Southern Arizona and recorded it on the Americano Album.  Around 2004, during a Circus Mexicus tour, Roger took the suggestion of a couple of cantina owners and started selling his own brand of tequila.  It sounded like fun and he had always used tequila metaphorically as an artist dating back to his college days when he immersed himself with a mariachi band in Ensenada.  It was for an anthropology project while at ASU.  It was here that he first experienced premium tequila made with 100% agave, as opposed to the sugar and artificial color-laden "mixtos" they serve on Mill Avenue.
He sold the first 1,000 bottles of his 100% pure agave Mexican Moonshine in the first weekend it was out. However, as it turns out, the producer lacked all the certifications required to produce the tequila back then, so it was truly Mexican moonshine!  The seed was planted in Roger's head and a few years later he had assembled the investors and a good manager to jump into the Ultra-Premium tequila market with both boots, so to speak.
His Mexican Moonshine Reposado, aged 9 months in American Oak bourbon barrels, was introduced in Rocky Point at Circus Mexicus in 2010.  This organically grown pure agave tequila is meant for sipping, or, as Roger says, for "celebration, not inebriation." It has a lengthy finish and a very pleasant nose. Most love how smooth it is along with its complex flavor profile.
The considerably less expensive Mexican Moonshine Silver (because it is not aged at all) was introduced at RCPM's January Jam at JJ's this year.  Like the Reposado, it is also made from organically grown agave and produced at the same distillery in Tequila, Mexico.
Roger's tequilas have been picked up by major retailers in Arizona, California and Texas and new national distribution channels will bring both tequilas to all 50 states this year.  You can also taste both these brands at the Tequila Factory in Rocky Point who are doing their part to connect more people to RCPM through tequila, Roger Clyne's long time musical metaphor!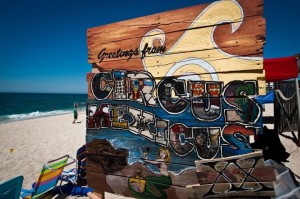 The Tons o' Fun this year actually starts on Thursday June 7th at Wrecked at the Reef with two free solo performances by friends of RCPM: Jason Boots from Los Angeles at 9:00 pm and Shurman from Austin at 9:30 pm.
Then, Friday night at JJ's is the big charity event, "Hot Dog and a Smile BBQ" organized every year by RCPM drummer P.H. Naffah to benefit the Esperanza Para Los Niños Home has become a giant affair with fans donating whatever they want for the hot dogs and bringing clothes, cleaning supplies and other goods for the home.  Admission is only $10 and there'll be 5 bands entertaining all evening long.  You are encouraged to by the ticket that includes both Friday and Saturday concert admissions on line at www.peacetimegoods.com.
Saturday morning, June 9th, Roger Clyne's 3rd Annual Rock and Beach Soccer Tournament takes place on the beach at Wrecked at the Reef, co-hosted by Wrecked at the Reef. Proceeds go to the Larry D. Large Foundation www.larrydlargefoundation.org at valuable community help organization in Rocky Point.  Most of the expected 140 players will also bring new or gently used sporting equipment for the Peñasco Youth Sports Foundation www.ysf.com.mx organized by Rocky Point resident Rick Busa.
Then, starting at 6:30 pm Saturday evening, entertainment begins with the acoustic sounds of Sons of Bill, with Roger Clyne and The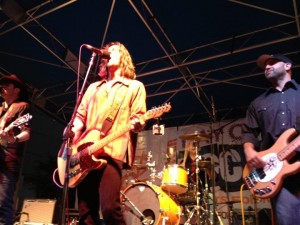 Peacemakers rocking you under the stars on the beach at Wrecked at the Reef from 8:00 pm until Midnight. Veteran Peacemakers know that "Midnight"  is just a guideline.  The party has been known to go on for a "bit" longer, if you know what we mean!
And don't forget Sunday's Mañanathon back at JJ's Cantina for a full day of free music and fun with five bands jamming all day long and RCPM members stopping by for a cool one as well!
It's much more than a concert when RCPM comes to Rocky Point; it's a musical marathon that energizes your heart and soul for three straight days of color, creativity, charity and tons o' fun! Don't miss this event!
This blog is brought to you by The Sonoran Resorts Sales Group, Jim Ringquist, Director of Sales and Marketing.
Related Posts
Successes tallied by the well selected and trained group of mostly young…

There is a very special music event taking place next Tuesday evening…

But what a four day ride---and it just gets better each year!…