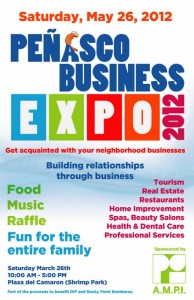 But, before we get to the 'Cat in the Bag', there are over 30 other really good reasons for you to stop by Shrimp Plaza (on the corner of Benito Juarez and Fremont between Bancomer and City Hall) on Saturday May 26 from 10:00AM until 5:00PM.
The more than 30 local businesses, artists and crafts makers who snapped up all the available spaces almost immediately represent the active nerve center of folks who help make your visit to Puerto Peñasco so darn much fun while you're here. This Business Expo is the Mexican and American business communities reaching out so you can get to know them even better than you already do. It's the business community melded with the City of Puerto Peñasco wanting to get to know you better as well.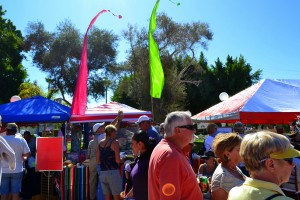 Together, the City of Puerto Peñasco Department of Civic Affairs and Cultural Activities and the local Chapter 51 of the Mexican Association of Real Estate Professionals (A.M.P.I.) have created a fun-packed day of exhibits, entertainment, prizes, food and music for the entire family to enjoy.  The kids can get their faces painted or make their own crafts while Mom and Dad peruse one-of-a-kind handmade artifacts, sample foods unique to our beach paradise and meet the friendly people who make it all happen for visitors and residents alike.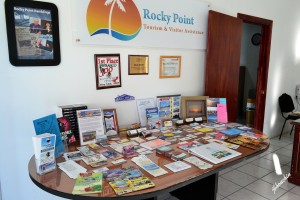 What's even more significant about the Business Expo is that A.M.P.I. will use part of the proceeds from this event to benefit two worthwhile charities: D.I.F. (the government sponsored organization that provides assistance to families and children in need); and Los Bomberos (the fearless volunteer firefighters of Puerto Peñasco).
A.M.P.I., always at the forefront of promoting Puerto Peñasco as a tourist destination, will also use a portion of the proceeds from the Business Expo to promote the fact that the business community of Rocky Point has provided this city with the Tourism and Visitor Assistance Office (TVA), a free 24/7 service by tireless bilingual volunteers who've played a vital role in helping visitors through emergencies from vehicle breakdowns to lost passports as well as providing printed information about every aspect of Puerto Peñasco as a tourist destination. And there are hundreds who can attest to the miraculous results in all kinds of situations by the knowledgeable staff of the TVA, now in its 3rd year. To read just how important this office is to our visitors, read our February blog on the TVA and its Director, Rosie Glover at: https://www.sonoranresorts.mx/?p=3497.
Letting the Cat Out of the Bag!
Well, we've just learned that  one of our local celebrities, Russ Black, who happens to be Rosie Glover's sidekick on "Rocky Point Ramblings," their Saturday English language radio program on 106.1 FM, has volunteered (read: coerced?) to be the target in this year's DUNK TANK at the Expo!  If you don't know Russ, rest assured that anyone reading this 'breaking news' is going through their change drawer right now counting coins to participate in this special event—especially Rosie who says with a Cheshire Cat grin, "Russ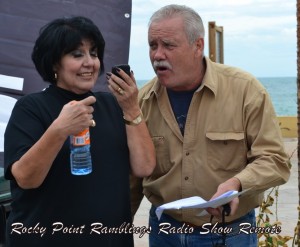 is a great sport for doing this—and I'm planning to bring plenty of money myself! Rumor has it that I'm not the only one planning to take advantage of this opportunity to 'throw some love' at Russ!" By the way, the Rocky Point Ramblings radio show will be broadcast live from the Business Expo.
Entertainment Galore! 
Non-stop entertainment will fill the stage all day and includes (in no particular order) the artistically gifted Peñasco Youth Symphony who turned heads at the Taste of Peñasco festivity in February;
Eliana Ramirez, the seven year old power vocalist who has mesmerized every audience she has ever entertained will take the stage as well.  Don't worry about missing her performance if you're in the Plaza at the time of her first note.  Everyone in the area will be awestruck.
You can expect to be well entertained by noted local artist, singer/songwriter Gilberto Castillo who, hopefully, will share some of his original material.
Local favorite all-around band, Riband, will take the stage to bring you some good old Rock and Roll with their musical skills that will have you wondering why these formative musicians aren't recording their own records.
Of course, there will be random events throughout the day highlighted with frequent drawings raffling off some fantastic prizes donated by the many generous businesses in town.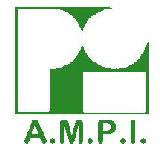 And…This Just In…
As of May 11, Telemundo of Southern Arizona, the Spanish language TV broadcasting company has confirmed with Rosie Glover of the TVA that they will have a production team in Puerto Peñasco specifically to cover the Business Expo in order to build a show for their program called "En Movimiento con (On the Move with) Gamaliel de la Rosa."
Without getting too excited, this is a good indicator of how public perception of our community is showing positive improvement vs. the country of Mexico. Couple this with the general increase in visitors so far this year and we all have a reason to feel good about the outlook for Puerto Peñasco.
All in all, this is an event that alone could make your trip to Puerto Peñasco worthwhile. Then there's the thing with the beach, the sun, the nightlife, the friendly people, an assortment of fish, both below and above the surface of the beautiful blue Sea of Cortez—and a long weekend to enjoy them all!
This blog is brought to you by the Sonoran Resorts Sales Group, Jim Ringquist, Director of Sales and Marketing.
Related Posts
Following is a poignant piece by Jack Hecker, a good friend to…

"He is Risen!", proclaims Pastor Tab Gray into the microphone. "Amen!" responds…

Mountain View Presbyterian Church in Scottsdale has sponsored an outreach mission trip…