"He is Risen!", proclaims Pastor Tab Gray into the microphone. "Amen!" responds the excited standing room only crowd on the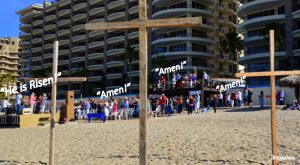 beach along with the dozens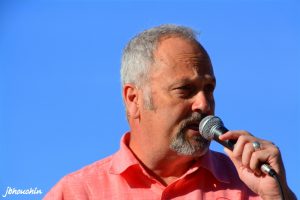 observing from the pool deck and balconies of Puerta Privada condominiums. Thus begins the moving sunrise Easter service held each year by Family of God Christian Fellowship at 8:00am—that's sunrise on Mexico time.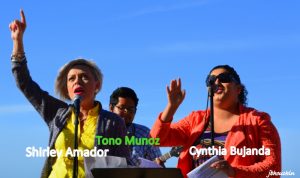 Pastor Tab's hard working staff have set up a roomy stage with all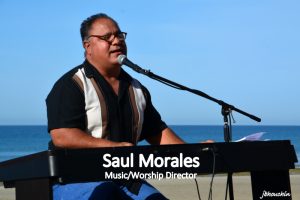 their musical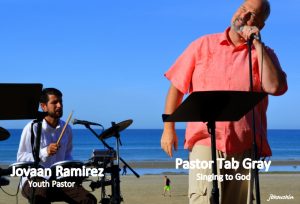 equipment flanked by a complete sound system through which Easter hymns performed by the church ensemble are amplified along the beach. The three empty crosses of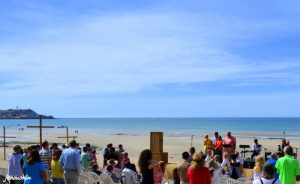 Calvary stand tall from the golden sand just east of the stage with Whale Hill and the vast blue Sea of Cortez as the backdrop forming a serene, surreal scene aptly celebrating the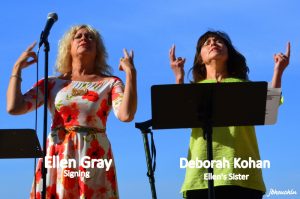 resurrection of Jesus Christ.
This Easter Sunday was filled with joyous energy by the gregarious mass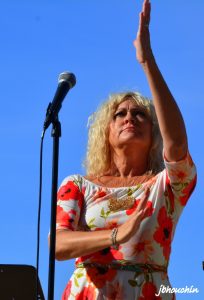 attending the service. Positive energy flowed to, and from, the stage as a motivated Pastor Tab delivered an emotional sermon that he followed by singing one of his favorite hymns, which was, as is the tradition, signed by his wife, Ellen, and this year, joined by her sister Deborah who was down from Sedona.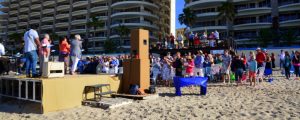 Everyone knew they had witnessed a rare and deeply spiritual moment, in awe to the very last inspiring note and graceful gesture. Thus ending a memorable Easter service.
The Family of God Christian Fellowship is a non-denominational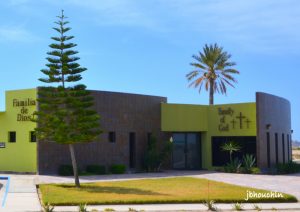 evangelical Christian church, founded 20 years ago by Margie and Dave Poturalski and has always existed to reach out to the lost and lonely, the less fortunate and the hungry, the orphan and widow.
Pastor Tab joined the Fellowship in 2004 and explains, "To the local community we were the 'gringo' Church that not only preached the Word of God but passionately proclaimed the saving grace of Jesus Christ through our focus on serving the community."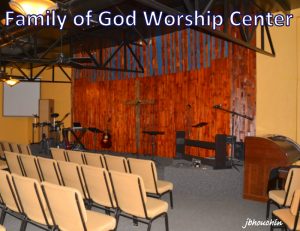 Originally the fellowship was predominately English speaking, made up of American expatriates and tourists with a few Mexican Nationals, but worked alongside local Mexican churches establishing Mission sites to "take church to the people". Over the years Family of God Fellowship have financially supported children's shelters, Men's and Women's rehab shelters, co-founded a local food bank, brought in Missions and church groups that helped build housing for the homeless. Kind and generous members like Dr. George and Susie Stavros founded a Medical Clinic ministry and recruited professionals to volunteer their time and skills to provide free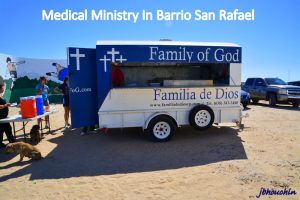 medical clinics that grew into monthly events.
"By 2010", explains Pastor Tab, "we had an amazing number of Mexican Nationals attending our services to hear the Word of God. They had found a church that loved and embraced them with a message of hope. More than looking for handouts, they were looking for answers as to where they could find food and work. We embraced the amazing privilege God gave us to encourage and pray for them."
Through prayers and diligence, the fellowship began looking for permanent quarters, which led to finding and purchasing the old World Group Administration building in June of 2011. The first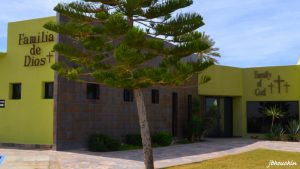 Family of God/Familia de Dios worship service was held in their new home on August 7, 2011. Today the fellowship sponsors 50-60 families and 75-100 transients per month with food, clothing and emergency essentials. They sponsor a Hospital Ministry that provides visits and meals to local hospital patients and a Baby Bag Ministry that provides essentials to Moms of newborns.
As the church grew so grew their commitment and ability to help more and more of the needy in this beautiful community. Their benevolence has spread throughout the city with scholarship programs, tutoring facilities, High School and Jr. High School Diploma programs, and so much more.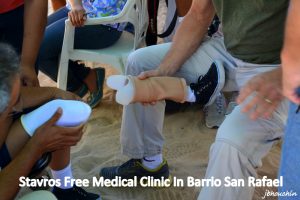 Over the last few years God has expanded the Stavros' monthly medical clinics, now a registered non-prophet entity, Clínicas Médicas A.C., to a point where the city government recognized their positive impact on the impoverished barrios, and to show their complete support, in 2015 the city donated a parcel of land and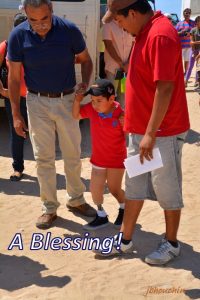 buildings in the San Rafael barrio to Clínicas Médicas.
Included in that donation was the Palabras de Esperanza (Words of Hope) Community Center. That center has become the permanent home for the monthly medical clinics and periodic dental clinics that are still conducted by the Stavros' and their growing team of volunteers who treat up to 200 needy residents each month in a wide range of health issues in Puerto Peñasco. Family of God Fellowship continues to host the medical clinics at their church location every other month.
Those land donations by the city have provided an exciting future for the prolific Family of God Fellowship who work closely with the community center and currently sponsor a Mission Bible Study outreach ministry there.   Adding to the bright future of the outlying barrios is that the renowned Young Life International youth outreach ministry is now serving at the community center.
Family of God Fellowship are optimistic about their plans for many more outreach ministries and hope to use some of the land to begin a church plant in the same area within the next year.
If you are like many of our readers and are interested in getting involved with an organization as active as the Family of God Fellowship, just know that Pastor Tab Gray invites you to join a worship service on Sundays at 9:00am in English with simultaneous headset translation in Spanish or at 11:00am with live translation in Spanish by the beloved Associate Pastor, Jorge Merino. You may also attend one of the men's or women's Bible Studies held during each week. You can inquire further by email to tab.gray@rpfog.com.
The Family of God/Familia de Dios Church is located on the first round about heading toward Sandy Beach on No Reelección Street from the Baseball Complex. Pastor Tab Gray says with ardent sincerity, "We welcome every new visitor and if their desires are such, we are dedicated to helping them find a service niche in their interest and comfort level."
While Pastor Tab's beautiful Easter service on the beach is much appreciated by the many good residents of Puerto Peñasco, the true blessing of Family of God Christian Fellowship is in the awesome contributions this benevolent organization and its members make to the community of God's people surviving in poverty beyond those golden shores.
This blog is powered by www.sonoranresorts.mx, Jim Ringquist, Director of Marketing and Sales.
Related Posts