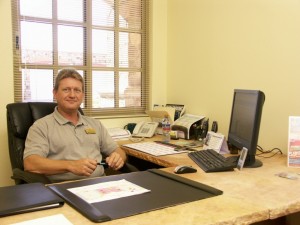 If you're looking for Director of Sales Jim Ringquist at the Sonoran Sea, you just missed him…  Jim and his trusty office manager, Laura, have recently relocated to the Sonoran Resorts newest premier property, the Sonoran Sky.  They're easy to locate in their new digs just off the lobby through the glass doors behind the reception desk.
The U.S. phone number (602-476-7511) is still the same.  When you're in town calling from a land line, Jim's direct number is 382-8547.
Jim wants all to know that the sales office in the Sonoran Sea, as well as all the sales offices in each of the four resorts, is open as usual from 9:00 AM to 4:00 PM seven days a week, so please stop by for any information you seek and a friendly Sonoran Resorts sales professional will be there to assist you.
This blog is brought to you by the Sonoran Resorts Sales Group, Jim Ringquist, Director of Sales and Marketing.
Related Posts
This year marked the 11th annual January Jam that began as an…

It has been less than two years since Mayor Kiko Munro inaugurated…

Each and every year, as we mingle through the…