Following is a poignant piece by Jack Hecker, a good friend to Puerto Peñasco, and to many expatriots and locals living in our little slice of paradise by the sea. Enjoy….
It was with a heavy heart that I headed the car north toward the border that early September morning. The end of a great run was taking place. At 83 my lack of physical and financial energy was becoming the controlling factor.  I must say again, it was a great run.  One that thirteen years ago I never imagined could happen.
It started with a trip to Rocky Point twelve years ago.  My wife and I, accompanied with our friend, Ross headed to the beach for a good time.  A brief stop in Sonoyta for Ross' Fish Taco snack left the two of us sitting in the car wondering if we were going to be gunned down.  Obviously, we survived that interlude and headed back on the road.  I must admit the drive through a strange town in a foreign country had me somewhat on edge to say the least.  Actually, I was petrified.
We stayed at a hotel on Sandy Beach and the accommodations were a disappointment.  The view of the restaurant attached to the place gave way to beach views, if you stretched your neck around and to a look.  Overall, the trip was mundane and I was not impressed and hesitant to return.  Then a year later things changed for the better.
I hooked up to represent a company that owned a beach house in Las Conchas.  Employees and customers with employees had use of this great place.  I got together with some customers and a company sales guy and the result was the beginning of a nine-year run of Beach House NFL Draft Parties and other pleasant visits.
I remember my first entry into this great spot.  As I came through the front door, I could see through the sliding glass doors to the patio and the beach.  It was magnificent.  I have seen great bodies of water, the great Atlantic from the Florida Keys to the top of Maine.  I've seen the Pacific from Chula Vista to Seattle and spent a grand total of forty-nine days crossing it thanks to the U.S. Army's troop ships.  Not exactly a luxury cruise.  My first reaction was to open the doors, step out, view the beautiful beach and breathe in the wonderful the air from the Sea of Cortes.  That day was the beginning of a love affair.
I learned a lot that weekend, having an experienced guide as our host.  I also learned a great deal after I joined what was once a very useful forum.  It led me to experiment with new places and new enjoyment.  What followed the next nine years made me wish I had done this many years ago.
I found great spots to eat, although I wish I had spent more time visiting the truly Mexican places the locals use.  Great Breakfasts and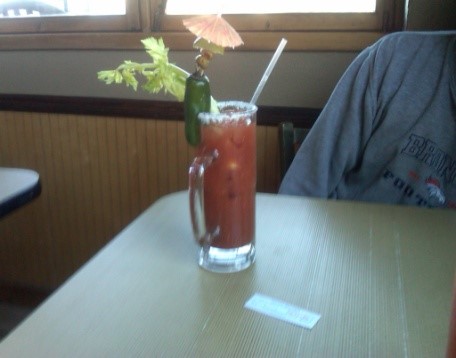 Bloody Mary's at Max's, and Lucky's Cantina where buy a drink and enjoy a free breakfast fast became a favorite.  Our last mornings were always a stop at Reggie's for a sugar fest with donuts and coffee. Shrimp Taco lunches at Sr. Amigo's was a must every visit.  Dinner was often a highlight.  There was, Pan Y Vino, Fuentes, Don Julio's, Shrimp Cocktail at Wrecked capped off with a fine dining experience at Mare Blu.  Our favorite though, was traditional the first night, a visit to Capone's.  I can't believe our first night in Mexico we would go for a Greek Salad and Pizza, but that was only half the attraction.  The service staff always treated us like old friends, which we became, and of course my friend Pacman, the joke telling bartender.  I always left there with a smile.  Well, almost always, we had our last meal there and bidding adieu to our buddies was a bit sad.
More important than the cuisine was establishing new friendships and learning to love Mexico and the wonderful people there.  My first friend was Daniel from Oceano, whose untimely death in a horrific accident was mostly responsible for the overpass at what I called the Roundabout of Death.  There were a number of Omars, Hugo, who always had a Sol Beer ready for me at what used to be Debbie's, Francisco aka, Frankie aka Pancho, Roberto and the gang from Sonoran Resorts, Joe and Jim to mention a few that this old memory can remember.
There were two special friends that made it possible for me in my small way to help the good folks in need there, Mark and Barb.  I'll never forget my first meeting with Mark and him walking the streets with the big stuffed rabbit I gave him for a little girl.  That led to an amazing friendship and a wonderful opportunity for me to help.  My first venture was to the Casa Esperanza por los Niños and a chance to see the need those kids have.  (I still don't know how that boat got there.)  Those two are into so many things, the Adopt a Classroom, Cetmar scholarships, and precious little David's insurance for his heart operation, bottled water for the barrio in the scorching summer heat just to name a few.
One of the most satisfying endeavors was being able to provide mobility for the disabled by sending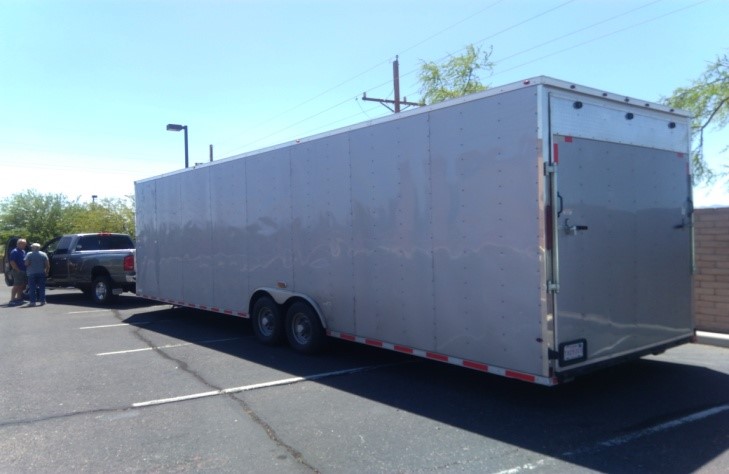 truckloads of surplus equipment to make them mobile, no longer disabled, but now inconvenienced. Many thanks to Diane, Rod and Chuck for their help moving this much needed equipment.
I have traveled to many places in this lifetime.  I've been to France, Italy, Switzerland, Lichtenstein, (Where?), Japan, Hong Kong, Formosa, but I've never been anyplace that I enjoyed more than Puerto Penasco, Rocky Point.  The people there were so helpful, tolerant of my lack of language skills and always willing to give a smile in return for a smile.  Try that in NYC for one.
All of that and the beautiful Sea of Cortes.  The moment I saw it, I knew there was something special.  If you have never taken a sunset cruise on it, you have missed something outstanding.  We went on the Senorita Rita this last trip.  It was worth every penny of the cost.  The crew was most hospitable and I must say very generous with the drinks.  The cruise into the setting sun along the Sandy Beach shore was exceptional.  Seeing all that from a different side was terrific.

The thing I enjoyed
most about the sea was the serenity.  I rushed to get up in the morning to enjoy the magnificent sunrise.  It was different each day.

The sunsets were equally glorious.

If I had a choice of where I would like to finish my days, it would be sitting on the patio watching the day evolve, watching the sunrise, the pelicans diving for their breakfast with the moocher birds floating nearby to grab any leftovers, the porpoises playing and the sunsets.
In the middle of my last night, I was awakened by a sea lion, baying, barking, or whatever it is they do, but I knew he was saying a final goodbye for the Sea of Cortes.
When the time comes, I imagine I'll be going elsewhere because I've already been to Heaven.
Farewell, God Bless and God Speed Peñasco
This blog is powered by www.sonoranresorts.mx, Jim Ringquist, Director of Sales and Marketing.
Related Posts
This year marked the 11th annual January Jam that began as an…

It has been less than two years since Mayor Kiko Munro inaugurated…

Each and every year, as we mingle through the…