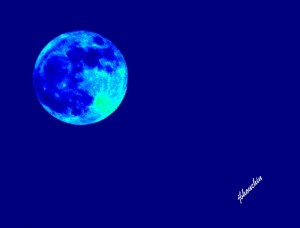 Most have heard an expression of something like, "Oh, that only happens once in a Blue Moon," or something similar. Well, if you've been waiting for a Blue Moon you've got less than a month to wait. Because on the night of August 31st above the glowing Sea of Cortez off the sandy beaches of Puerto Peñasco, Sonora, Mexico and the rest of the world, there will be one. In case you don't know the specifics of Blue Moon occurrences, or the folklore behind them, there are two definitions for the reference to a Blue Moon; one historical and one modern. Actually there are three if you consider the occurrence of a truly blue colored moon, which doesn't happen with the predictability of the other two definitions that are based on calendar periods. This article will deal with the modern version of what constitutes a Blue Moon. We know there's a full moon occurrence just about every month or 12 full moons in a year. Full moons cycle every 29.5 days, known as lunations. That means that there are about 11 calendar days a year left over in relation to the 12 lunations. These days accumulate so that every two or three years (actually, seven times in every 19-year Metonic cycle) there will be 13 lunations in the 12 month calendar year. This "extra" full moon will occur in a month that has a full moon in the first one or two days allowing the second 29.5 day lunation to fit into the same month. That's exactly what will happen this month since the regularly scheduled full moon for August occurred on the 1st day. The second full moon of this month is referred to as a "Blue Moon", usually inspiring a lot of poems and songs, etc.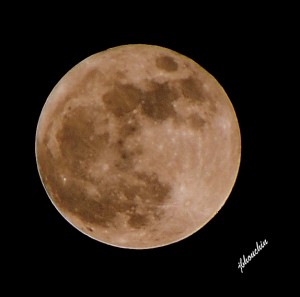 It will be good for you to know that the moon won't actually be "blue" (Unless you use a filter like on the one in this article). It might be golden depending on the time of night and the cloud cover, but more than likely it will be the silvery grey that is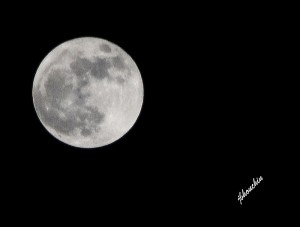 normal. There is an historical reference to how the term "blue" evolved in a link below if you'd like to pursue this further. We won't cover it here because it involves the second, older folkloric history behind the origin of the Blue Moon, and that would be way too much like a college classroom scenario for this story—or this writer, whose major was light years from science, astronomy or ancient religion. However there are a couple other interesting facts about the Blue Moon that might be of lighter interest: In 2009 we had a Blue Moon occurrence on New Year's Eve. The next time we'll have a Blue Moon on New Year's Eve will be 2028. You won't be able to see it, however, as there will also be a total lunar eclipse that night! The next Blue Moon will take place on July 31, 2015. 2018 will be a Smash Hit with the rare occurrence of not one but two Blue Moons in the same year. Thanks to the lunation cycle and calenderically challenged February, there will be an extra full moon on January 31st, and again on March 31st, 2018. Mark your calendars!
You might want to mark your calendars for this month's Blue Moon as well, especially if you like sunset cruises. We know of at least one sailing on Friday the 31st aboard the About Time that will be a fundraiser as well (hey, you might as well put your money where it will help someone else as well as yourself, right?) It's called the "Blue Moon Blues Cruise" and it's already filling up fast (no joke!!) For information on this special occasion to celebrate and help others at the same time, call Mark or Barb Olszewski at 602-324-9529 from Phoenix or 638-383-4963 from Rocky Point; or email them at markbarb@prodigy.net.mx . Remember, it only happens once in a Blue Moon! For more information about Blue Moons, go to: http://en.wikipedia.org/wiki/Blue_moon This blog is powered by www.sonoranresorts.mx , Jim Ringquist, Director of Sales and Marketing.
Related Posts
Hundreds of Rubber Duckies will arrive Sandy Beach on Sunday June 14th…

Nearly 650 Rubber Duckies, over 200 Ducky Sponsors, 30 generous prize donors,…

It was cloudy, and a bit warm, but to the group of…