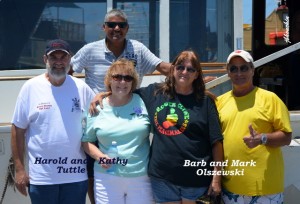 Nearly 650 Rubber Duckies, over 200 Ducky Sponsors, 30 generous prize donors, nearly 70 big hearted volunteers and one 54' fishing yacht donated by Captain and owner, Adolfo Perez, all came together on Sunday July 21st and exceeded the goal of raising enough money to take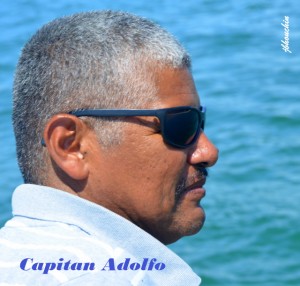 care of the expensive summer utilities of the nonprofit, all volunteer Esperanza Para Nueva Vida  Community Center in Puerto Peñasco.
Guaranteeing the utilities of the center are covered ensures that the important life skills educational work will continue without interruption, thus sending otherwise unemployable families into the economic marketplace with needed skills to fulfill demand in areas such as hair cutting, cosmetology, sewing and alterations, cooking and bilingual services.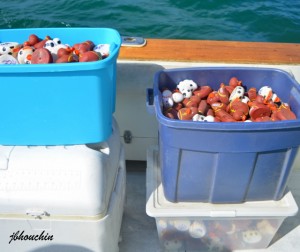 Behind this creative idea to raise money for the center is 13 year Rocky Point resident, Barbara Olszewski, who, along with her equally dedicated husband, Mark, founded the non-profit Adopt-a-Classroom organization that collects and distributes school supplies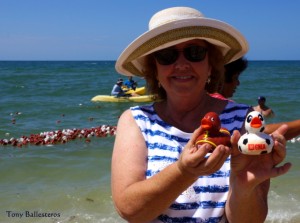 and other much needed items to over 8,000 children in 10 schools in Puerto Peñasco and one in Port Lobo.
Contributions of time, money and great effort by Mark and Barb have evolved over a dozen years into a resourceful giving entity that has fulfilled the needs of many deserving organizations ranging from acquiring sponsors and equipment for the Puerto Peñasco "Rolling Rockies Wheelchair Basketball Team" to providing personal time and locating donors of resources such as sewing machines, computers, cookware, food and more that have enabled the teaching of life skills to the community surrounding the La Esperanza Para  Nueva Vida Center.
Esperanza Para Nueva Vida  is a fully sanctioned "Institution of Social Assistance" and was originally founded nine years ago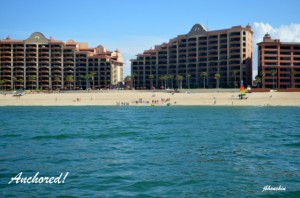 by Harold and Kathy Tuttle. (http://www.laesperanzaparanuevavida.mex.tl ) Their faith-based concept from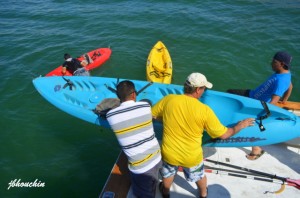 the beginning was to create a socially redeeming program to meet the spiritual, physical, and emotional needs of the community by showing God's love through their own actions, participation and service with their greatest hope and goal being that the community would become self-sufficient.
Mark and Barb met the Tuttles in 2007 and began helping them raise funds, locate equipment and help with building improvements on the Center. One of Barb's fundraising ideas was the original Rubber Ducky Race of two years ago.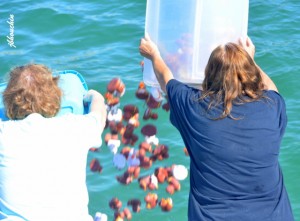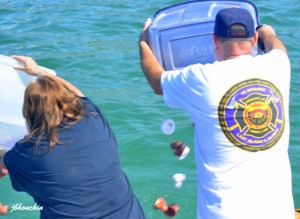 On a beautiful Sunday morning of July 21st, Captain Adolfo Perez, good friend and supporter of about anything Mark or Barb are involved in,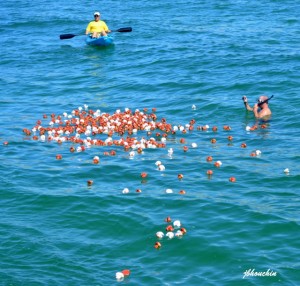 steered his agile cruiser, About Time, toward Sandy Beach with 20 volunteers on board, among whom included Mark and Barb, Harold and Kathy Tuttle and loyal supporter, Ron Alofs who doesn't need an excuse to visit Rocky Point, but decided to come down, don a wet suit, fins and snorkel to help his good friend Mark herd some Duckies from his favorite strategic position: sub-surface in the Sea of Cortez.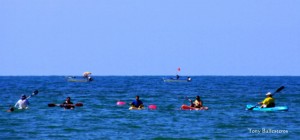 As Adolfo approaches a distance of about half a kilometer off Sandy Beach and drops anchor, four kayaks are released off the back of the About Time to be manned by Mark and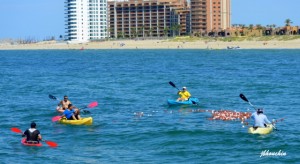 one of Adolfo's boat hands, Iván, plus three brave community center volunteers: two brothers, Miguel and Enrique Muñez and Erik Stanley, a missionary from Community of Hope Church in Maricopa, Arizona who teaches Life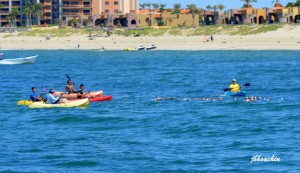 Gardening at the Center and whose wife, Martha serves as Secretary and Activity Coordinator at the Center and was leading the group of about 50 volunteers from the beach.
No sooner had these maritime marvels mounted their sleek vessels (plus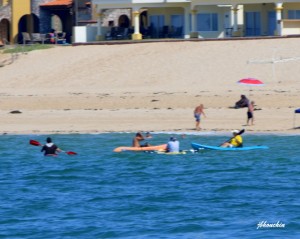 one mask and snorkel containing Ron's head bobbing from the sea), than Barb, Kathy and Harold were dumping Duckies, all 650 of them into the rustling waters. And the Rubber Ducky Race was on!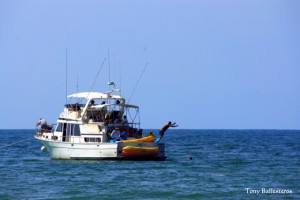 Note: Our…umm… policy requiring strict adherence to lexicological correctness makes it necessary to clarify that we know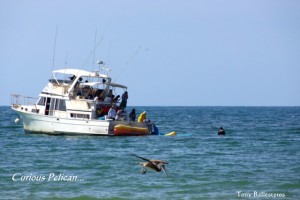 Duckies cannot be "herded" because the proper name for a group of Duckies, if they are on the water, is a "paddling" of Duckies (among others). This clarification is necessary to avoid confusion when describing how hard the kayakers had to paddle to paddle the paddling of Duckies. Paddling a paddling of Duckies for half a kilometer in a rising tide is no piddling task. And, in Ron's defense, snorkeling beneath the paddling among the paddlers' paddles is no small risk either.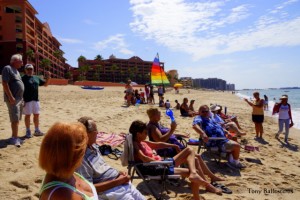 With monumental maneuvering technique and patience the kayak team had the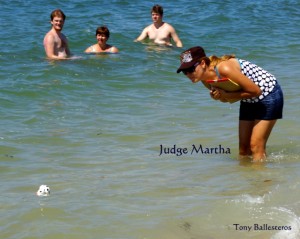 paddling of Duckies in the "stretch" racing for the beach.  Soon thereafter, all were accounted for and the winners were recorded free and clear of conflict.
AND THE TOP 5 "LUCKY DUCKY" WINNERS ARE::::::::: 
FIRST PLACE: Charlie Boatman, the very supportive owner of the legendary Shark Bite pub in the Malecon. Charlie wins a weekend in a luxurious beachfront Sonoran Resorts condominium.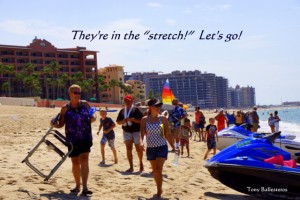 SECOND PLACE: Leslie Creaney. Leslie wins a weekend in a luxurious beachfront Sonoran Resorts condominium! 
THIRD PLACE: Karen Aldridge. Karen wins a weekend in a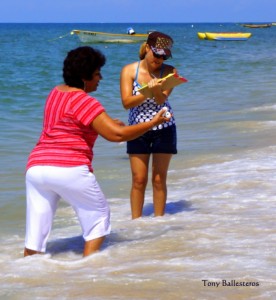 beachfront condominium at the beautiful Palacio Del Sol in the Mirador! 
FOURTH PLACE: Blake Dawson. Blake wins a round of golf for 4 at the Las Palomas Golf Course!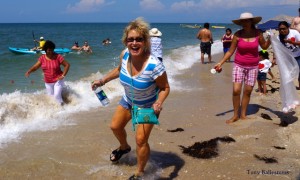 FIFTH PLACE: Harold and Kathy Tuttle. They will enjoy their choice of lunch or dinner at Sr. Amigo's Restaurant in the Malecon! 
…AND THE BEST NEWS OF ALL?  
A total of $1,593 USD was raised which, according to Center Director,
Blanca Estela Soto Ayala (who was also on the beach team), will pay all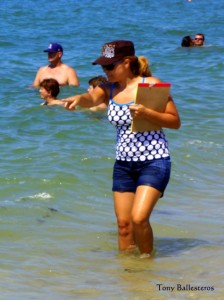 the utilities of the Esperanza Para Nueva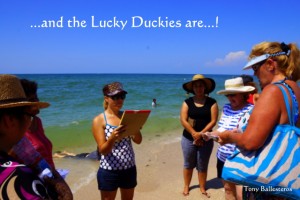 Vida  Community Center for up to six months!! 
Even as hard as Barb worked on this project, she is the first to say it would not be possible without the plethora of friends and supporters behind her efforts.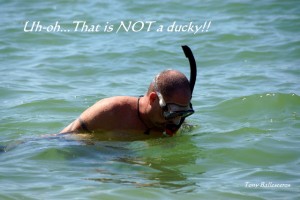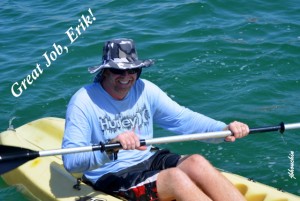 Will there be a Rubber Ducky Race 2014? "Absolutely," says Barb, "the response was terrific. We'll probably hold it a little later in the year next time, though."
We'll be looking forward to the next Great Rubber Ducky Race 2014, Barb!
This blog is powered by www.sonoranresorts.mx, Jim Ringquist, Director of Sales and Marketing.
Related Posts
Hundreds of Rubber Duckies will arrive Sandy Beach on Sunday June 14th…

It was cloudy, and a bit warm, but to the group of…

Most have heard an expression of something like, "Oh, that only happens…