Sister María Del Buen Consejo, Mother Superior of Casa Hogar home for the elderly, had an exciting month in September!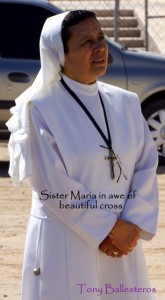 She celebrated her birthday on the 16th, and the month was topped off with the installation of two new crosses and a statue of the Virgin of Guadalupe, an event that moved her deeply and it showed. 
The crosses are not just any crosses. They were handmade by Mike Bibb, who, with his wife Eilene, has installed 16 of his works in and around Puerto Peñasco so far. During every trip Mike finds a new location for his art, takes exact measurements, and then returns to his home in Safford, Arizona to begin the detailed design and building of these gems of craftsmanship.
Woodworking was Mike's hobby throughout his career with UPS, so when he retired he began channeling his woodworking expertise toward creating and donating crosses to churches of all sizes who are in need. Mike creates his crosses with such great detail the finished piece is a veritable work of art, which he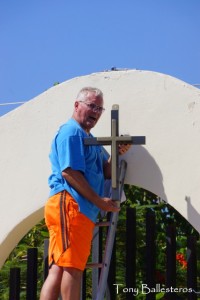 gladly and generously hangs for posterity on the walls of any religion-based organization that requests one. Rocky Point benefits the most as the Bibbs' favorite destination.
When the Bibbs roll into town from Safford, you can count on two things: a lot of laughter from Mike's satirical adlibs, and that one or more of our institutions will be blessed with one or more of Mike's stunning custom made crosses. It's always a special occasion for everyone in attendance, and a much anticipated event for the recipients, as in the case of Sister María.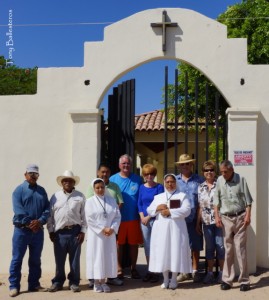 Sister María was so excited and grateful back in July when she learned that her long held desire to have a cross mounted on the front entrance archway and in the dining room was going to become a reality as Mike looked around the facility asking exactly where she would like the cross to be hung.
When he and Eilene returned in September with the finished works of art, they brought their longtime travel friends Norm and Shirley Moffitt who have helped them hang crosses in Puerto Peñasco on previous occasions.  This trip,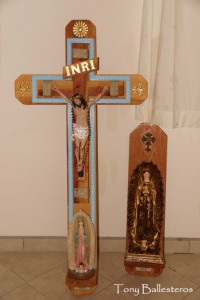 however, Mike and Eilene also brought a special surprise gift for the good Sister and Casa Hogar.
After installing the beautifully precision welded and coated metal cross on the archway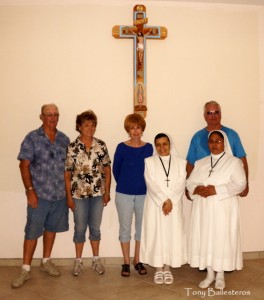 outside, the large group of onlookers, made up of the staff and volunteers, the patron sponsor of Casa Hogar, Rubén Rodriguez; Kory Bonini, the indispensable catalyst for this and other installations by the Bibbs; Father Jorge Lopez from the new Iglesia de San Francisco next door, and almost all of the 23 residents moved into the dining room to continue watching Mike and Norm attach the cross to the wall inside.
Father Jorge read a passage from the Bible and christened the cross and Virgin of Guadalupe with Holy Water before they were placed on the wall. One look at Sister María tells you of her gratitude as she told the gathering that this day was her greatest day since arriving at Casa Hogar three years ago.  She conveyed the depth of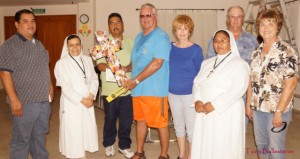 her feelings in that moment to the point of causing goose bumps on those around her.
As it turns out, Mike and Eilene weren't the only ones packing a surprise gift that day.  To show their appreciation for all the work and generosity of Mike and Eilene, Sister María presented them with a really beautiful handmade sea shell cross adorned with some most unique shells!
And that was a wrap on a Saturday in September that was brightened by more than just sunshine.
This blog is powered by www.sonoranresorts.mx, Jim Ringquist, Director of Sales and Marketing.
Related Posts
Sometimes so much is going on in our little slice of paradise…

Among the nuclei of donation worthy charities in Puerto Peñasco, one of…