Sometimes so much is going on in our little slice of paradise by the sea that we can't address the many short subjects with proper attention in our blog. To handle the hodgepodge of dangling subject matter, we invented the Potpourri Page. Guaranteed to make you 46% smarter and 11% more likely to lead the conversation in a social gathering. Read on…
Funds Raised From Sonoran Resorts 4th Annual Las Vegas Night for Charity ($5,000USD!) Are Going To Fill The Needs of Casa Hogar Home for the Aged! 
As of this writing, Sonoran Resorts management have met with the board of Casa Hogar who are making their wish list of what is needed in terms of supplies, equipment, tools and repairs to make life better for the elderly patients as well as the dedicated staff of caregivers at this cherished facility. This is just an update for all the generous folks who participated in the Las Vegas Night festivities and had a lot of fun while raising all this money for the good of our community. The full story, with photos, will chronicle the use of these funds when we get the list from the board. Once again, Sonoran Resorts send their gratitude and appreciation to the many participants and volunteers who make Las Vegas Night for Charity one of the most anticipated annual events in Puerto Peñasco!
LABOR DAY WEEKEND
Rocky Point's Own Mermaid's Market Having Their End of Summer Market and Party on Saturday September 5th at the Sonoran Spa  10AM  til  3PM!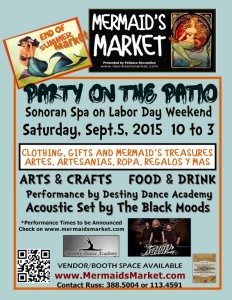 Mermaid's Markets have become a "Don't miss!" event in Rocky Point since Russ and Naomi Black introduced the concept of an authentic Artisan's Street Market three years ago, and this "End of Summer" party is one you'll want to attend. In addition to over a dozen local artists and craftspersons exhibiting their unique and creative  wares, there'll be two special performances beginning at noon:
Destiny Dance Academy is bringing the elegance, poise and precision of their versatile international award winning ballet and modern dance teams to mesmerize attendees with their grace and skill.
Next, fasten your seat belts, rock your favorite dance shoes and tap your feet to one of the most loveable rock 'n' roll ensembles in two countries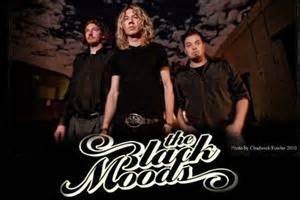 (that we know of, anyhow!) when The Black Moods make a special acoustic appearance at the Market.
Enjoy a Labor Day Weekend libation as you graze and gaze at the great creations by the true artisans on exhibit. You will surely find a gift for those you love back home from the wide selection displayed at the Mermaid's Market! Be there or be square, dude!
The Beach Bum Bar and Restaurant in the Malecon has some great entertainment scheduled for Saturday and Sunday to keep you entertained while enjoying their deliciously creative menu, which includes…their coconut fried onion rings—a can't miss event all by themselves!
Saturday from 4pm to 7pm:  The Zubia Brothers, famous for jamming with RCPM every year at Circus Mexicus will be performing their incredible guitar duos, along with Josh Kennedy from the Black Moods, who'll be dashing from the Sonoran Spa to the Malecon that day!
Later on Saturday, if you're an UFC fight fan, you can watch the Johnson vs. Dodson massacre on the Beach Bum's massive 122" projection screen TV. It don't get any better or bigger than that!
Sunday from 4pm to 7pm: Elvis Before Noon, Circus Mexicus regulars, will rock the house down.
The Boo Bar You can't go to the Malecon without stopping up at the Boo Bar and say "Hi" to José! He'll have live music there, too, all weekend.
This blog is powered by www.sonoranresorts.mx, Jim Ringquist, Director of Sales and Marketing.
Related Posts