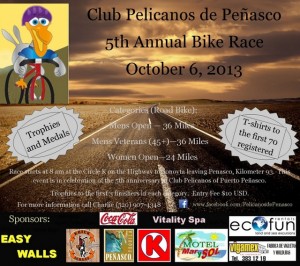 For the fifth consecutive year the Pelicans of Puerto Peñasco will celebrate the club's anniversary along with 80 to 100 of their fellow cyclists and gather at the Barclin Circle K Pemex Station (that's the last one on the road to Sonoyta) for an 8:00 AM departure. Trophies will be awarded in three categories:
Women's: whose race route will cover 40 kilometers (24 miles)
Men's Open (up to age 45): race route will cover 60 km (36 miles)
Veterans (politically correct for those guys over 45): they will also cover 60 km (36 miles)
This sounds like a lot of fun! If you'll be down on the weekend of October 4, 5 and 6, maybe for the Roger Clyne performances on Friday and Saturday, or JJ's One Club Open Saturday morning, why not bring your road bike and meet some new friends on Sunday?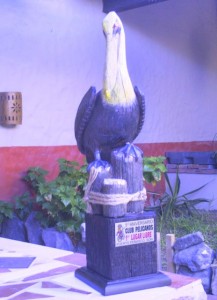 Really cool Pelican Trophies will be given for 1st through 3rd place in each category and medals will be awarded for 4th through 13th place in each category.
The race leaves and returns to the Barclin Circle K and uses the Coastal Highway route (map). The award ceremony will take place there as well as some other fun activities.  You can count on the race lasting from 1 ½ to 3 hours.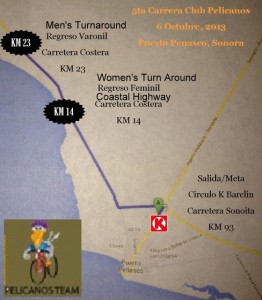 Entry Fee is only $10.00 U.S. or $100 pesos and the first 70 registrants get a T-shirt.
Early registration is on Saturday  from 4-6 pm at Plaza de las Madres in front of the Baseball Stadium. Just look for the Tequila Peñasco Banner and the Banner that promotes the race in Spanish "5th Carrera Ciclista"
Sunday registration will open at 7:00 AM. Everyone is asked to please register on Saturday if at all possible so the race is not held up by late registrants. Thank you.
The club has arranged full support from the local police, Red Cross ambulances, Fire Department personnel and equipment and water stations along the route.
The local club is expecting 100 or more cyclists coming from as far away as Hermosillo, Caborca, and Nogales, Chihuahua, Rosarito, Mexicali and other cities. They had over 80 last year and have grown every year.
Charlie Muratore of the race committee is an executive with the company that owns Tequila Peñasco, a major sponsor of the race. Charlie is a founding member of Club Peñasco and has been riding seriously since the early 90's.
The other sponsors include: Erick Burgers (on Calle 13); EcoFun Boat Tours; Coca Cola; Mar y Sol Hotel; Easy Walls (Drywall); Vigamex Construction Supplies; and Vitality Spa who will be on hand to give riders 10 minute shoulder and neck massages for $100 pesos. You'll see the sponsor's logos on the posters to help you recognize them in town. Many are avid cyclists as well.
For more information or to pre-register, call Charlie on his U.S. phone number: 520-907-4348. If you're in Mexico his cell phone number is 638-380-5028.
This blog is powered by www.sonoranresorts.mx, Jim Ringquist, Director of Sales and Marketing.
Related Posts