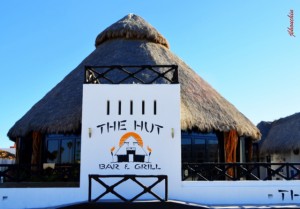 That seems to be the internal mantra of Rocky Point's bar owner, Randy Gahan, who's been duplicating his successful system of building and operating bars and restaurants here since 2009. As the Wrecked Group readies their fifth project, expected to open the first weekend of October, we reflect back on the amazing successes of their first four.
The Group's first [ad] venture was to perform a radical re-do of the old Señor Shrimp location in the Malecon and turn it into one of the hottest hangouts in the area. They even took the one small space where a restroom could be installed, made it into a co-ed facility with a sign on the door saying "Both" and it, too, became the in place to "go". Of course, we're talking about the Boo Bar, which was sold to friends, Scott and José a few years ago.
Shortly thereafter, the old spring break party spot on Sandy Beach known as the Reef became available. At that time, it was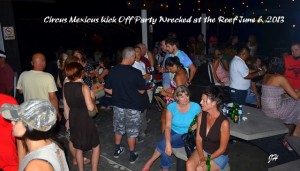 little more than a stark deteriorating concrete man cave that made the Wrecked Group salivate with visions of a hot beach bar hang out. With a clear and creative objective they jumped all over the opportunity with some "no holds barred" decorating and furnishing which transformed it into a mesmerizing Pirate's theme with an excellent in house rock band and great food that has controlled the weekend beach crowd ever since.
The Wrecked Group has opened two other Wrecked-themed locations downtown since, but sold them both in order to stay on top of the continually growing original Wrecked at the Reef as it started attracting bigger crowds and well known bands such as Roger Clyne and the Peacemakers. In fact, Roger and the Peacemakers will perform at JJ's Cantina in Cholla Bay on Friday night October 4th and at Wrecked at the Reef on Saturday October 5th (limited seating tickets are available through the Peacemakers web site at www.circusmexicus.net.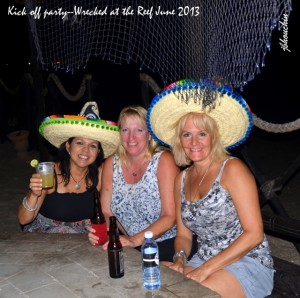 We were surprised to learn how little prior restaurant experience existed among this group. Success in this business usually comes with a degree from the College Hard Knocks but, as in the case of Randy Gahan, he brought his business organizational skills to the group that were developed through more than 25 years as the owner and operator of tire and auto repair stores. Bookkeeping and customer relations acumen are essential in both of these fickle businesses.
With all the successes in the bar business here, the Group confirmed suspicions that customer relations in the restaurant and bar business would be a much more positive experience because clients enter with a cheerful attitude as opposed to arriving with a broken vehicle expecting, and often getting, worse news to darken their mood even more.
"In the restaurant business, all we have to do is give our guests good service and value to maintain the high spirit they entered with," Randy philosophized, "plus we get to make new friends, many long term, every night of the week." The Wrecked Group also enjoys being a part of the community capable of  helping those with needs through their annual Blanket Drive and other donations and support provided for worthy causes.
When the popular Chango's Bar and Grill located at the entrance to the Sonoran Spa and Sonoran Sea Resorts became available recently, the Wrecked Group just could not resist the opportunity to add their creativity to a venue with which they were so familiar, especially considering the future fate of Wrecked at the Reef when the new home port construction begins.
They saw immediately a near perfect alternative, though vastly different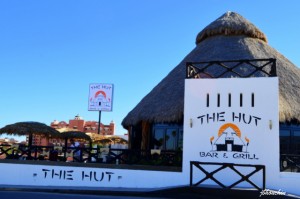 than the popular Wrecked at the Reef. With seating for about 150 allowed inside plus more outside, a truly tropical thatched roof structure with plenty of room for some uniquely effective decorative touches and a kitchen capable of maintaining the quality of food their loyal customers have become accustomed to enjoying, the Group visualizes a totally distinct atmosphere but at least as comfortable and inviting as their other ventures.
Those who are familiar with the old layout of Chango's are going to love how the new stage has been built downstairs where the front entrance
used to be. This allows for an additional level of seating in the area upstairs that was formerly taken up entirely by the bands no matter how small.
Now, essentially, guests can enjoy a social ambiance when seated downstairs, a more intimate ambiance in the upstairs seating area, and a fresh sea breeze when seated under the palapas and umbrellas outside, all of which blend to give the entire bar an enjoyable and thoroughly inviting tropical flavor.
Live acoustic music flowing mellow from the new stage will create an atmosphere more market appropriate for the age group of surrounding condominium owners and visitors. Those staying in the Sonoran Spa and Sonoran Sea can leave their vehicles and enjoy a casual stroll to and from the new venue from 11:00 AM to Closing Thursday through Monday.
The Wrecked Group had referred to Chango's as the "hut" for years so it was only natural they named their new palapa studded paradise within a paradise simply The Hut. We think the Group has designed themselves another hot spot on Sandy Beach that should become the enduring "In" place to celebrate life in our little slice of paradise by the sea.
This blog is powered by www.sonoranresorts.mx, Jim Ringquist, Director of Sales and Marketing.
Related Posts
Successes tallied by the well selected and trained group of mostly young…

There is a very special music event taking place next Tuesday evening…

But what a four day ride---and it just gets better each year!…