Barb and Mark Olszewski are launching the annual La Esperanza para Nueva Vida (Hope for New Life) Community Center  drive to collect Christmas gifts and stocking stuffers that are distributed among the 500 or more neighborhood kids during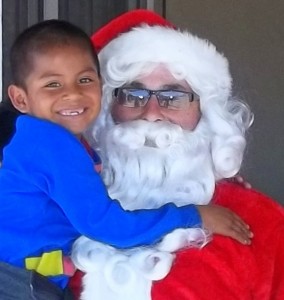 the all afternoon celebration held at the center in December. This year they also plan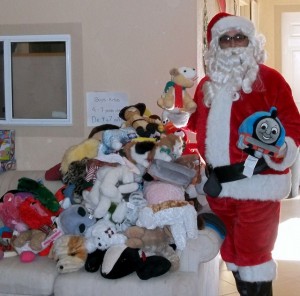 to include the kids of the Rolling Rockies Wheelchair Basketball team along with selected families they've been helping with food and clothing for many years.
As she does throughout the year, Barb starts buying from clearance sales beginning in January.  Gifts for kids are at the top of her long list of things that will contribute to the learning, health or strength and structure of the family unit in this community that she and Mark have loved and assisted for nearly two decades. She's always gearing up to take advantage of the clearance and sales seasons where creative kids stuff can be purchased at the biggest discounts.  Pre-holiday sales make up one of the reasons she starts the Christmas drive in October.  "There are many sales in retailers' ads around this time where you can "get more for less," Barb says, illustrating the commitment behind the most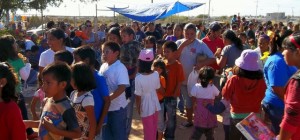 popular saying among her large group of kind-hearted friends and donors in the U.S. and our little slice of paradise by the sea, "it's all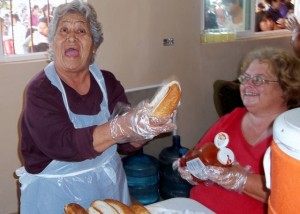 about the kids!"
During this time of year, Mark doubles his dose of good will splitting time with his mission as mentor to the Rolling Rockies Wheelchair basketball team  and adds the aka of Santa Claus showing up at the parties of various schools they assist through their Adopt-a-Classroom charity, other homes and centers. Mark's up for about anything  where he can bring a smile to the faces of kids. It has not yet been disclosed whether (aka) Santa Claus will be featured at this year's Esperanza para La Vida Nueva event. Mark (Santa) has been known to surprise kids by the bunch, even entire neighborhoods both in appearances and mode of transportation. In the past, Santa has been seen amazing kids as he tooled through neighborhoods, making grand entrances on his custom mini-version of a Harley Davidson—before he gifted it to the kids of one of the neighborhood families. 
In case you need a couple of ideas to get your own creative juices flowing on what you might look for that will make these kids the happiest (keeping in mind they are going to love and appreciate every present they receive) here are a few from Barb's extensive experience: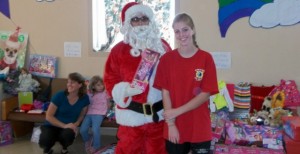 Based on past attendance, there will be over 500 kids at the La Esperanza para Nueva Vida Community Center party. But, Barb says, don't worry because they will give out every toy donated. What they do with any extra toys is open the gates to the kids off the street who usually gather later in the day to see if they can get in for a hot dog (not because it's free, but because they are hungry) or a toy (not because it's free, but because they probably don't have one.).
There's no need to gift wrap because they let the kids choose their presents. Although, wrapping paper, ribbon, labels and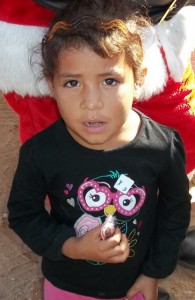 tape are appreciated and used for gifts to deserving families invited from outside the surrounding neighborhood.
Parents mostly pick presents for their Infants. Think dolls, blankets, are great for them.
For the girls: Barbie dolls, baby dolls, girl gift sets are popular, and other little girl things.
For the boys: Toy cars, trucks, wiffle balls and bats for the smaller ones, anything else that winds up and moves, or does something if you push it. Visualize the toy wall at 99 Cent store or the Red Tag aisle at WalMart.
The kids from ages 12 to 15 are the least thought of. This age group in Mexico loves to play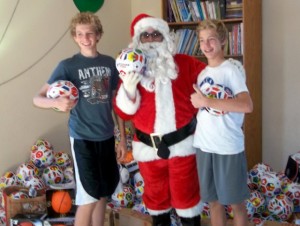 street soccer and basketball in the many public parks and baseball in the street or in one of the many organized parks. Soccer balls, basketballs, footballs, baseballs, bats, gloves and they all lack protective equipment of all types down here: knee pads, elbow pads, plastic protective hats, gloves, face protection for the catcher, etc.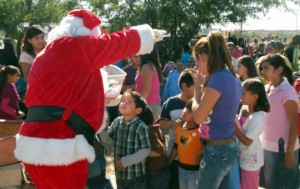 Under the "General Category" the Center passes out a lot of candy all day long from Santa's bag, from boxes near the games, from just about everywhere. Bags of candy are always needed and welcome.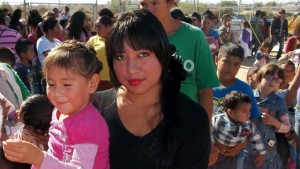 Barb wants to remind us that 100% of all donations go directly to the kids. Everyone associated with La Esperanza para Nueva Vida is a volunteer.  There are good hearted individuals and groups that drive in from around the U.S. and Mexico to bring gifts they've purchased and collected from family and friends. They cherish the opportunity give their time, special talents and love to spread joy among these deserving families and their kids.
If you have any questions, or want to arrange for someone to pick up your toy donations you can email Barb from Phoenix at rockypoint@myway.com, or call her Vonage number from Phoenix at 602 324 9529.  Call her locally in Rocky Point at 383 4963.  If you're staying at any of the four Sonoran Resorts, you can leave your donation at the Sales Office located off the lobby of each resort.
To help get you in the spirit, here's a short YouTube video from last year's Center party showing just how much these children appreciate this day because "it's all about the kids!"
http://www.youtube.com/watch?v=CHEZq9gQ2nA
This blog is powered by www.sonoranresorts.mx, Jim Ringquist, Director of Sales and Marketing. 
Related Posts
This year marked the 11th annual January Jam that began as an…

Since the very first Sonoran Resorts Las Vegas Night for Charity in…

Each and every year, as we mingle through the…