In our blog earlier this week we indicated that the fourth judge for this year's T.O.P. Chef Competition would not be revealed until the day of the contest. BREAKING NEWS! The fourth judge has been identified as Chef Adrian Siqueiros whose photo and impressive bio is outlined below along with photos and more in-depth bios of the three highly recognized chef judges who were announced in our earlier blog.
JUDGE'S PANEL, T.O.P. CHEF COMPETITION 2013
CHEF ADRIAN SIQUEIROS:
Chef Adrian Siqueiros, a chef for 7 years, studied gastronomy at "Mundo Chef de Hermosillo". His first job was as sous chef at "LUSSO TRATORIA RESTAURANTE ITALIANO" with Ramon Semsa, the owner of the popular chain Chiltepinos en Hermosillo, Sonora.
He was later offered the opportunity to be chef at the "Hotel Royal Palace", where he was part of a team of chefs servicing events at that hotel as well as the "Hotel San Martin" and other event salons in Hermosillo.
Eventually Siqueiros moved on to be chef, with Elvira Vasquez at "Restaurante El Farallon", a franchise from Guadalajara, until he was called to be executive chef at the famous "Maximiliano's" in Hermosillo, where the clientele included world famous celebrities, local and national news teams, and political figures from around the world.
Later, he helped open 2 restaurants, the upscale "Risotto", in Caborca and MED Restaurant Cuisine in Puerto Peñasco, where he stayed on as chef until going to Guaymas, to work with chef Israel Romo at his own restaurant, "Bajas Salads". 
PATRICK KEMMACHE:
Patrick Kemmache was Director of Food & Beverage for The Palms Hotel & Spa in Miami Beach, Florida. He was appointed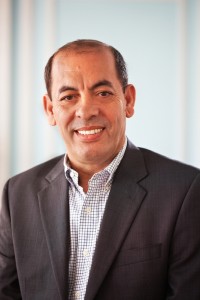 just as the property prepared for its first fall and holiday travel season since completion of their $20 million renovation project, garnering a AAA 4-Diamond status. While at The Palms Hotel & Spa, Kemmache oversaw all dining and bar operations, culinary and purchasing functions, staffing, quality control, and profitability including the signature "natural gourmet" restaurant, Essensia, and all other dining outlets, as well as corporate meetings execution and social catering/banquets.
Kemmache, a graduate from Le Cordon Bleu Culinary School in Paris and a Bachelor of Science in Hospitality Management from the University of Paris, has received several accolades including 5-Star and 5-Diamond ratings, induction into the James Beard Foundation, and numerous Food & Beverage "Executive of the Year" awards. He most recently served as the Director of Food & Beverage for The Delano Hotel/Morgans Hotels and Resorts, operated by China Grill Management. Prior to this position, he served as Director of Food & Beverage of The Umstead Hotel & Spa in North Carolina, the only 5-Star/5-Diamond property in the Raleigh-Durham area.
CHEF GUSTAVO GUTIERREZ CORTES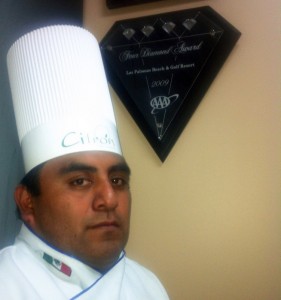 Award-winning Chef Gustavo Gutierrez is originally from Puerto Vallarta, Jalisco, where he studied the culinary arts before accepting a position with the renowned chain "Four Seasons Resort, Punta Mita", where he spent 4 years before moving on to the "Four Seasons Resort", Mexico D.F. for another 3 years.
Chef Gutierrez went on to spend 3 years at the "Mayan Palace", after which he became Executive Chef for the Spanish chain "Hotel Bahia Principe Akumal", Riviera Maya.
Currently Executive Chef at Las Palomas Resort in Puerto Peñasco, Sonora, he brings his own special flair to Mexican as well as International cuisine. In addition to the work he loves, Chef Gutierrez has participated with in the training of new talent by giving classes and mentoring students at local schools, such as CETMAR, CONALEP, UTPP and UTH.
Always looking to expand his horizons as well as to share the benefit of his experience with others, Gutierrez has participated in contests both as a chef and as a judge. This is Gustavo's 2nd consecutive year as a judge for the PUERTO PENASCO T.O.P. CHEF competition.
CHEF AARON MAY
With a passion for food and irrepressible creativity, Aaron May was born to be a chef. His quick mind and low threshold for boredom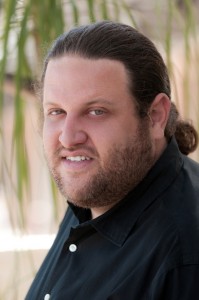 certainly explain his constantly-growing local restaurant empire.
By the age of 15, Chef Aaron May was working in a restaurant kitchen, and at 20 he enrolled in the culinary arts program at Scottsdale Community College.
Chef May then went on to study at Ecole Ritz Escoffier in Paris, France, working in restaurants to refine his skill as a classically-trained chef.
Upon his return to the States, May accepted a position at the upscale restaurant Acacia at the "Four Seasons Resort" in Scottsdale, Arizona.
He later had the opportunity to work with celebrity chef Douglas Rodriguez at the "Westin Kierland Resort & Spa", which led to an opportunity to continue working with Rodriguez in Manhattan, where he was mentored in the modern, deconstructionist approach to cooking that he still employs today.
After a stint at Mario Batali's "Casa Mono", Chef May moved back to Phoenix, where he opened his own restaurant, "Sol y Sombra", which opened to rave reviews in 2006.
Since then, May has forged partnerships to open "Over Easy", a popular breakfast restaurant with two locations, "The Lodge" a funky North Woods-style bar, "Renegade Tap and Kitchen" in north Scottsdale, May's Counter, offering Southern food in Tucson and "Praying Monk",  a high-energy modern American beer cafe in the heart of Old Town Scottsdale. Like May himself, each venue is sophisticated yet approachable.
His restaurants have appeared on the Food Network's "Diners, Drive-Ins and Dives" and The Learning Channel's "Best Food Ever," as well as earning a fiercely loyal fan base and many local awards, including "Best Tapas," and "Best Speakeasy." May has also garnered attention from national publications such as Food & Wine, Condé Nast Traveler, Sunset Magazine and USA Today. In 2010, he was inducted into the Arizona Culinary Hall of Fame as "Chef Extraordinaire."
Fifth Judge
Every year a raffle is held to determine who will occupy the fifth position on the Judge's Panel. Tickets, at a price of $5 each, are sold right up until 20 minutes before the contest begins. At 10:45am on the day of the event, one ticket will be drawn and the lucky winner will represent the rest of us as a judge on the panel.
Judging Details:
The "Secret Ingredient" will be revealed at 10:55am on the morning of the event. Chefs must include that ingredient in an Appetizer, Entrée and Dessert. The time allotted for each course is as follows:
–          Appetizer 15 minutes
–          Entre-30 minutes
–          Dessert-15 minutes
To maintain anonymity, each chef will be assigned an identification number. Plates will be brought to judges with that number. Each plate will be judged on a scale of 1-5 for Presentation, Taste and Creative Use of Secret Ingredient.
This blog is powered by www.sonoranresorts.mx, Jim Ringquist, Director of Sales and Marketing
Related Posts
After a successful event was held in the air conditioned luxury of…

Early one morning, little Manuel Belén Perez followed his grandfather, taking three…

If you were one of the crowd estimated at 1,000 to 1,200…