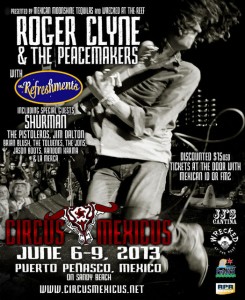 Roger Clyne and the Peacemakers (RCPM) are Rocky Point's most loyal international rock and roll band and, arguably, one of America's hardest working music makers who have a league of extremely loyal followers. Last year thousands of fans (affectionately called "Peacemakers") came to our little slice of paradise by the sea from 32 states and 7 countries to rock Circus Mexicus 2012!
For Your Information:
You'd be wise to mark June 6th through 9th on your calendar to make sure you enjoy the full spectrum of music and fun this year because there are three exciting new FYI's that you're gonna love!
FYI 1: Is for the local residents. The good folks at RCPM are offering a discounted $15 USD ticket at the door Saturday night for anyone bringing a local ID or an FM2.
FYI 2: This year Circus Mexicus will entertain us with live music for FOUR nights instead of three as in the past. The music will start on Thursday night this year adding one more day to what is already the most anticipated musical event in Rocky Point—plus Thursday night and Sunday are both at no charge!
FYI 3: RCPM are bringing more bands and entertainers than ever before—eight are presently booked—including a history-making first time reunion with The Refreshments. In case you don't know, this is the band Roger and PH left 15 years ago to form RCPM. Saturday night will mark their historic first and only reunion set in over 15 years.
The way this concert, dubbed by fans every endearing name from "Celebration of Life" to "State of Mind" is slated to go down, as of the latest schedule and line up (check www.circusmaximus.net for updates) is as follows:
THURSDAY NIGHT – Kick Off Party at Wrecked at the Reef 
Free Admission! 
8:00pm The Toluenes (with Brian Blush)
9:00pm La Merca
The music is inside Wrecked at the Reef and the party will be happening inside, outside,  along the expansive patio and among the palapas and bars on the sandy beach. In the short couple of years since Randy Gahan opened "Wrecked", it has become THE place for hardy partying in Rocky Point!
FRIDAY NIGHT – PH Naffah's Hot Dog & A Smile Charity BBQ at Legendary JJ's Cantina in Cholla Bay 
$10 USD at the door, or admission is included when you purchase a Plata (Silver) ticket online at www.circusmexicus.net for $40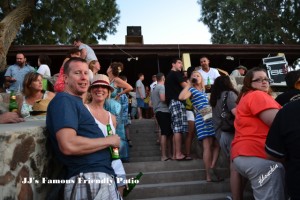 USD that includes both Friday and Saturday night admissions. 
A full night of live entertainment to raise money and collect items for PH's favorite charity, Casa de Esperanza para Los Niños, an important shelter for kids rescued from dysfunctional family situations.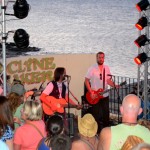 5:00pm Random Karma
6:00pm Jason Boots
7:00pm Shurman
8:00pm Jim Dalton joins Shurman
9:00pm The Pistoleros
Each year Mark and Barb Olszewski, who also founded the Adopt-a-Classroom Program that provides school supplies to thousands of children in 10 schools here in Peñasco, and who help compile the wish list with Esperanza administrators each year. Please visit http://www.facebook.com/groups/399318923436169/ for all the latest information on the Wish List for Esperanza para Los Niños and then bring whatever
you can to the Friday night Hot Dog and a Smile BBQ.  There will be a trailer across the road from JJ's where you can deliver your donations. On Saturday around 1:00pm a group of caring Peacemakers caravan out to the shelter with all the goods collected. To read about the caravan from last year, visit our blog at https://www.sonoranresorts.mx/?p=5103.
SATURDAY – Beach Soccer Tournament – Morning – Caravan to Esperanza Shelter – Afternoon – THE MAIN EVENT – Evening
8:00am – 2:30pm  Roger Clyne's Annual Rock and Soccer Tournament on the beach in front of Wrecked at the Reef where teams will compete for bragging rights and a shot glass trophy, plus help raise money and collect equipment to benefit the Puerto Peñasco Youth Sports Foundation (YSF). Players and spectators alike are asked to please bring any new or used sporting goods you may have to the tournament. There will be YSF volunteers to gratefully accept your donations.
Whether you're playing in the tournament or not, Wrecked is the place to be on the beach Saturday…soaking up the warm seaside sun, or inside with the A/C, pool table, ping-pong and other indoor recreational activities available at this constantly rocking seaside cantina.
And if that's not reason enough, Wrecked is offering a Special Mexican Breakfast compete with "make your own Bloody Mary Bar," also starting at 8:00am.
12:00pm  Those wishing to help deliver Wish List items to Esperanza para los Niños Shelter will caravan out to the location to feel the happiness and watch the thankful expressions on the kids' faces.
The Main Event at The Reef Park*
*The Reef Park is a new beach front location just slightly west of Wrecked at the Reef inside the RV Park which has been specifically designed to handle the growing number of fans that attend each year.  It is larger, more comfortable and so close to Wrecked it's like just another entrance to the concert.
6:30 – 7:30pm Backstage Eat and Greet for those lucky enough to get Platino Tickets before they SOLD OUT this year (like every year).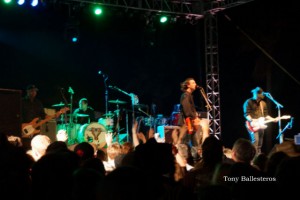 7:00pm Shurman
8:00pm The Refreshments
Intermission
9:00pm  Roger Clyne and The Peacemakers (with The Jons)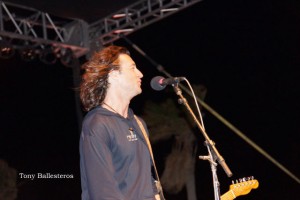 SUNDAY – The Mañanathon at JJ's Cantina 
Free Admission – Four Bands – Autographs – Bloody Mary's – RCPM Accessories 
Say good-bye to your hangover with Bloody Mary's and to your new friends with live music all day as the final day winds up…winds up into another wild party to wrap up a terrific four days of rock and roll!
12:00noon Jason Boots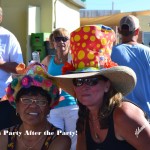 1:00pm The Toluenes (with Brian Blush)
2:00pm The Pistoleros
3:00pm Random Karma
By going to www.circusmexicus.net you can stay updated on everything leading up to the event including discount codes for condo packages. As of this blog writing, discounts at the Sonoran Spa and Sonoran Sea are still available by going to www.rprmexico.com. Those packages are expected to sell out soon.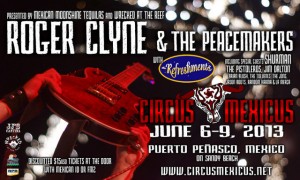 We'll be posting a final update on the concert in May, so stay tuned to our blog which also appears on Facebook and Twitter.
This blog is powered by www.sonoranresorts.mx, Jim Ringquist, Director of Sales and Marketing.
Related Posts
Successes tallied by the well selected and trained group of mostly young…

There is a very special music event taking place next Tuesday evening…

But what a four day ride---and it just gets better each year!…