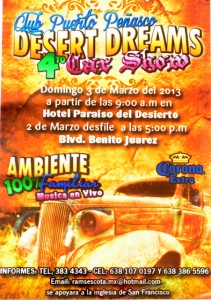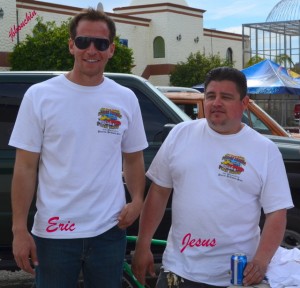 For the last four years, on the first Sunday in March (Día de la Familia) Desert Dreams Car Club of Puerto Peñasco has offered a popular stage for custom car owners from as far away as Phoenix, Yuma County, Mexicali, and several other states, and of all levels and categories to display their imagination and customizing talents manifested in the form of some truly amazing vehicles. This year the show was held in the large parking area of the Hotel Paraiso del Desierto (Desert Paradise Hotel) on Avenida Constitucion.
Club Treasurer, Jesus Cota and Secretary Erik Rodriguez, the main organizers for this event, emphasized that the proceeds from the show will go toward providing air conditioning for the new San Francisco de Asis Church located on Blvd. Josefa Ortiz de Dominguez (most commonly referred to as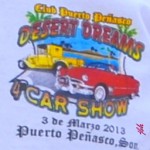 simply "Josefa") near Fremont Blvd.
The competition is always tough, but attention to detail is usually what it takes to win, place or show at a Desert Dreams Club event, and this year was no exception. Like last year, we'll let the pictures do most of the talking since, according to the old adage, they're worth a 1,000 words each.  We'll just add a caption or brief comment where appropriate.
First, let's take a look at some of the first time entries and worthy works in progress among more than 40 cars entered and we won't forget the dozen or so cool bicycles on display.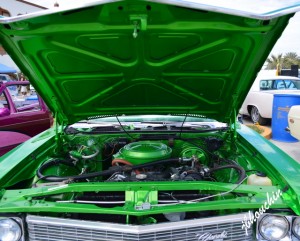 Roberto de Santiago Castillo built and painted this '70 Chevy 350 in his garage especially for his daughter's Quinceniela (15th birthday celebration, a very important birthday for teens in Mexico, like the debutante celebrations in the U.S.) parade. He's not a member of any car club and has never entered his car in a competition before. He was encouraged by his kids to participate this year.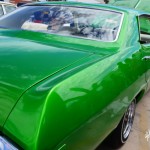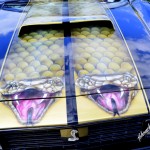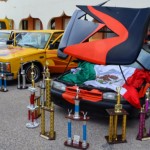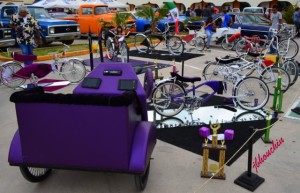 Each bicycle in the show clearly took much time, money and TLC, not to mention youthful creativity to build.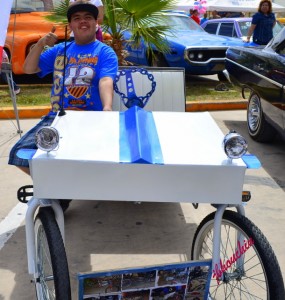 Not the least of which is this melded and welded 2 bike creation by 15 year old Armando Acosta Serrano who turned this one out in just one month!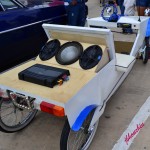 The top three awarded vehicles covered a span of 80 years and represent the labor of historic persistence and modern technology.  Two of the cars are perennial winners and always bringing detailed improvements to keep their trophy collection growing. Owner of the third vehicle believes in "Closing The Deal" bringing the most complete package to the top spot this year by resurrecting, via "frame up" restoration,  his 1929 Ford Model A with all original parts, paint and accessories. including upholstery and rumble seat.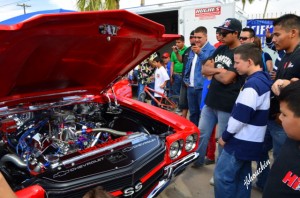 But first it's a radical engine, racing tires and the red, red paint of Renée Velasquez' powerful Chevy that drew crowds all day and won for his engine and Best in Class.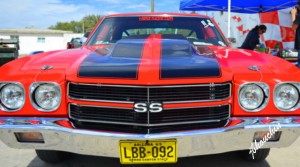 Second is the immaculately finished '80 Olds appropriately named "Mi Vida" (my life) because the owner must have spent most of it making this car an unforgettable viewing experience.  The ghosted Aztecan air brushing is easily perfect enough to take the Best Paint trophy, the hand-bunched velour upholstery, not missing a stitch, sewed up the trophy for Best Custom Interior. These photos would convince Sherlock Holmes that another trophy for Best in Class was obvious.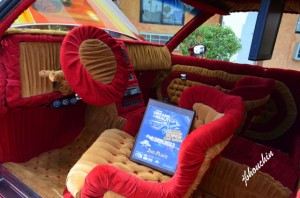 Here is the reason that a 1929 Model A Ford can win the top award of "Best in Show."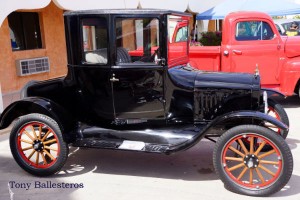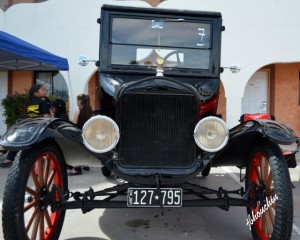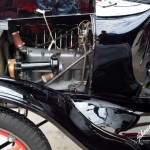 There is a pattern with the Desert Dreams car shows. Each year they soak the souls of custom car aficionados with a secret potion that makes them want more of what they've seen this year and they wait with anticipation for the 1st Sunday in March to bring their family to the Puerto Peñasco Club Desert Dreams Annual Car Show. Maybe they even work diligently in their garage with their sons or daughters, brothers or uncles and build a custom car to enter into the competition.  Either way, the show is good all the way around.
This blog is powered by www.sonoranresorts.mx, Jim Ringquist, Director of Sales and Marketing.
Related Posts