Saturday March 9, 2013 begins an exquisitely delightful new era of creative dining in our little slice of paradise by the sea that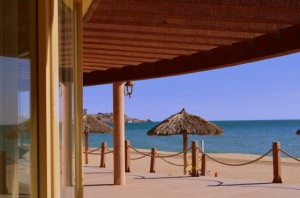 promises to express the true atmosphere and traditional taste of the two colorful and diverse countries of Italy and Argentina—under the same roof, under the direction of Chef Franklin, steps from world class Sandy Beach.  What a delicious dream!
The new Ocean View Restaurant will seat 96 in the dining area, with an additional 40 seats in the inside lounge.  The same quality food and service will be available for 80 more in the Tiki Bar outside on the beach. The restaurant will be open from 8:00 AM until 10:00 PM and serve breakfast, lunch and dinner. The Ocean View Lounge hours will be 10:00 AM until Midnight. The popular Tiki Bar hours are 10:00 AM until 10:00 PM. 
Those who choose to grace the Ocean View during opening weekend will select from a varied breakfast and lunch menu and for dinner, well, you may decide on a taste of Italy or to continue south to the Argentine's to tickle your taste buds. You may even wish to sample from a wide variety of opening weekend dishes prepared especially by Chef Franklin from the finest quality ingredients.
The Sonoran Sky Luxury Beach Front Condominium Resort is the newest of the four Sonoran Resorts built on Sandy Beach in Puerto Peñasco, Sonora Mexico. For the story behind the Sonoran Resorts Group visit our blog at https://www.sonoranresorts.mx/?p=2510.
Either way, sun light or moon light, your experience at Ocean View is designed to exceed your fine dining dreams, from service to preparation to presentation, all at the steps of the most beautiful sights and sounds from the mystic Sea of Cortez.
This blog is powered by www.sonoranresorts.mx, Jim Ringquist, Director of Sales and Marketing.
Related Posts